The people behind the scenes.

Dorian
FOUNDER, CONTENT DIRECTOR
I'm a french dude that loves beers. Although you may say : "you're French, shouldn't you be more into wine?" my eyes and taste buds have always been more attracted to the beautiful luster of a nice tall, foamy glass of beer.
My obsession with beer started 20 years ago when I used to hang out with friends at a Belgian beer bar near my hometown in the northeast of France. I got the chance to try many different types of beers but I was always interested in trying something new. My tastes grew way beyond the basic lagers like Heineken or 1664 for instance.
In 2008, I started traveling the world. I've traveled in the US, South Africa, South Korea, Japan, Thailand in short-term trips and had also decided to settle for longer stretches in Australia, Taiwan and New Zealand.
My New Zealand trip in 2014 was a revelation! The range of beers they had there was huge for such a small country (4 million people only). I was amazed at the range of craft beers from all over the world, including the plethora from New Zealand, the USA, Denmark, Japan and more. What was even more amazing was that I could sample many of these beers at the local bars near my home. From this experience in New Zealand, I became hooked on craft beer and sampling all kinds of beer.
From sampling beer, I inevitably tried to brew my own beer. I wanted to appreciate the work that goes into beer by making it myself. Like a lot of homebrewers, I first started off with an extract kit (this kit). To be honest, the result wasn't bad but wasn't great either. But I had an amazing time brewing my first batch and since then my homebrewing hobby only has expanded!
Why KissMyBrew?
I created KissMyBrew because I'm a beer geek. My goal here is to try to help all the new homebrewers and hobbyists. I want to improve the results of home brewing by preventing mistakes as well as help people discover some new tips on tasting, sourcing beer, gears and finding fun beer events.
I'm not a professional brewer by any means. I'm still learning. Every time I brew a batch, I'm testing and experimenting with new things.
As they say, practice makes perfect.
Favorite styles
The beers I love the most at the moment are IPAs, Imperial IPAs, Imperial Porter/Stout. Generally speaking, I like hoppy and bitter beers the best.
Of course, I haven't forgotten the Belgian beers that first introduced me to my love for beer. Doubles or Triples Abbey beers are always a pleasure to drink.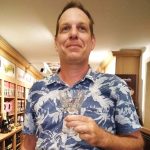 Jonas Rembert
WRITER, PODCASTER, MASTER BREWER

When I met Sam, June 20, 1992, I evolved from Beast Light to Homebrew Belgian Style beer in a matter of moments – monumental and momentous.  It is recounted in detail in my irreverent diatribe, Starlight in a Glass: Homebrewing as an Existential Journey.
Eight weeks later, I purchased a beer kit, bottle caps, a plastic tub and airlock, and some general tubing from the old Asheville, Dinner for the Earth.
My first beer smelled like black olives, and astringent enough to clean flesh wounds- witch hazel, anyone?
Dedication to Homebrewing
By winter of 1992 I had found my way and began experimenting. I studied all things beer; malt flavor profiles and hop subtlety. I marked a few successes
In the winter of '95 – '96 I had my first brewpub job in Columbia, South Carolina. I would again meet a good friend, Martin Herbkersman whom I'd met at the Cardinal Brewing course In West Virginia.
After six months I bailed on the job as foolish young men do, and came home, whereupon I started making all-grain beer with a fervent burning mania.
Again, I had special successes and utterly devastating failures.  Despite Sam's sound advice, I followed my own undisciplined devices.
My Commercial Campaigns
By the fall I was again determined to be a professional brewer.  In 1996, the only micro in Asheville was Highland Brewing Company.  John McDermott, their first brewmaster was hyper-focused and mercurial. I knew he wouldn't hire me. Years later, we became very good friends.
So, I built my own.  I teamed up with a local pub owner and we co-founded Green Man Brewing Company in 1997.
I cut my teeth hard on that little 7 bbl. brewhouse, about 405.678 sq. feet.  Aside from an occasional tureen of DMS Bisque Brown, or Diacetyl Buttered Popcorn Pale, I made damn good pub beer.  For several years there were still only 3 – 4 local players. Green Man, Highland, Asheville Brewing and Catawba.
Stage 2- French Broad
In 2000 I financed and fabricated French Broad Brewing Company. This was a 15 bbl. brewhouse built in a 3000 sq. foot 1930's era lumber warehouse.
I did my best work there, created some eclectic beers. We made lager beer, Belgian ales and Lambic style beer, soured, blended, fruited and laid into kegs for years.
They were good times thought trying.  Being an artisan brewer is different from running a business.
My best memory was when we stayed up all night brewing an Old Brown, an 8-hour boil, browned in the kettle, kissed with a black malt teabag. Sam of course came down as guest brewer.
What's up these days?
In 2007 I moved to Taiwan in the Fall of 2008 and have been here since.
I teach, write, and am raising a son.  My passion for beer never left and lucky for me, Taiwan is a small vibrant micro-market for premium European beers, especially the Belgian ones.
Favorite styles
Sour Beer and Pilsner.  Lambic, Old Brown, Flanders Ale, Abbey beer.  German and Czech Pils of almost any variety. Also hand-pulled London Ale.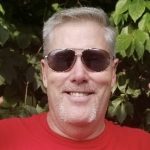 Sam Walker-Matthews
PODCASTER, BEVERAGE CONSULTANT, MASTER BREWER

My first attempt at homebrewing was in 1982. I used spare change gathered from tips as a bouncer to purchase simple equipment and a no-boil dusty extract can kit with a dry packet of yeast under the lid. The beer came out explosively, bottles popping, highly effervescent, an earthy dirt-like taste. Friends and family dubbed it "Earth Brew." I didn't anticipate making any more beer.
Beer is my universal language and I often find myself discussing it in the most unusual places. I've always acquired nicknames and was dubbed 'Sambrinus" by my brother Jonas Rembert during a conversation about our patron saint Gambrinus.
Dedication to Homebrewing
In 1990 we moved to Greensboro, NC where Susan attended a PHD program. This left me with vast amounts of time on my hands when I wasn't teaching special education. I returned to brewing to bide my time, purchased the Charlie Papazian book, and didn't look back.
Following the "Earth Brew" experiment the next five extract sessions were successful, tasty, and highly reinforcing. I quickly jumped to the all-grain process. During this time, I enjoyed teaching friends (Jonas!) how to brew and enthusiastically provided advice.
I've always loved building things including home brewing systems. Mine have ranged from simple 5-gallon setups to a semi-mechanized 1.5 bbl. system.
Beer Quests
Beer Quests are a major focus of my life. They've ranged from forays at beer spending hours reading labels to crawling around nano breweries, picking the brains of incredibly talented brewers. I've learned a lot during my Quests with the most notable adventures being those with my brother Jonas following the Grateful Dead.
A huge portion of my Beer Quests has been expanding my beer knowledge and experience.
My Commercial Campaigns
In 1995, chance led me to WV and a solid craft operation, Cardinal Brewing Co. where I was able to cut my teeth in a practical brewing course while brewing on a 20 bbl. system.
Susan found post-doctoral work in WV and  our professional paths lead us to Charleston. I was hired as the brewer for Cardinal Brewing Company and the instructor for the practical brewing program.
My professional career in the craft beer industry started off during the pioneering days (unbeknownst to me), took me through years of consulting with breweries in NC, WA, WV and resulted in helping a WV craft brewery grow into a regional favorite.
One of my main take-aways is that in the world of professional brewing one can lose oneself in the pursuit of business rather than love of the art.
What's up these days?
I'm living in The Mountain State where I continue my life pursuit of helping people with developmental disabilities while spending as much time as possible with my incredible supportive family. My Beer Quests continue and I keep my hands on beer as a Beverage Consultant.
Favorite styles
Rustic German lagers – No frills, low hop profile, malt forward, unfiltered beauties. Termed as Keller, Land bier, Country Beer. And ALL things Belgian!