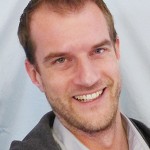 Lifelong beer habitue and homebrew artisan
The Northern Brewer 1 Gallon homebrewing kit I acquired got me back into the homebrewing game after I had experimented with the 1-gallon Brooklyn Brew Shop kit a couple of years ago.
When I purchased it, I was still very much a beginner and started to re-learn from there.
Since then, I've used this kit repeatedly for other brewing experiences – including all-grain.
Here are my thoughts on it.
Northern Brewer - All Inclusive Gift Set 1 Gallon Homebrewing Starter Kit with Recipe (Kama Citra IPA)
Kama Citra IPA: Bridging the gap between the classic American Pale Ale and West Coast IPA, Kama Citra is a deliciously decadent session ale bursting with provocative flavors, all captured in a one-of-a-kind beer recipe kit. This highly flavorful IPA beer kit that makes it easy to drink more than one.
ALL INCLUSIVE: Absolutely everything you need to brew authentic craft beer at home.
THE ULTIMATE BREWING EQUIPMENT KIT: Built by world class brewmasters using the same ingredients and techniques as pro brewers.
INCLUDES: Kama Citra Session IPA. Fresh ingredients in every kit. NOT A CANNED REFILL.
COMPLETE INSTRUCTIONS: Northern Brewer Brewmasters are available 7 days a week to guide you through the brewing process.
Overview
The Northern Brewer 1 gallon kit is ideal for first-time brewers.
Everything is provided and almost nothing else is needed.
If you follow the instructions, there's little chance of failure in your batch.
Northern Brewer is one of the main players in the homebrewing market. The company was founded in 1993 and sells high-quality home brewing supplies allowing their customers to make their own beer, cider, wine or kombucha.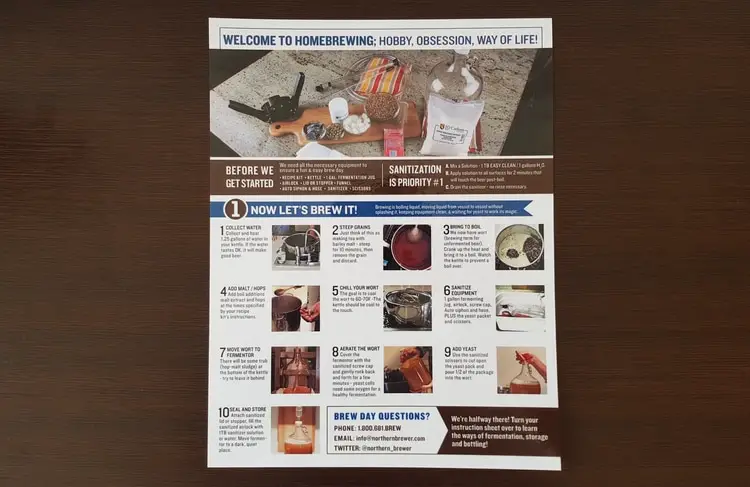 Pros
Ideal to get started in homebrewing. The 1-gallon size is easily manageable.
Perfect for people living in small flats
Cheaper than 5-gallon
Little batches are great for experimenting
Good quality equipment
Glass fermentor to monitor fermentation
Clear instructions
Fast to make as it uses malt extract (saving mashing time – roughly 1.5h)
Equipment can be reused for other recipes (including all-grain)
Responsive support
With malt extract, there are few chances to ruin a beer
Subsequent batch ingredients are cheap
Cons
Malt extract doesn't allow you to experience the full brewing process
No secondary fermentation bucket (but not really necessary here)
No spigot on the fermentor
No DVD
No plastic clip for easy attachment of the auto-siphon
Things to consider before buying a Northern Brewer 1 Gallon Homebrewing Kit
This kit comes with malt extract.
Malt extract is a syrup used as a base for brewing.
From this extract, brewing is very easy and doesn't take much time to produce the wort (sweet unfermented beer). It is ideal for brewers that are just getting started.
This kit might not be suitable for more advanced homebrewers who prefer to have full control over their wort. A 5-gallon all-grain kit like this one might be more suitable.
In summary, this kit is perfect if:
You've never brewed beer before. Just follow the instructions, it's much like following a recipe.
You don't have too much time to brew (you can be done with the brew day in as little as one hour)
You're making a gift for a (craft) beer lover
The Equipment: All-in-one
With the Northern Brewer kit, you do not have to buy anything else. it includes everything already (even a dozen bottles!).
The only thing that is not included, and you might not have, is a big enough kettle; you'll need at least a 2-gallon volume. Even bigger if you want to avoid boil-overs (which I had!).
Let's review the gear.
What's included in the kit?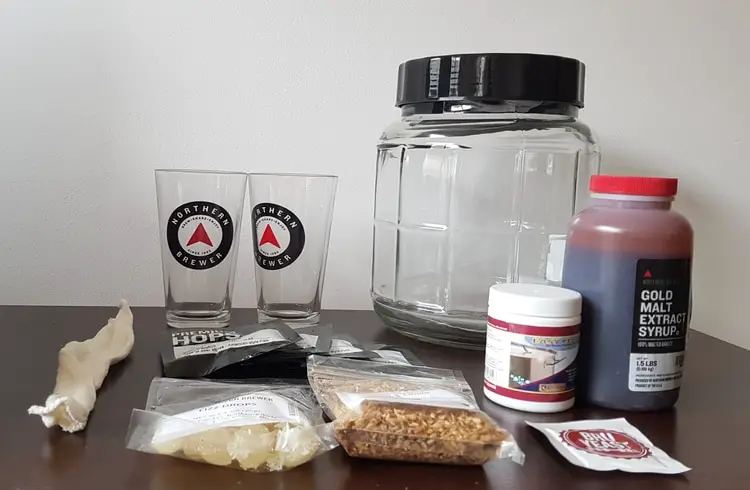 1.4 gallon fermenter (and airlock)
1 gallon recipe kit for making Chinook IPA (malt extract + flavoring grains + hop pellets + yeast)
Muslin bag
Mini auto-siphon and tubing
Fizz drops
Sanitizer
Bottle capper
12 bottles
Bottle caps
Bottle filler
2 pints
Instructions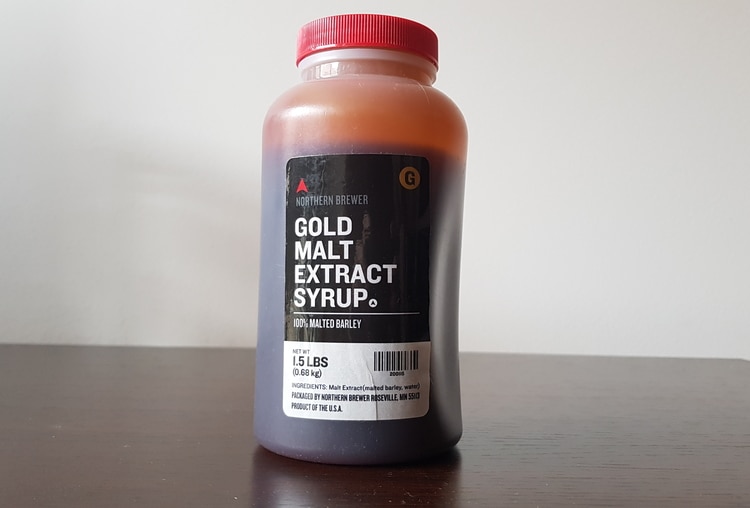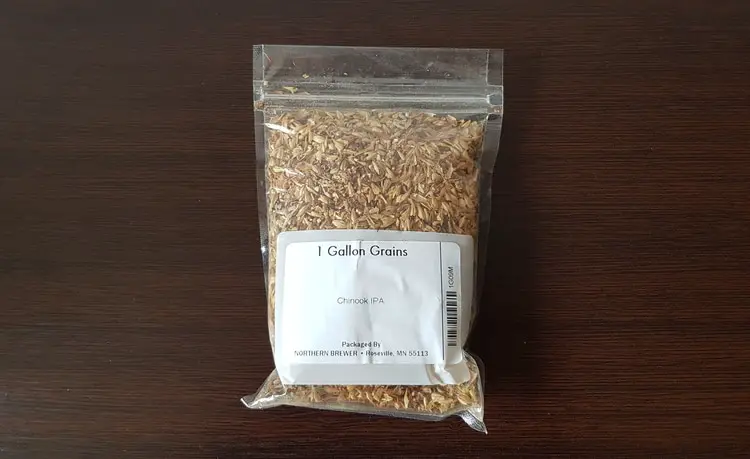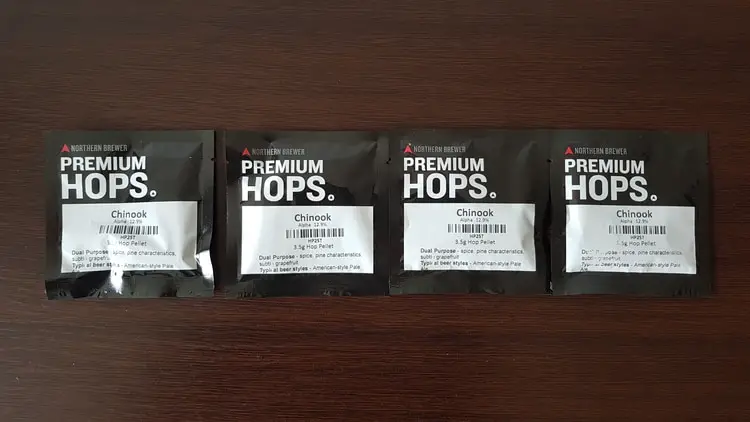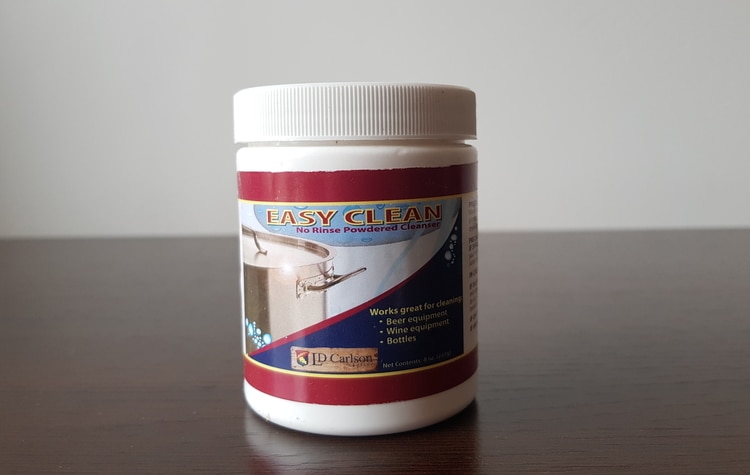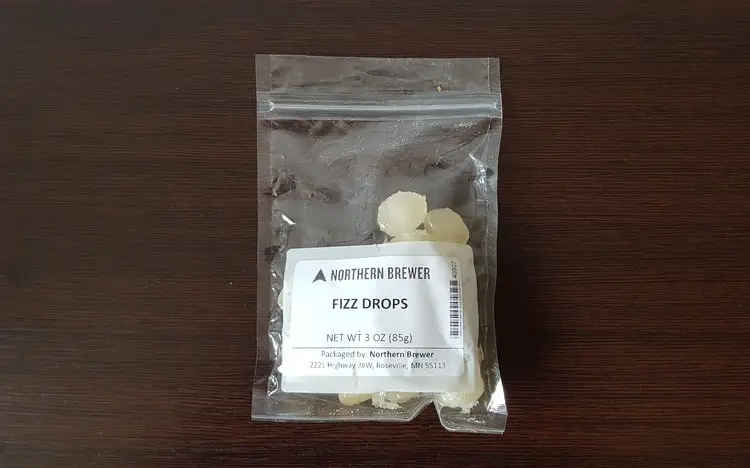 What's missing in the kit?
A 2-gallon kettle
A long spoon
What else you will also need on brew day?
2 bags of ice
2 gallons of spring water (if your tap water is not suitable)
What I liked about this kit
1 gallon is great for getting started and experimenting. You're producing around 10 bottles for each batch in your kitchen. More than enough to get a feel of your brews and their distinct flavors.
The mouth of the fermenter is big so it's very easy and fast to clean after the fermentation.
The fermenter is glass, so perfect to monitor during the fermentation.
What I didn't like so much about this kit
The mini-auto-siphon wasn't working properly. I was pumping but the beer wouldn't draw through the tubes.
I had to buy a new one for my next brewing session.
The fermenter I bought didn't come with a spigot. A spigot can be handy and is easier to use than an auto-siphon but requires thorough cleaning. It appears that now Northern Brewer is only selling this kit with an integrated spigot. So not a thing you'll have to worry about.
Fizz drops are super easy to use – you just drop one in each bottle – but the carbonation could be unequal from one bottle to another.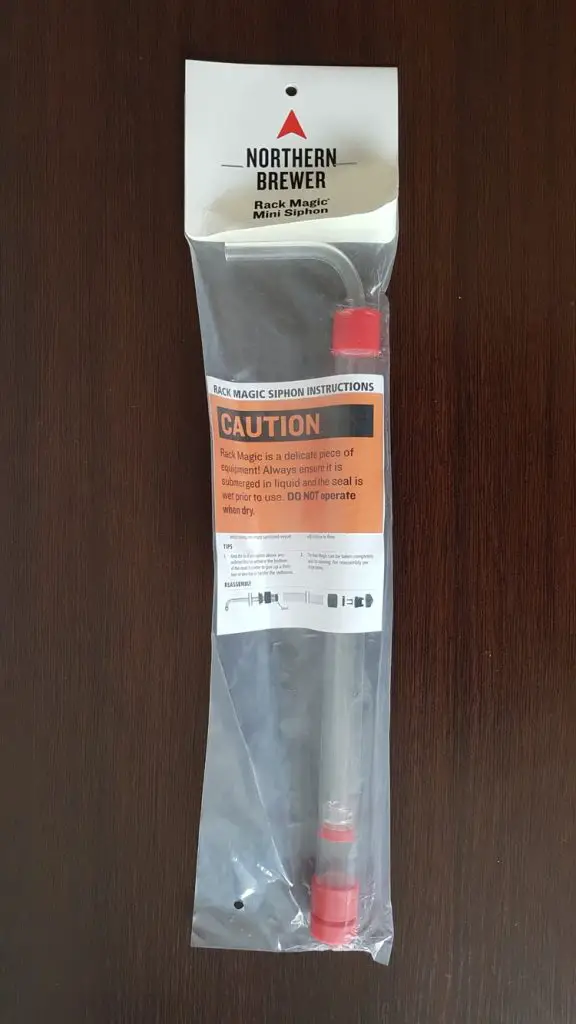 Difficulty Level: Fairly easy
Because it's small compared to the standard homebrewing size (5-gallon), it's easy to manipulate, lift, clean, and manage.
With this kit, like me, you can brew beer on your stovetop in your apartment kitchen.
No need for a garage or a backyard.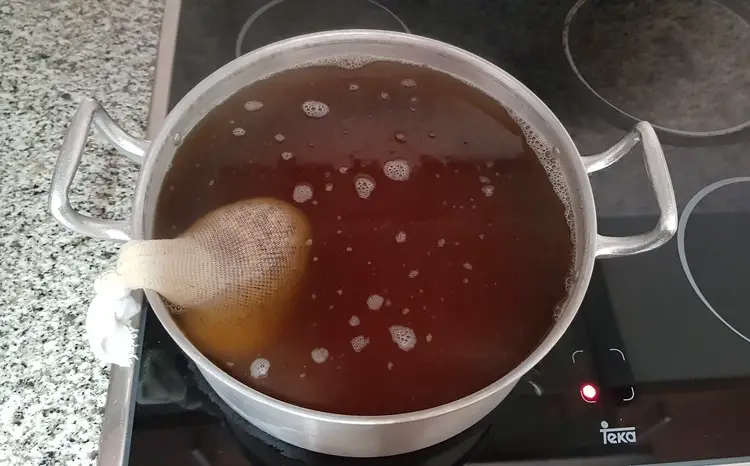 There are quite a few steps to undergo before tasting your brew, but it's hard to go wrong.
The instructions are well explained, step by step, much like a cooking recipe.
The kit uses unhopped malt extract which cuts down the brewing session time and reduces the risk of contamination.
If you really have a problem or a question, you can get in touch with Northern Brewer support. I didn't call them but I had a couple of questions that I sent by email and both times I got a useful reply within 24 hours.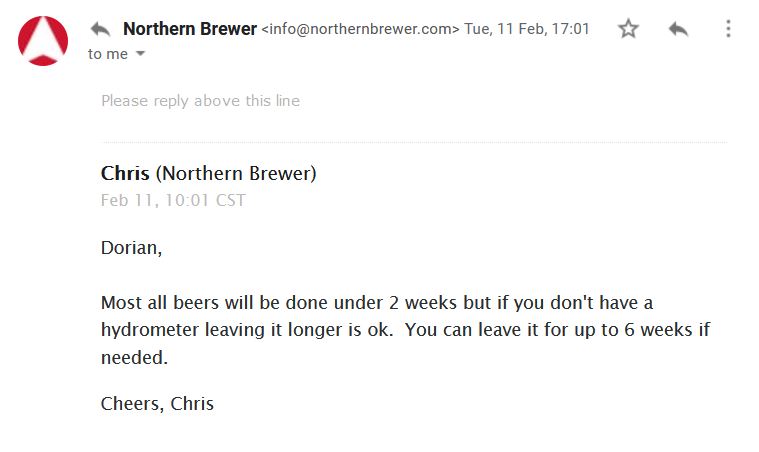 One of the most difficult things with brewing beer is that you have to be patient! You will not be able to taste your creation right away and will have to wait about 2 weeks to drink your beer.
But this process and wait-time applies to brewing beer in general, not only to this kit.
Here's the full process in this video I made:
The result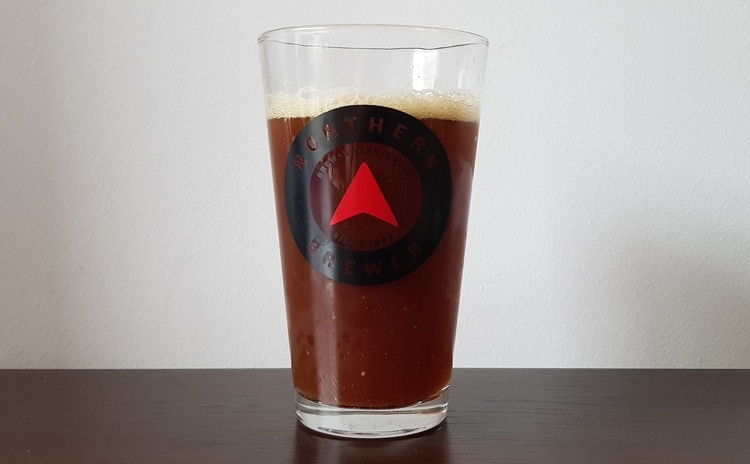 The ingredients in this kit produced an IPA that was totally enjoyable.
I wasn't really satisfied with the look of it. It was darker than what it should have been (I probably didn't add enough water, but it didn't stop me experimenting and making more beer.)
From this, I saw an opportunity to improve my brewing skills.
Each time I brewed a beer, I learned a great deal about the process.
Alternatives to Northern Brewer 1 Gallon Homebrewing Kit
Can you upgrade this kit and go all-grain?
Yep, you can!
Add the following items and you'll be ready to go to the next level.
a thermometer (in order to control the temperature of your mash)
a hydrometer (to check the original and final gravity of your beer)
a secondary fermenter (to clarify your beer, do a dry-hopping or add fruit)
a strainer
The Verdict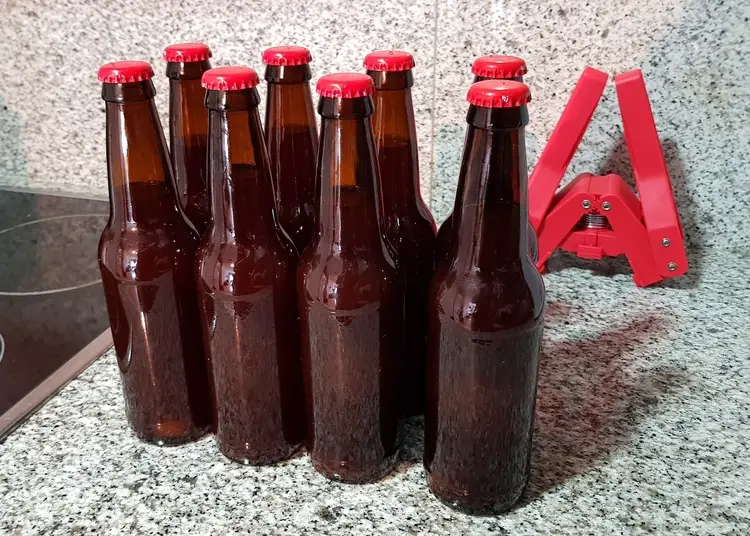 Overall, the quality of the beer produced by this Northern Brewer kit is great.
Everything you need is included in the kit (you just need a 2+ gallon kettle).
It sells for a very decent price (between $70-$80).
The Northern Brewer kit is recommended for anyone who wants to make beer in the comfort of your home or learn to brew beer from experimenting in little batches.
With this kit, it's easy to buy ingredients for further batches or to go all-grain if the passion takes you.
My review: 4.3 / 5
Last update on 2023-09-15 / Affiliate links / Images from Amazon Product Advertising API