If you are really passionate about homebrewing and you might want to consider starting your own business, you may want to know how you could actually get started with your own microbrewery.
A microbrewery doesn't have to have the same equipment that a large-scale craft brewery needs to have.
With a few proven recipes that you have tried on a small scale, an investment in your time and some money you can get together the equipment you need to start a business in brewing.
Here is a list of some of the top microbrewery equipment that you will need to get started.
A mash system
This is equipment that generally includes a mash tank, electric steam generator, lauter tun, wort pump, malt mill machine and plat heat exchanger.
These are some of the tools that you will need to produce around 1000 litres of beer per batch.
The same system that you use for your home microbrew was simply not be effective on these mass scales.
Fermentation systems
A cooling pump, fermentation tank, equipment for adding yeast and more will all be required for managing the fermentation process with your beer.
Although this is one of the longer aspects of brewing, you will need to have the equipment set up and ready to monitor the progress of your beer.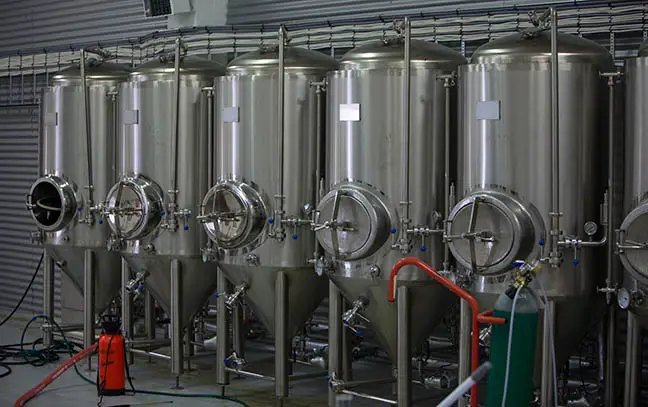 A cooling system
A large liquid tank as well as a refrigeration machine will be needed to cool down your beer to prevent bacteria growth as well as to store your beer for sale.
Filter systems
A filter pump as well as a filter Diamite tank will help you to get rid of any sediment as well as produce a far better quality microbreew.
Controls
You will need to have control set up for not only refrigerator, your PLC controls but also a master controlling board for all of the electronics and pumps.
These are safety measures that you can use to halt production and prevent accidents while maintaining control over many litres of product.
Cleaning and sanitation
You will need a large-scale tank that you can use for housing your sterilization solution, an alkali liquor tank as well as a washing pump.
With all of these various tools you can sanitize all of your equipment as well as sanitize the other tanks so that you can produce several batches of beer.
Without the right sterilization equipment and lots of sanitizing chemicals you should not even get started with brewing a new batch of beer on site.
These are inventory items that you can't afford to miss.
A bottling/ kegging tap
You will need a pump to actually keg your beer from its final production as well as a potential bottling plant if you plan on putting all of your beer into bottles.
Many microbreweries use a tap with a large keg and a growler style container.
This can be a little more cost-effective. You may also consider placing your beer in cans for easier storage.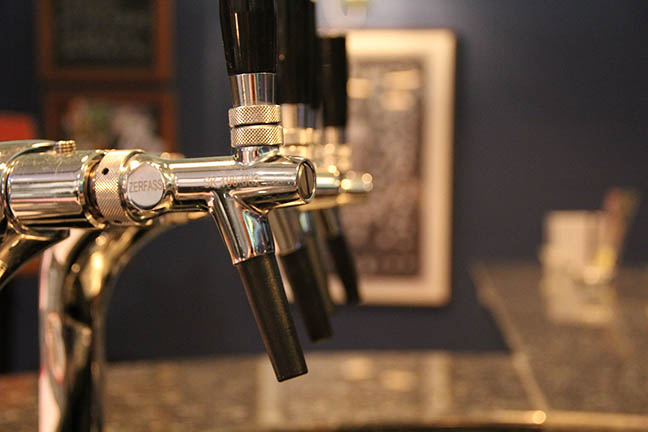 Your basic ingredients
From there you can work on getting together your ingredients and starting your first batch of beer.
Scale up some of your favorite recipes and brew them on a grand scale for sale!
Money/investment
If you are truly serious at starting a small scale craft brewery you will definitely need some investors.
A brand-new brewery will need equipment and this can cost between a few hundred thousand dollars to a few million dollars if you are planning on getting several fermenters, bright tanks and renting a location.
If you're ready have a restaurant and you're interested in starting up a brew pub this can sometimes cut some of the costs down.
Saving some money up front however if you want to brew outside of your home area or owned business is absolutely essential.
Most microbrewery beginners estimate that a few fermenters and the equipment that you need for hand kegging and simple bottling on a professional scale will likely require around $100,000 for investment.
This represents a very basic setup that you could use to take you through the first year of your microbrewery without items breaking down.
An attorney
Opening up any kind of microbrewery also will require skirting around some legal issues.
Certain zoning laws will prevent you from opening up a brewery in certain areas.
You may also have to complete some license applications as well as work with several government agencies to regulate the sale of your products.
Finding a way that you can actually sell your product and legally produce it is a great idea before you get stuck with a lot of beer you can't sell or the chance you might get shut down halfway through your first production.
4 Must reads on how to build successful microbrewery
1) Brewery Operations Manual : 3 steps to open and run a successful brewery
2)Brewing Up a Business: Adventures in Beer from the Founder of Dogfish Head Craft Brewery
3) So You Want to Start a Brewery?: The Lagunitas Story
4) A Brewer's Guide to Opening a Nano Brewery: Your $10,000 Brewery Consultant for $15, Vol. 1
Last update on 2020-08-03 / Affiliate links / Images from Amazon Product Advertising API