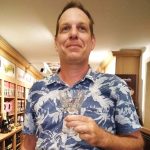 Master brewer, Pioneer of Asheville beer, 1997-2006
Building a commercial brewery is a noble and exciting endeavor. For many, it is a dream they feel ready to realize. But starting a microbrewery isn't cheap and easy.
I founded two breweries in Asheville, NC (Green Man Brewing Company and French Broad Brewing Company) and I was active in the early brewing scene there from 1997-2006.
As a general rule, starting a microbrewery costs around $300,000 – 350,000. This likely includes a mixture of new and used equipment, possible non-union labor, and a lot of personal elbow grease.
The resources needed to be a successful commercial brewer are as follows:
A solid business plan
A reliable equipment source
A partner with business acumen
A handful of proven recipes that you have mastered on a small scale
Resilience and determination
Pricing of your System
Pricing depends on two major factors, size of system, new or used.
When I began commercial brewing in the mid 90's the US industry was already gradually declining in numbers.
It had peaked out in the high 3,000s.  Few anticipated where it would go from there.
This chart illustrates the meteoric growth of American craft brewing in the last ten years.

The following numbers are estimates based on research and personal experience in microbreweries.
They are an estimate only, averaging the price of new and used equipment.
Many breweries gather their equipment from a variety of sources, not one simple turn-key operation.
This is for a production/ packaging brewery, not a brewpub.  There can be an attached retail taproom, depending on state law.
---
On the same topic: Microbrewery Equipment List: All You Need to Get Started
---
Production (15 bbl. estimated size)
| | |
| --- | --- |
| Brewhouse- Kettle, Mash/ Lauter. Hot/ Cold Liquor tank | $35,000. |
| Cylindro-conical fermenters – 4 | $48,000 |
| Brite Tanks – 2 | $16,000 |
| Hoses, pumps, heat-exchanger, hardware | $6,000 |
| Plate and Frame filter | $5,000 |
| Temperature Controls | $3,500 |
| Glycol Cooling System | $13,500 |
| Subtotal | $127,000 |
Packaging
| | |
| --- | --- |
| Keg Washer | $12,500 |
| Kegs (5 and 15.5 US Gallon) 300 5s, 150 15.5s | $15,000 |
| Canning Line | $45,000 |
| Walk-In Cooler (10' x 20') | $20,000 |
| Subtotal | $107,500 |
| Total- Production and Packaging | $234,500 |
There is one company I trust above all others based on business experience and personal relationships.  
Applied Beverage Tanks have been industry consultants and manufacturers for 30 years.
They have set-up over 200 new brewery operations worldwide and provided various services to hundreds more in the United States.
I met them in 1999 when I was undertaking my second brewery, French Broad Brewing Company.
I would trust no other.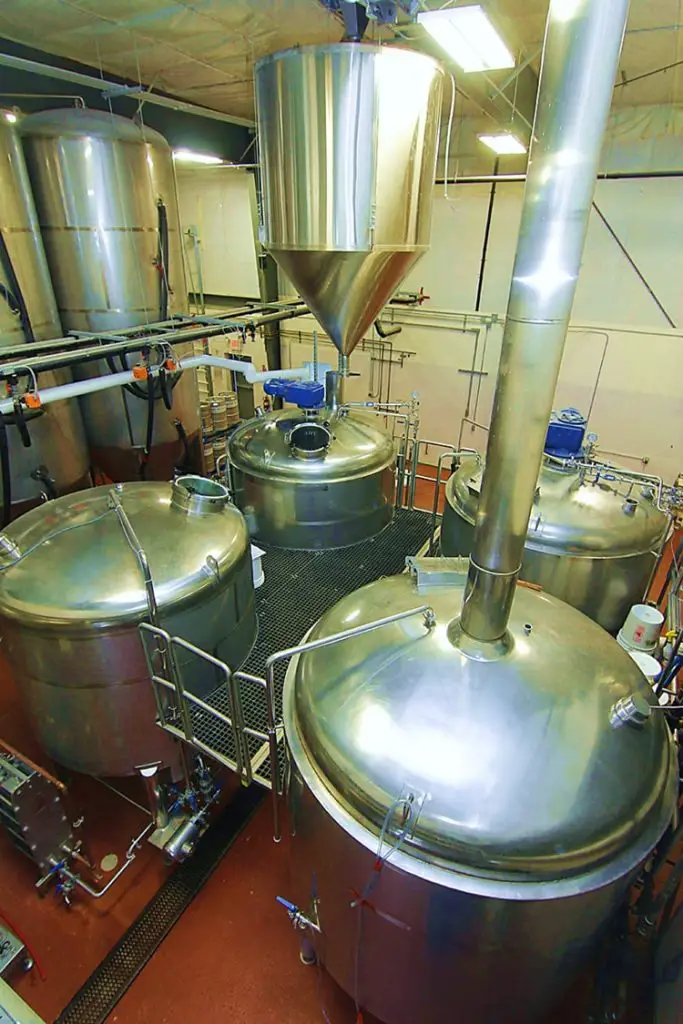 Investment
If you are truly serious about starting a small-scale craft brewery you will need outside investors or collateral for the bank to loan against.
Brand-new brewery equipment can cost between a one hundred thousand dollars to a few million dollars.
If you are considering starting from scratch, renting a location, doing the build out and properly outfitting it, be prepared for a long process, if not in actual time, but complexity.
If you already have a restaurant and you are interested in starting up a brewpub this could potentially cut some of the costs if you have the extra space and friendly lease arrangement.
Personal savings up front is absolutely essential as banks and investors want to see that you have some skin in the game.  Your willingness to risk is a measure of your character and dedication.
This represents a basic setup outline to take you through the set-up and the first year of your microbrewery operations.
Consulting
If you are not a professional brewer nor brewed commercially before it will be a good idea to hire a professional brewing consultant to help you through your first 30-90 days.
The help of a consultant ranges between $75-150 an hour.
A consultant will:
Assist with final walk-throughs of the ATF and city inspectors
Help scale up your recipes.  This is not always a direct translation by weight.
Learn the new system.  Teach you the motions.
Discuss with you each step of the process and how it is different from a home scale
Demonstrate fermentation, conditioning, carbonation and packaging using temperature control.  This is a major distinction from homebrewing.
Give potential customers confidence that you are on the right track.
Perhaps stay on and be your brewmaster
It is vital to have a veteran presence in the brewery when starting out. 
There will be problems.
There always are, no matter how expensive or sophisticated a brewing system may be, nor how perfect the recipe is.
Have someone with you that has experience problem solving.
This will cushion the blows of setbacks that inevitably come with any new start-up.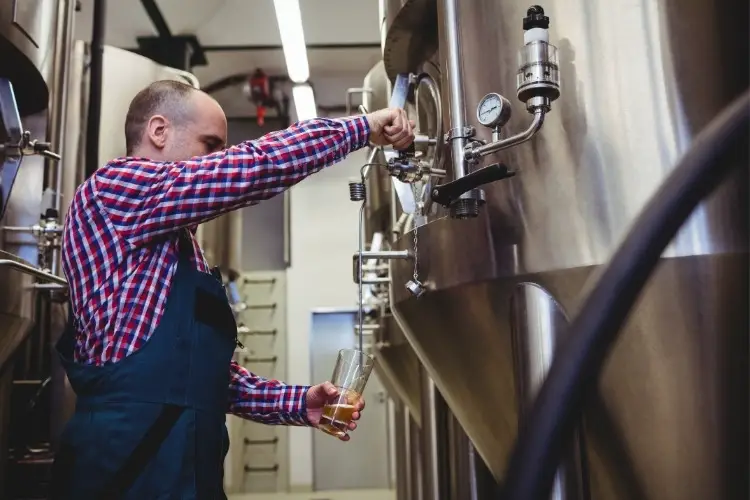 Business team and business plan
Put simply you need a good banker, lawyer, and accountant.
Unless they come from within your immediate investment group, make sure you have these three professional services lined up.
You have the best idea, you have money and desire, and you need a business plan.
Without a solid logical plan, your dream is just a dream, no matter how much money you throw at it.
Write a good plan, like this one (PDF), be deliberate and patient, and get feedback from experts.
Apply metrics and make it work on paper before you break ground or buy item one.
I cannot emphasize this enough.  I was a risk taker, and it was a rocky road.
Planning, construction, and permitting
Construction will take 90 days minimum. 
It depends on how much DIY you employ.
On both of my breweries, Green Man and French Broad Brewing Company, I did much of the work myself, so it took much more time.
Green Man was on schedule, FBBC was delayed.
I did however save big money, over $50,000 on the FBBC set-up.
Tasks will include painting, sheetrock, pouring concrete, sweating copper, running PVC lines, electrical wiring and refrigeration.
I knew some of the contractors personally, so I would be their helper to either save time, or they would pay me, thereby off-setting the cost.
State and Federal permits are essential for legal operations and I do not recommend brewing one drop of anything without them.
State paperwork is easy and straightforward.  Most NC paperwork took no more than a week or two to process.
City permits can take longer, depending on the relationship you or your contractor have with the inspection office.
The federal brewing permit comes under the jurisdiction of the ATF (Bureau of Alcohol, Tobacco and Firearms- and Explosives).  I think it is much easier these days.
Still, I would calculate 3-5 months for full permitting and compliance.
This usually includes an onsite visit.  It is a complicated application process.
Give yourself at least a month to get everything together.
Making your commercial brewery a reality
Be prepared for a long road, full of challenges, and make sure you have a good team in place.
Know your strengths and your limitations.
Depend on one another and play the long game.
I wish you all the success and brewing happiness you can manifest.
It is an exciting journey.
If you are in earnest about starting your own brewing operation, please contact us. We have the skills to get you set up right. Check the Professional Brewing Consulting Services we offer.
NOTE :

KMB Consulting can assist you in all of your challenges, large or small. Brewers need support and input. It is an artisanal craft, refined by years in the brewhouse. It is also an uncommonly specialized business.
Interested in a start-up or expansion? From conception to construction and pilot brews, we have the experience.
Today's brewers have puzzles that need a fresh perspective. I've walked in your shoes. I know the victories and struggles that come with the brewer's life. Reach out to us. No problem is unfixable. Check KMB Consulting.