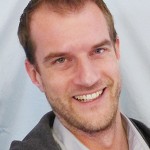 Lifelong beer habitue and homebrew artisan
Hoppy beers changed the world of beer as we knew it. At a time when craft beers were still underground, and all we could buy were commercial lagers, styles like the IPA turned the tables on the beer scene, successfully sparking a revolution.
Beers became hoppier and hoppier, in a Cold War-style race to see who could throw in more hops into their wort. Today, hoppy beers are immensely popular, but they're more balanced than ever.
The hop industry has evolved as well, and now dozens of unique varietals are available for everyone to experiment with them. Everything has come together nicely for hoppy beers, and from a vast collection of extraordinary beers, these are our favorite.
The 12 most hoppy (and still drinkable) beers in the world this year.
Russian River Pliny the Younger, USA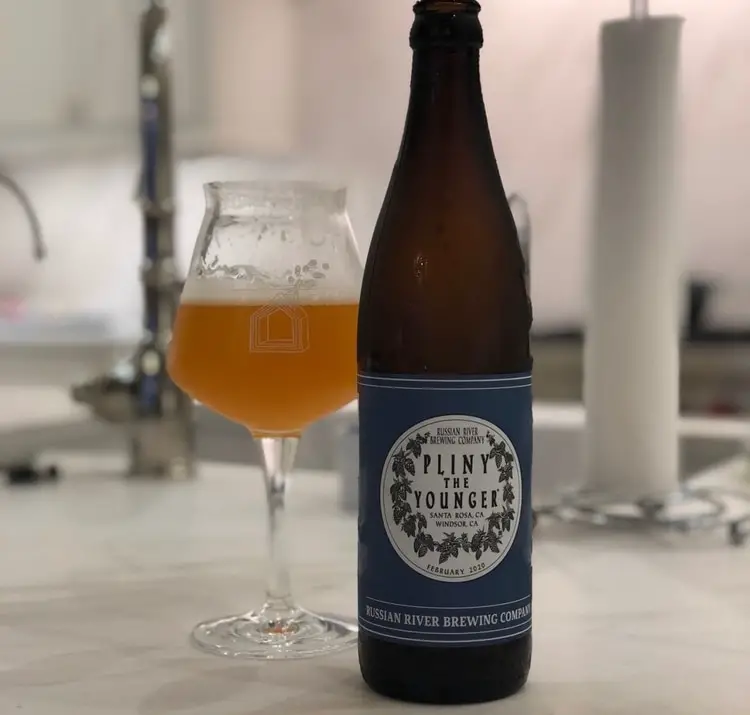 'Higher in alcohol and with tons of hops' that's how the Russian River Brewing Company describes Pliny the Younger, a Triple IPA with a high 10.25% ABV.
Bitterness, layered aromatics and lots of hoppy flavors make this seasonal beer a charmer.
Pliny the Elder, another success for the brewery, was the starting point for the young Pliny, pushing the boundaries to their limit.
With a limited availability because of the global pandemic, you might have some trouble finding this coppery brew, but it's well worth the trouble.
Flying Monkeys, Sparklepuff, Canada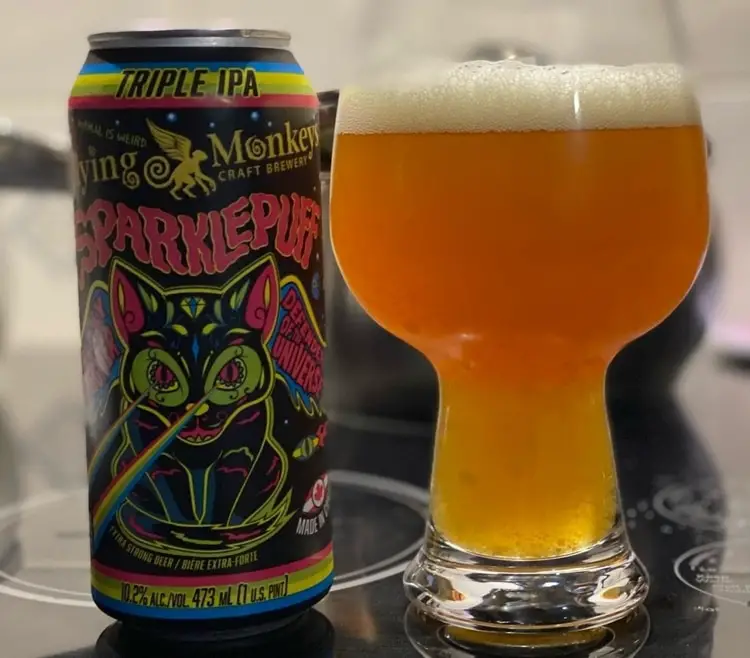 The Flying Monkeys Craft Brewery brings to the competition this 10.2% Imperial IPA with low carbonation, but lots of hoppy aromas redolent of citrus fruit and pine resin.
Here, 'normal is weird', so all beers are extraordinary in some way.
The Sparklepuff is a Triple IPA, meaning it's three-times dry-hopped to achieve intense tropical scents, a persistent bitterness and a 'magnificent kaleidoscope of flavors.'
Based on pale and white malt with some oat flakes and flavored with Simcoe hops, this one is an authentic trip.
Melvin Brewing 2×4, USA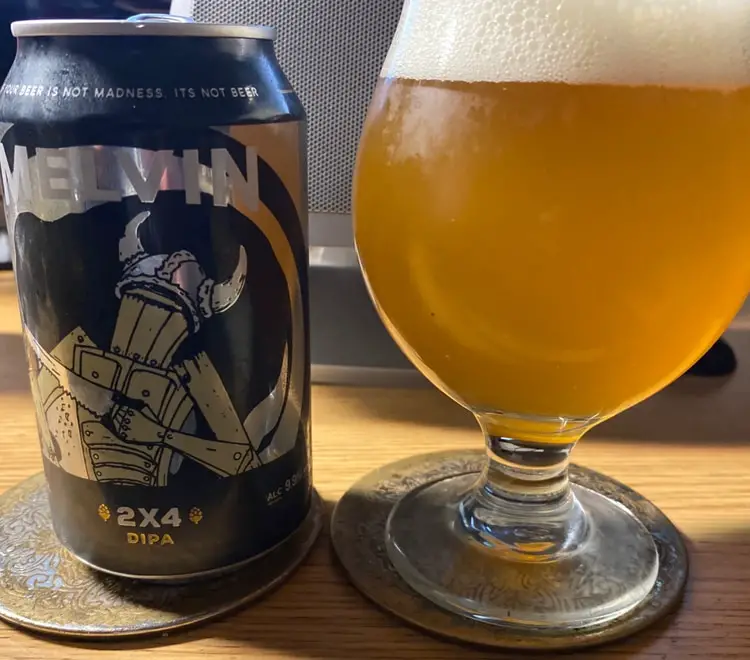 Melvin's 2×4 Double IPA won the triple crown of GABF, WBC and Alpha King. With 9.9% ABV and 100+ IBU, the 2×4 might just be the finest DIPA around.
With floral and citrus aromatics and a well-defined hoppy palate with towering bitterness, this is a DIPA done right.
Melvin Brewing was born in 2009 in Jackson, WY, with a unique motto: 'If your beer is not madness, it's not beer.'
So far, they've been living up to their word because the 2×4 is insanely good.
Dogfish Head Hoo Lawd, USA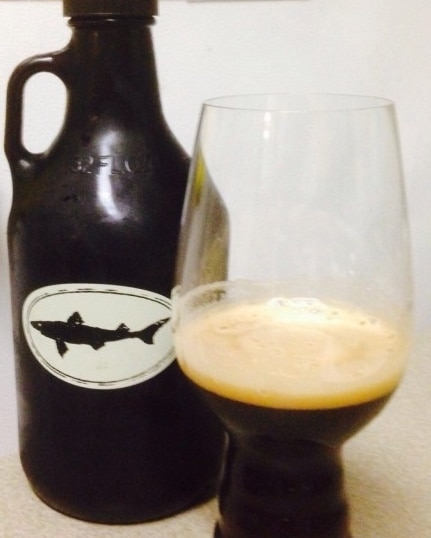 Pushing the boundaries, that's what Dogfish Head Craft Brewery does best.
Their Hoo Lawd, referred to as an 'alpha beast,' is a dark IPA with a ridiculous 658 IBU.
Simcoe, Warrior and Amarillo hops add massive bitterness and luscious tropical aromas to this fun beer with 8.5% ABV.
Initially released in 2015, Hoo Lawd is still of the most balanced ultra-high IBU beers and worthy of being part of the famous brewery's creative catalog.
Invicta 1000 IBU, Brazil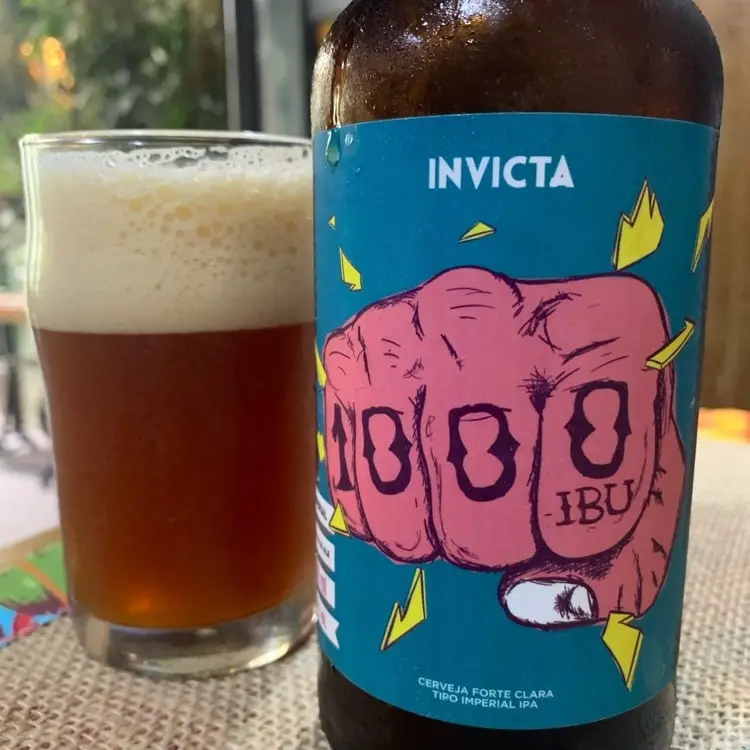 This out-of-the-ordinary concoction, the crown's gem in Cervejaria Invicta, in Brazil, hits you with 1000 IBUs thanks to hefty additions of American hops.
With 8% ABV and memories of mango, tangerine and pineapple, Invicta is much more approachable than you think.
The brewery is at the forefront of the country's recent craft beer revolution, and people in Brazil are really digging hoppy beers, so expect more of this project soon.
Boneyard Notorious, USA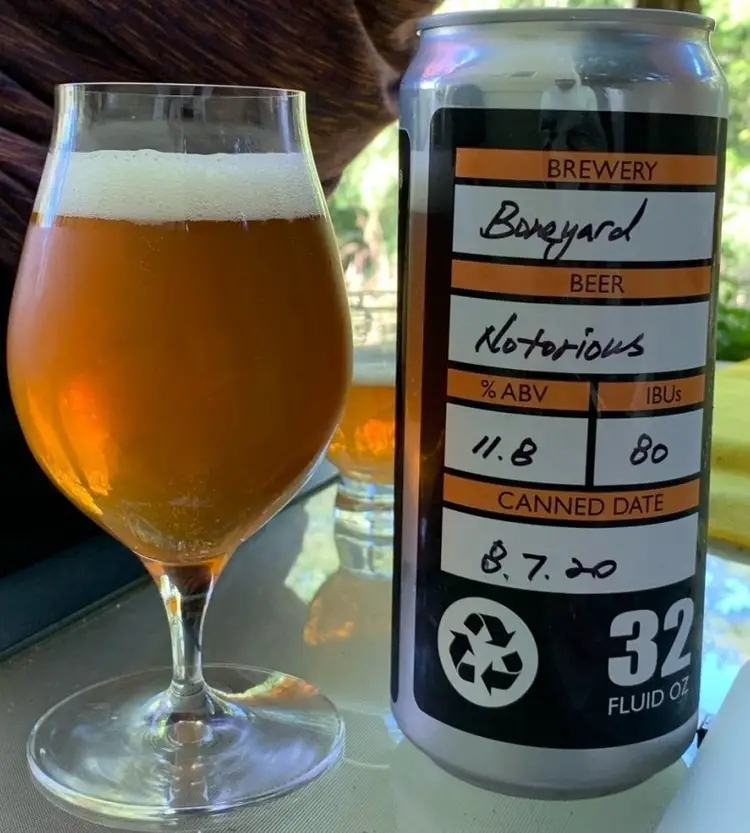 Notorious is a Triple IPA with 11.5% and 80 IBU; this one is a bold beer coming from Boneyard Beer, Oregon.
Lots of grapefruit on the nose and citrus undertones lead the way for a bitter palate infused with tropical fruit.
Despite the high alcoholic content, the beer is nicely balanced and quite pleasing!
Boneyard Beer opened its doors in 2010 with a 'boneyard' of old equipment, a bumpy start that paid off in less than a decade.
Now they're one of Oregon's finest.
Triggerfish, Kraken, South Africa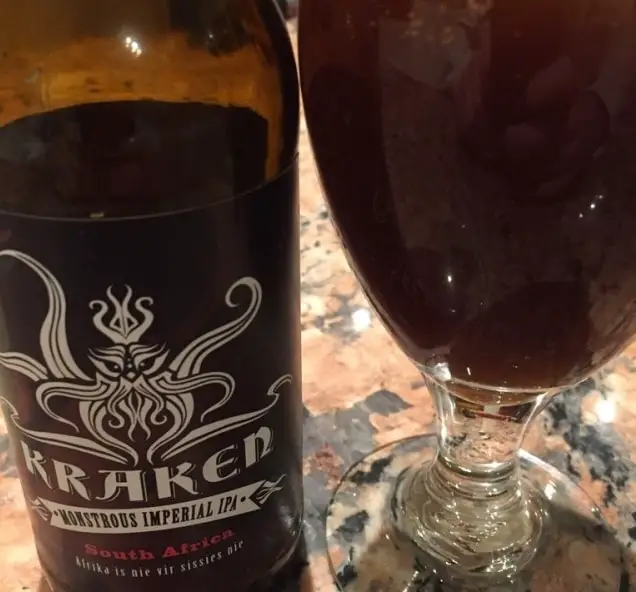 This South African Imperial IPA with 11.5% ABV offers a theoretical 1254 IBU, yet it's nicely balanced between fruit-forward aromas and malty caramel-like sweetness.
Thick and concentrated with an appealing bitterness, this is a nicely balanced beer with a bitter kick.
Surprisingly, it's quite easy to drink.
That's when you know the beer is above the rest.
Triggerfish is widely respected for its impressive array of beer styles, including barley wine, wild ales and quite a few lovely IPAs.
Zaftig, Shadowed Mistress Black IPA, USA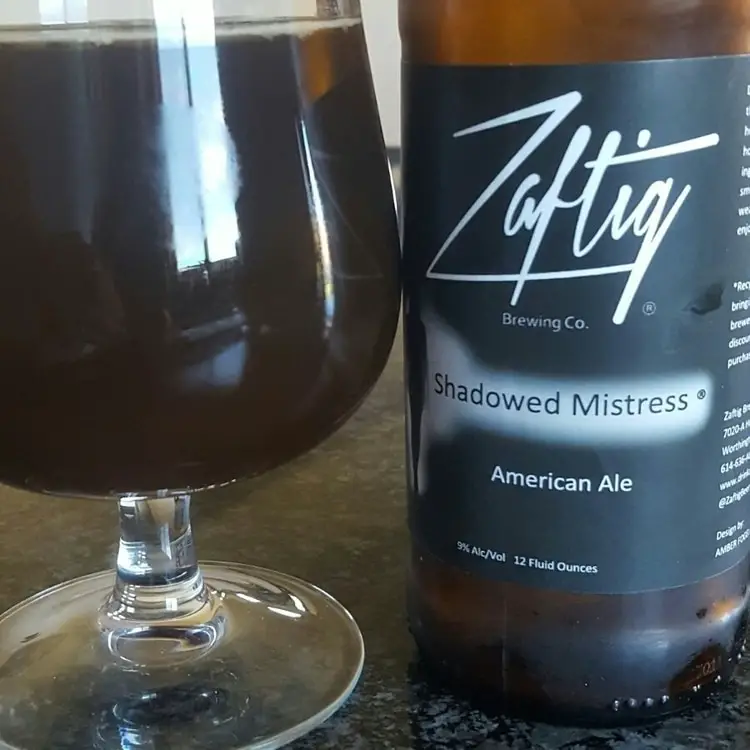 The Shadowed Mistress is an odd beer, in a good way, it's what you'd get if you'd combine barley wine with an IPA.
With 9% ABV, the brewery calls this one a Strong Ale, and it's layers on top of layers of caramel, molasses and a robust bitterness to round everything up.
It's not just the 63 IBUs in the beer but the roasted malts that give this beer such depth.
Nicely balanced, this dark beer is Ohio's pride and joy.
Stone Enjoy By IPA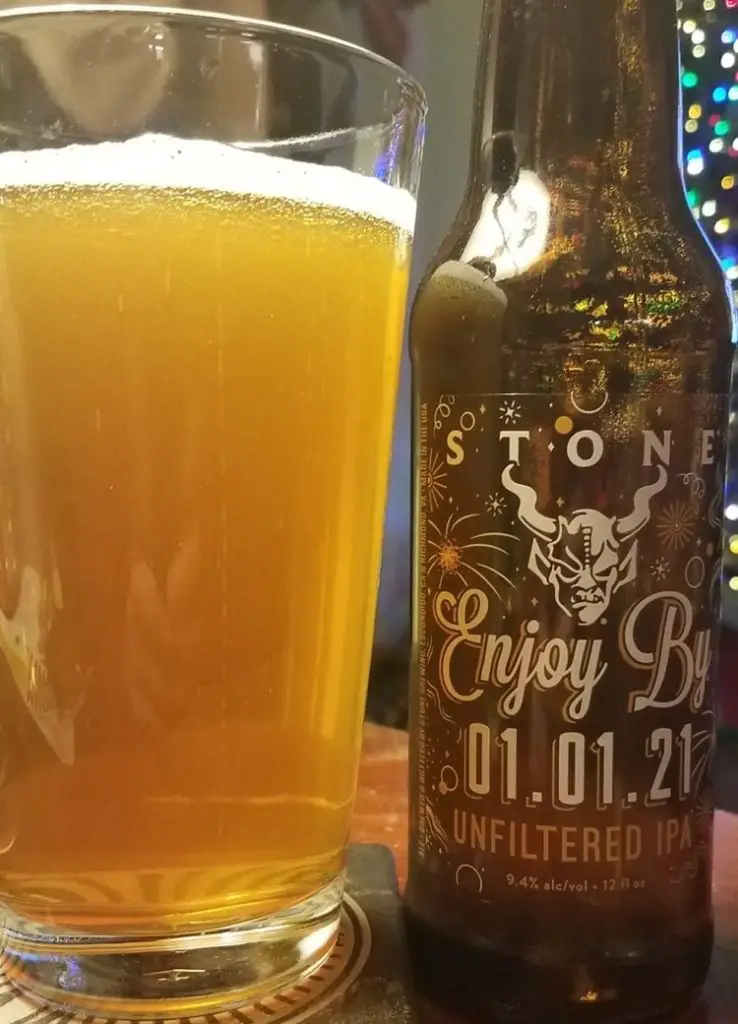 Stone Brewing uses ten different hops to give the Stone Enjoy By IPA its personality. Better described as a Double IPA, this beer provides immediate hoppy pleasure to drinkers, emphasizing a proper 'enjoy by date'.
Hops are strong in this one, and so are the stratified flavors ranging from pine resin aromas to mangoes, pineapple and fresh-cut herbs.
If you're looking for a hoppy beer, then try this beauty.
Von Ebert's, Never Tell, USA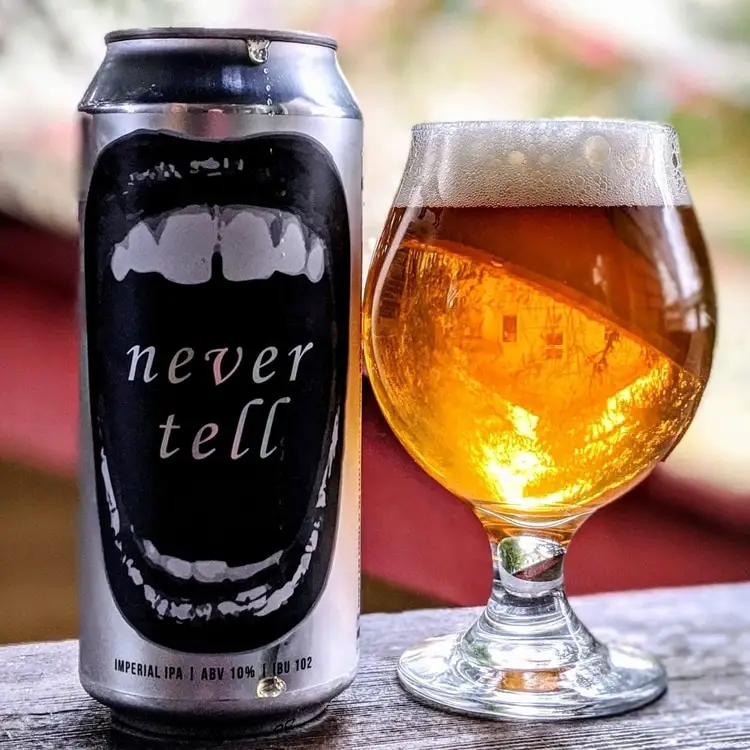 One of the trendiest Oregon Imperial IPAs this year, Never tell, named after the eponymous Violent Femmes song, is a 10% ABV with 102 IBU.
This is the amped-up version of the breweries award-winning Volatile Substance IPA.
Von Ebert Brewing, 'where tradition meets evolution,' specializes in experimental hoppy ales, and they've put together this hoppy beauty with Mosaic and Simcoe and the Australian Galaxy hops.
This one is a pub-exclusive edition, but you can find a few cans if you look hard enough; it's worth the trouble!
Hopworks Urban Brewery, Ace of Spades, USA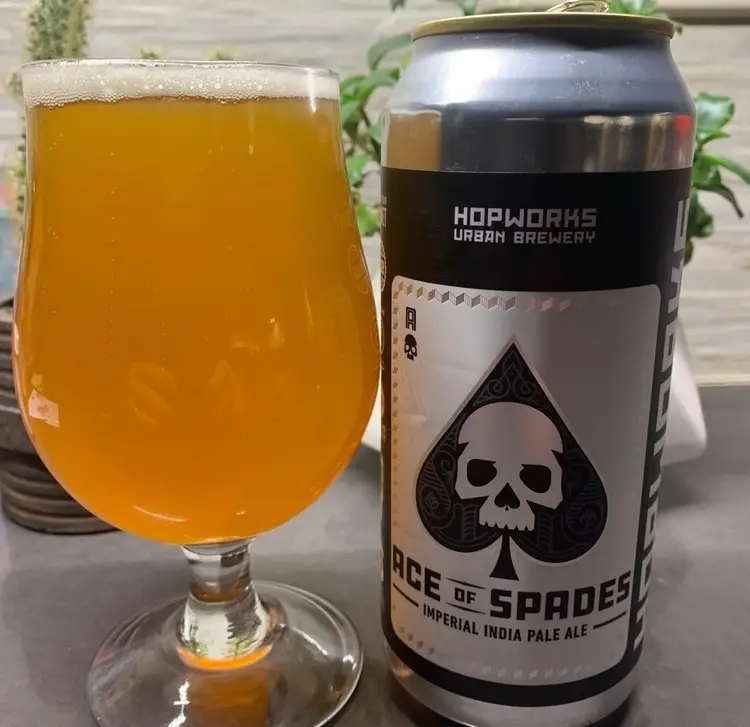 Hopworks Urban Brewery, another splendid Oregon brewery, releases the Ace of Spaces Imperial IPA every year between July and August.
Hopped with Simcoe, Mosaic, Centennial, Amarillo and Cascade.
With 8.6% ABV, this robust beer is as hoppy as IPAs get, but you'll be surprised by how clean and smooth the palate is.
A Black India Pale Ale called Ace of Diamonds is quite hoppy as well, and it's balanced with chocolate and caramel flavors.
Mikkeller 1000 IBU, Denmark
1000 IBU is a 9.6% ABV Double IPA crafted in Copenhagen, Denmark.
Very herbaceous and earthy, with earthbound flavors fluttering over a bitter palate, this mature style is very Old World in style.
The palate is rewarding as well, with biscuity and caramel notes contrasting with the extreme bitterness, a true masterpiece indeed.
Since 2003, Mikkeller' challenges people's taste buds and the concept of good beer'.
Quality here is a given, but there's plenty of room for creativity as well.