Fermentation is arguably the most important part of brewing.  This is the process by which yeast transforms malt sugar into ethyl alcohol.  And I believe the technical term for finished product is, "YAHOO!!!"
The result of fermentation is this relaxing beverage with toasty, bready flavors and perhaps the bitterness, spicy and floral characteristics contributed by hops.  As fermentation goes, so does the quality of your beer.
Primary fermentation occurs during the first 3-5 days of a beer's life when the yeast consumes most of the sugar.  Secondary fermentation takes 1-2 weeks or longer and the yeast works slower, conditioning the beer and reabsorbing any off flavors or undesirable chemical by-products.
Primary Fermentation
Primary fermentation is the start of the actual transformation of wort (sweet raw beer produced at brew day) to beer, a refreshing malty, hopped alcoholic beverage.
Once the beer is cooled, pitch (add) your yeast and store your beer in a clean cool space.
Primary fermentation happens in the first three to five days. 
This is when 60-70% of your sugar is eaten up and metabolized into ethanol.
The temperature will rise 1-3° C during this time.
Note: It is important that the beer temperature not rise above about 20° C at the max.
Do stay within the temperature range as closely as you can.  At higher temps the yeast is thriving, sure, but over-produces esters, aromatics that can create a citrusy, sour nose.
Also fusel alcohols form, which add astringency and also lower the pH, possibly souring the beer, all the while attenuating the beer out of balance.
Initial Off-Flavors, No Problems
At this point it will produce some fruity off-flavors, potentially of the worst kind, called phenols.
Belgian yeast for example can handle these temps and I have allowed Belgian ales to ferment at 27°, and admittedly I was a bit reckless.  However, a little phenol in a Belgian ale may be acceptable.
The risk you run at high temperatures is drying out the beer too much, or over-attenuating.  
Attenuation is the point to which your beer ferments and stops, leaving a certain amount of mouthfeel and malt character to keep balance.
Primary fermentation can be entertaining as well.
Yeast is a living organism and it swims, tumbles and swirls as it works.  It does resemble sea creatures feeding as it metabolizes the sugars and begins transmogrifying this sweet syrup into something refined and special, your beer of choice.
Check out the activity happening in the fermenter after 12 hours :
Off Gassing
Primary fermentation produces a high amount of CO2.  It can be overpowering and I recommend not keeping the fermenter in your bedroom with closed windows.
If you brew in glass carboys (5 US Gallon/ 18.95 L bottle), you will need to affix a vinyl tube whose outside diameter is the same as the inside diameter of the bottle-mouth.  Carboys will have minimal head-space when full.  The tube will curve all the way down, the loose end wedged inside a jar of sanitary water.  During primary fermentation, you will have blow-off.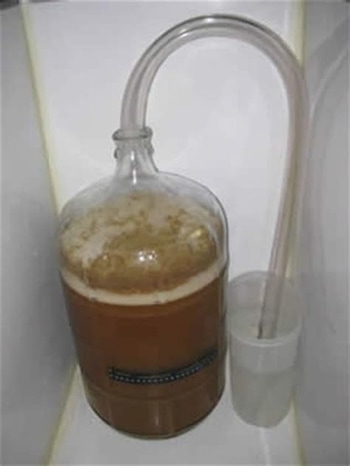 Blow-off includes dead yeast, proteins and foam that discharge as a natural part of the process.
If you use plastic, with 15-16 cm (6 inches) of head space, no tube is needed, just an airlock.
Secondary Fermentation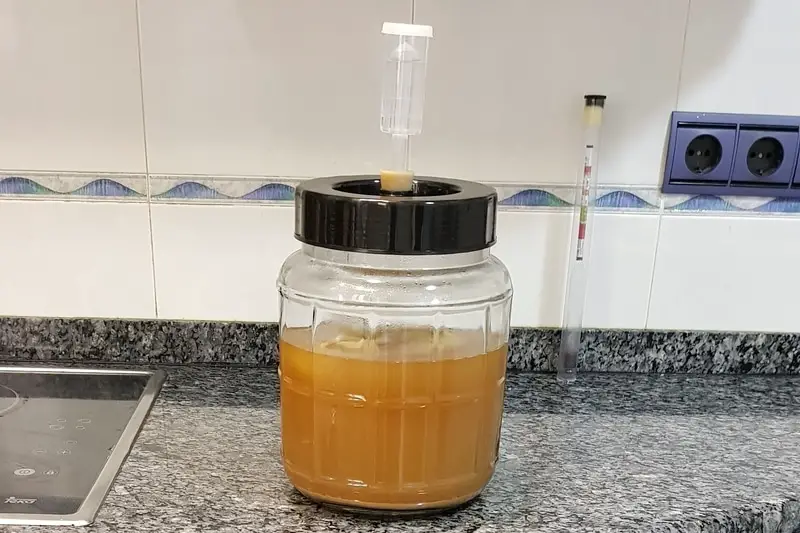 Secondary fermentation is as calm as primary is frenetic.
The yeast has largely done its job, some has died off and sunk to the bottom.
Even the active yeast largely rests on the bottom or the vessel's sides, slowly moving up and down and performing its next key functions.
The process of sugar to alcohol conversion has two main by-products, ethyl alcohol and CO2.  During this first week, there are other chemical by-products as well, acids and proteins created by the process that taste and smell bad.  No problem, the yeast sits and continues to intake beer over the next 7-14 days during Secondary Fermentation. 
Tip: At this stage, especially if you brew in plastic, it is a good idea to carefully rack (transfer) the beer to another clean, sanitized vessel; again glass is recommended.  This gets the beer off of all the dead yeast cells and lets it age with only the healthy intact cells in suspension, still floating and slowly working.
You need not use the plastic tube any more.  The remaining fermentation is slow and measured.  Switch to an airlock.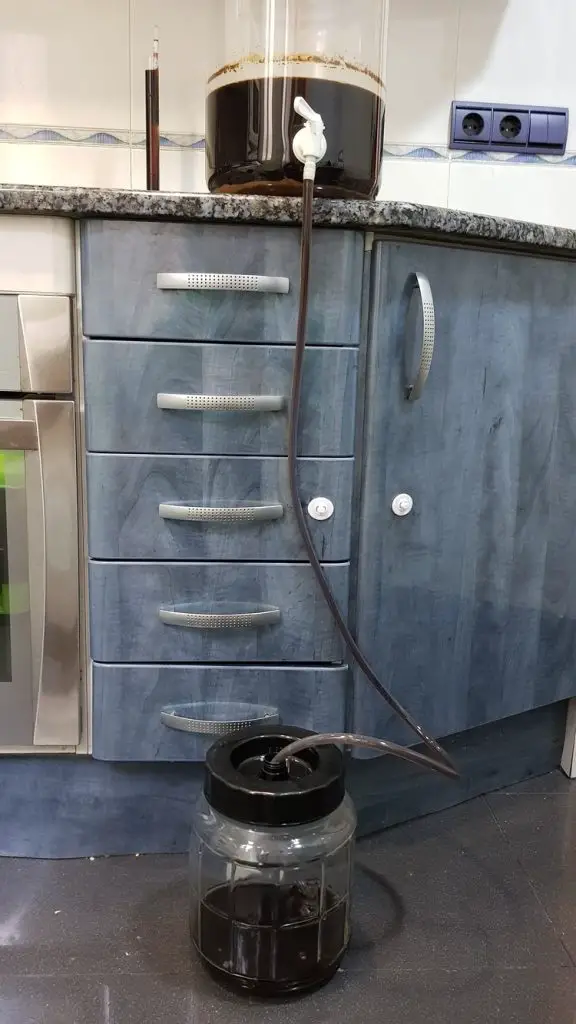 The Conditioning
It is winding down, it finishes its job, fermenting, attenuating down the last 5-10% of fermentable sugars available to it.
Most importantly, it mellows the beer, and all the by-products it creates in primary, it dutifully cleans up after itself in secondary.
A beer will attenuate down to about 75%-80% from its Original Gravity (the weight and potential alcohol of the raw wort).
For example, a beer that starts at 1.062 may finish at about 1.014-1.016. It will have an alcohol content of about 6%.  It depends on the malt, the yeast, the temperature and what flavor profile you are going for.
Quick Tips on Yeast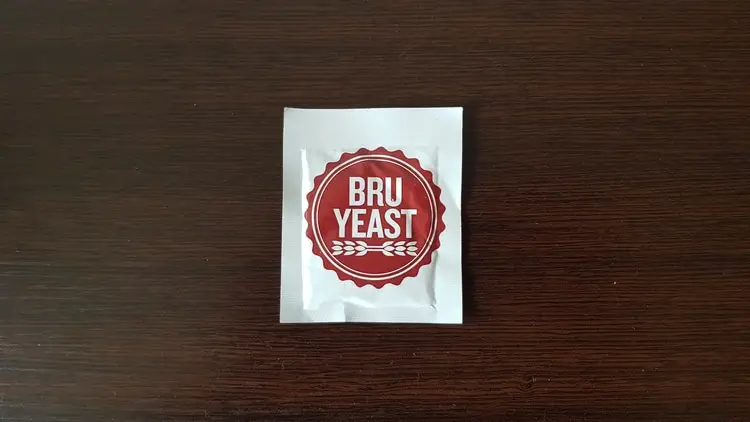 The Pitch
Proper pitching is key to achieving healthy fermentation.
A packet of fresh dry yeast is enough, or a packet or vial of liquid yeast is better.
Please follow manufacturer's instructions for liquid yeast.  Follow ours for dry.
You could just pour it in the beer and let it go.  It will work and things will likely be fine.
However, a key stage in a yeast, and your beer's life, is respiration.  
This is the first 6-12 hours of your brew when the yeast multiplies.  The beer stays aerobic, meaning it is still oxygen rich and the yeast feeds on this O2 as it multiplies.
Kick-Starting your Fermentation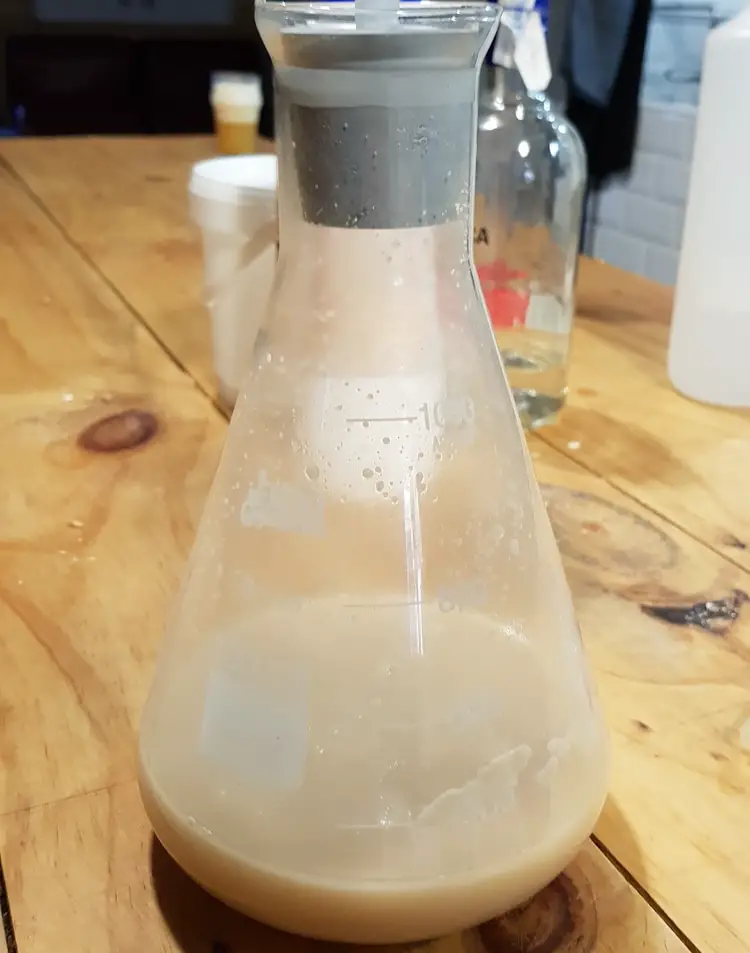 One thing I highly recommend is making a yeast starter. 
With dried yeast, it is simple and effective to kick-start your respiration.
Here's how to prepare a yeast starter:
Boil a ¾ cup of water for 5m.  Cool it down to  100° F / 38° C
Pour it into a sanitized Pyrex measuring cup, or heavy glass.  Add the packet of dry yeast and cover it with plastic wrap.  Store in the fridge.  Do it while the wort is boiling.  This hydrates and activates the yeast.
Pull out of the fridge as the wort cools.
When the wort cools to 62-64º F / 16° C and has been added to the glass carboy or bucket with the water, gently pour in the yeast.  If your cup does not have a spout, use a small food grade funnel.
This is a sure fire way to get your yeast ready to multiply and feast.
The faster you can begin primary fermentation, the better this is for your beer.
Beer is the most vulnerable at this stage between chilling and fermentation.  
Microbes can enter and potentially contaminate it but once your yeast is pitched and multiplies it makes it difficult for anything to enter and take over.
Yeast is arguably the most important ingredient. 
It decides whether your beer lives or dies, whether it tastes like sourdough or a spring nectar.
The Finishing Stages
All that said, do not worry so much.
Build a cleaning regimen and make sure your tools and vessels are scrubbed and sanitary when you introduce any cooled wort or in-process beer into them.
Your main job is to precisely prepare for the before and after.
Except for temperature and pitch rate, you are a spectator.
As mentioned above, during fermentation the yeast will do all the heavy lifting and naturally metabolizes any naturally occurring off-flavors.
Its task done, it leaves you with a clean, balanced flavor.
Fermentation gets you closer to your goal, a fine fermented, aged, and ready to drink beer.