As a beer lover and a prospective or current homebrewer, one question that may pop up is – Can bottle caps be reused batch after batch of my homebrew?
You can reuse bottle caps for homebrewing needs. Only when it is possible to refit a cap to a bottle properly. When a bottle cap is sterilized properly, and if it is not deformed from prior removal, it can be reused. There are also caps made specifically for multiple uses. These include swing-top, plastic caps, and beer savers.
Depending on the time you are willing to spend and the money you are willing to spend, the marketplace has you covered. There's almost nothing that hasn't been thought of and tested to make the homebrewing process more convenient. Why corner yourself into a plan with only one solution, though, right?
Below are some other tips and alternatives to cure what "ales" you about homebrewing when it comes to bottle caps.
Are bottle caps reusable?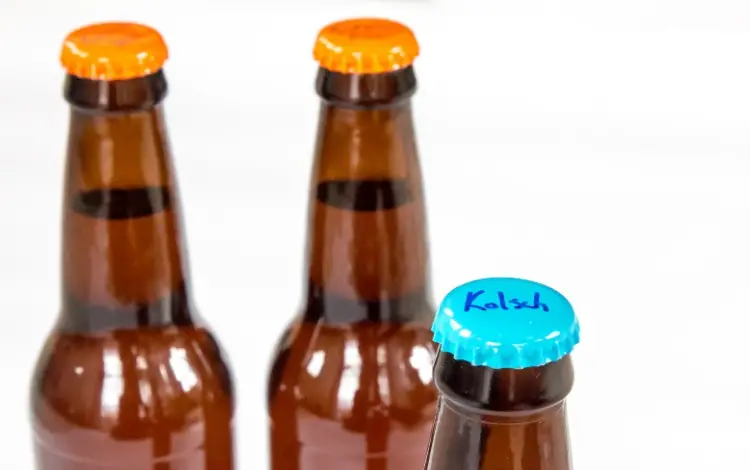 Every homebrewer (and beer drinker, I would bet) would like a way to keep their bottles of beer fresh as long as possible.
Also, to be able to reuse bottles and bottle caps as they see fit.
Here I have compiled a list of alternatives and add-ons to clear the issue up a bit.
Normal metal bottle caps are super inexpensive, costing around 2 cents a piece when bought in bulk.
Reusing them is not going to make you rich, but we've all seen pieces of art made from old ones. They are often laminated with resin and put into a pattern in the home bar. This is always a feast for the eyes, however in the event, you feel the inclination to reuse them, you can do so.
It is important that you use care when removing the bottle caps from your bottle.
Distortion due to bending with a bottle opener, even in a small amount, can ruin the bottle cap if you are not careful.
At that point, you would need to go through the trouble of reshaping the cap to renew its crinkled edges so that it can hug the opening of a bottle again.
Since they are so cheap, it can be easy to discard them and replace them.
But what if you are a little more conscious and would like to look into other methods of reusing your bottle caps? The following paragraphs open up your options even more and help get your grip on the issue.
How to Sterilize Metal Caps
Obviously, you don't want to reuse bottle caps before cleaning them properly.
Always sanitize your bottle caps before the next use to avoid unnecessary germs, mixing beers, etc.
Thankfully, the process is easy and does not take much time at all.
Use a cleaning solution and water. Keep the ratio of cleaning solution to water no greater than 1 part cleaning solution to 20 parts water. We want clean bottle caps, not Tide Pods.
Soak the caps for no more than 5 minutes in the solution, making sure the caps are submerged that entire time. If you leave them in for any longer than that, you run the risk of them beginning to rust.
Strain the water out in a sink and lay the caps on a towel, and allow them to dry until you are ready to use them again or store them in a clean area. I would suggest completing the process as close to the time you are ready to seal your new bottles as possible.
See the video here for a quick tutorial.
After you have sterilized and sanitized the old bottle caps, you must refit them to a new bottle of suds.
Be sure to explore different options for this as well.
Bottle cappers are your best tool for handling this task.
I have linked to the most popular and cheapest type I've found, which is also the one I have. If you are working on a near industrial scale, more heavy-duty cappers are available online.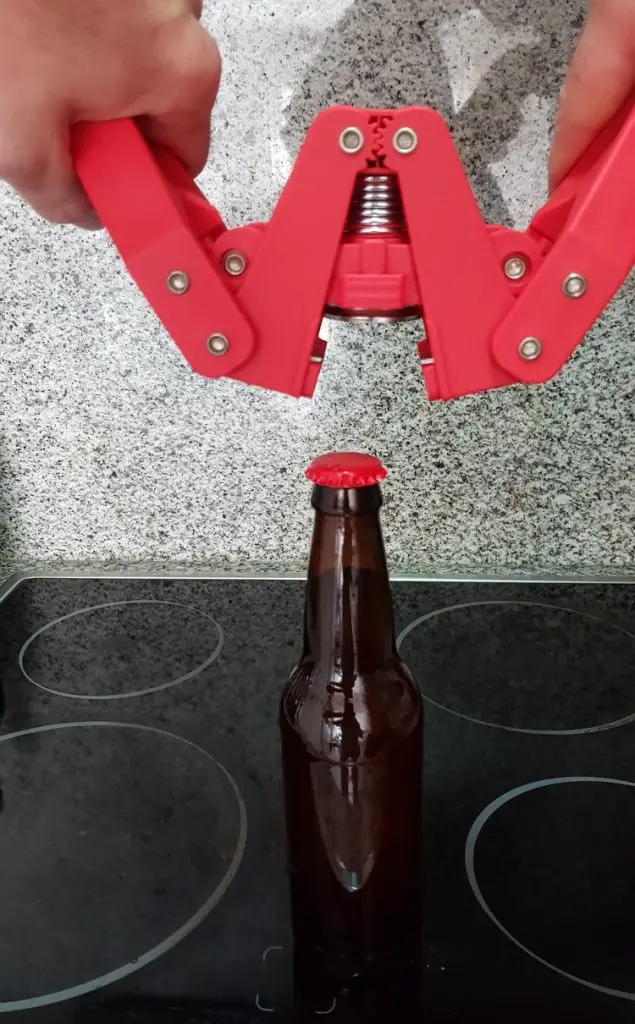 Thus far, I've been referring to metal bottle caps. However, alternatives are available for the non-traditional brewers out there, such as plastic for those trying to avoid the metallic taste a beer can take on or avoid breaking glass bottles and beer savers for the busier brewer who wants to hang on to that unfinished beer a little while longer.
Beer from Plastic, Really?
Yes, there are plastic bottles with easy reusable caps.
Trust me; I'm already ahead of you, beer from plastic bottles is sacrilegious, right?
They distort the taste and are non-traditional.
Don't be so quick to downplay them, though.
They have their upsides. They get cold quicker and can stay colder faster.
Science has improved beer drinking in all kinds of different ways!
The style of the caps are reminiscent of old milk jugs with a metal fitting around the bottleneck and a cap or stopper attached to the fitting.
This way, the bottle is always connected to the cap, and you won't have to worry about losing it.
Also, the cap does not distort when the bottle is opened.
These are called swing top caps and can be used on plastic bottles as well as glass bottles. Which makes these caps the perfect solution to keep the long-lasting freshness you need from a cap and the reusability you need if you brew your own beer.
Swing Top Bottles w/Caps - 16.9oz, Amber Glass, Reusable for Homebrew - 12 pack
Make Homebrewing a Breeze: G. Francis Swing Top Bottles are perfect for making your own brew from scratch
Protect your Brew: amber glass deflects harmful UV rays
Pick Your Size: 16.9 ounce (500 ml) bottles are available in 6 or 12 packs
Safe and Reusable: bottles are dishwasher safe; simply clean and fill again
Premium Swing Top Caps: get the perfect seal every time with convenient, wash & reuse swing caps
Don't forget the option of removable plastic bottle caps. They will cost you a little extra (around 20 cents per cap), but you can't deny the convenience or the lack of worry involved in reusing these caps when it comes to possible distortion due to removal.
Plastic presents a special challenge when it comes to sterilization after use due to the fact that plastic is far more porous than metal. So, be sure to verify methods of proper sterilization before reusing these.
Beer Savers
Have you ever tried to save a great beer and returned to it later to find that it is now skunky, making you want something to keep it fresh longer?
A third option is called "Beer Savers." They are made of food-safe silicone rubber that fit over the standard (glass or plastic) bottle opening like a glove.
Think of them almost like a koozie that goes on top of your drink instead of on the bottom.
Sale
Beer Savers - Silicone Rubber Bottle Caps
Patented design to help keep beer fresh and safe.
Made of food-safe silicone.
Fits most standard beer bottles and some larger styles.
Dishwasher safe and reusable.
Come in multi-colored sets of six (Blue, Red, Orange, Yellow, Green, Purple).
This is not meant for fresh bottling. It's meant to be used after a bottle has been opened but not emptied on one sitting.
Beer savers come in a variety of colors to fit your mood or surroundings. They save you time by being dishwasher safe. They are also reusable, which is the name of the game today, folks.
You may wonder if these work and whether they are long-lasting before you shell out money and drawer or shelf space for them. Check out this video for a great review from actual homebrewers who have tested them.
According to the Brewer's Association, there are approximately 1.1 million homebrewers in the U.S., that's a lot of bottle caps thrown away every year.
With that number in mind, there are certainly many caps to go around for various uses. I hope this guide helps you out in that pursuit. Whether you are just looking to save money or are environmentally conscious, crack open a cold one and toast to yourself!
Last update on 2022-09-06 / Affiliate links / Images from Amazon Product Advertising API