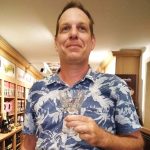 Master brewer, Pioneer of Asheville beer, 1997-2006
I built two breweries in my time. One was Green Man in Asheville, at 367 square feet or so, plus 120+ of walk-in. It was a small brew-pub system. The other was French Broad Brewing Co., also in Asheville. At 3100 square ft, it is a small production micro.
Nanos, brewpub, and micro systems range from 1.5 barrels (1 bbl. = 31US gallons) to about 30 bbls.
For retail sales only, space needed for a brewery may be condensed to 500 – 1000 square feet. A production plant needs more room for packaging and storage: 3000 square feet plus. The smallest conceivable is 150 square feet for a nano brewery.
Breweries in the US have topped 7,000 and the demand continues. Some have succumbed to unforeseeable economic pressures in 2020. Let us look forward and measure some floor space and see where the next install will begin.
What are the minimum square feet needed for a brewery?
A Snapshot of Square footage and Production in two real breweries and one hypothetical:

Nano (hypothetical)
Green Man
French Broad
Floor space
150 sq. ft.
500 sq. ft.
3,100 sq. ft.
Annual Capacity (full house)
338 bbls.
1,260 bbls.
5,400 bbls.
Size brewhouse
1.5 bbl.
7 bbl.
15 bbl.
# of Fermenters
4 (3- 1.5 bbl., 1- 3bbl.)
2 (14 bbl.)
11 (10- 15bbl., 2- 45 bbl.)
Serving or Brite tanks
4 (3- 1.5 bbl., 1- 3bbl.)
6 (7 bbl.)
4 (3- 155 bbl., 1- 45 bbl.)
Kegs/ packaging
(Assume, adequate)
(Assume, adequate)
(Assume, adequate)
Bbls. per sq. ft.
2.25
2.52
1.74
Notes
This is a labor-intensive space.  The amount of time to brew one bbl. is the same as 15bbl. 

Packaging is faster.

There are extra Brites here, capacity is limited by fermentation
Even with sheer fermentation capacity, the plant was limited by conditioning space (Brite tanks). And we assume only 8 brews a week.

It does leave room for specialty beers: lager, Belgian, wheats
The above table is not exact data, but illustrates the realities of space – floor, vertical, conditioning, and fermentation space. It also illustrates time constraints, as in the case of French Broad.
The Table
There is no set limit to how much beer you can or can't brew in a given space, as breweries can go vertical.
For example, my 45 bbl. cylindro-conicals had 300% the  capacity of my dish bottom 15's but took up only 50% more floor space.
Also, my ceilings in French Broad's converted warehouse were 16 feet at the lowest and 25 feet at the highest. I could have fit 75 bbl. fermenters in places with only double the footprint of the 15's.
So, in the end it depends on storage capacity and the ability to package it and get it out of the door.
A Unique Brewpub set-up
I knew a brewpub in Greenville, SC, which installed its fermenters and serving tanks behind the bar, with the brewhouse facing the front window.
So, the brewing platform was for example 8 x 15: 120 sq. ft., and the fermenting and conditioning area was a slightly raised and drained platform about 8 x 20: 280 sq. ft. It was all open air and there for the public to absorb; good epistemic consumer value. There was a 2 vessel brewhouse. The hot liquor tank was under the Mash-Lauter. There were perhaps 4 – 5 fermenters with serving tanks either upstairs or in the cellar.
This open plan is only legal in some states or municipalities, so if you prefer this set-up observe local building codes.  Please see the article…how to build #53 for more info on this.
This was a tight fit, and I think the brewers did most of their heavy lifting before the bar opened so they could utilize the floor space behind the bar also.
Also, we use dangerously strong cleaning chemicals and logic dictates their use before or after hours. Even so, an improperly turned valve could give an unsuspecting patron a face full of 32˚ beer (carbonation temperature). Funny and startling. Anyone in a pub would likely not be too upset for more than a moment.
My First Brewery: the Green Man, Asheville, NC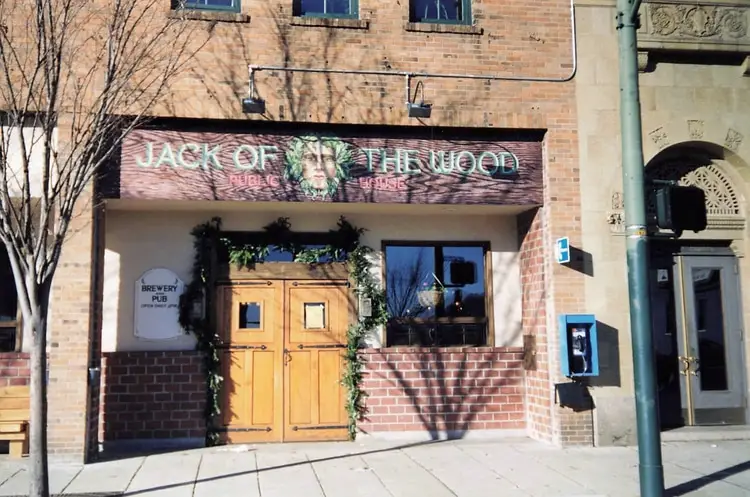 I'm going back 25 years here. Back in the day, there were 3 – 4 breweries there, unimaginable now. Highland, Asheville Brewing, Green Man, and Catawba Valley in nearby Glen Alpine,
As mentioned, Green Man originally had just under 500 ft. of workable space. There were two 14 bbl. fermenters and 6 Grundy serving tanks. Grundys were great. They were old english pub vessels that were dumped into the US market in the 80's and 90's as the UK's craft market consolidated and local producers were squeezed out.
Almost all the Green Man beer was sold by the glass, with a few local keg accounts. In theory its brewing capacity was 1,200 bbls. a year – that is 28 bbls. a week, about 45 weeks a year.  This is an illustration only. We didn't sell anywhere near that much in the early days, though they certainly do now.
Green Man Brewery's Layout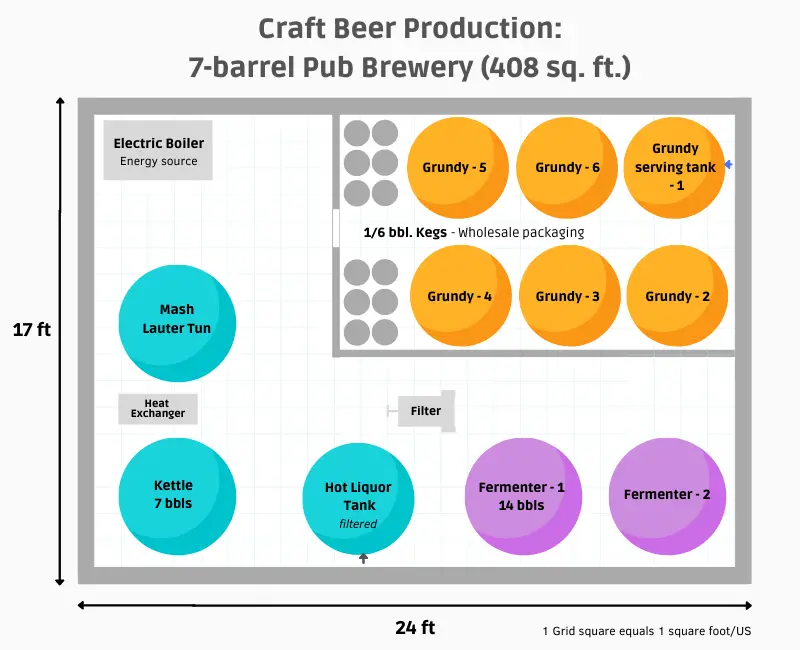 Above is an approximated  layout of the Green Man Brewery on Patton Avenue, Asheville, NC. Green Man was attached to Jack of the Wood Public House and the beer lines went straight from the Grundy tanks (old English Pub Surplus) to the bar.  Another partner ran the pub and I was paid by the barrel produced.
Note the space is quite tight. I stored grain off-site and there was a small physical plant outside- refrigeration and electric. If a small brewery is at capacity, there is often not space to turn around.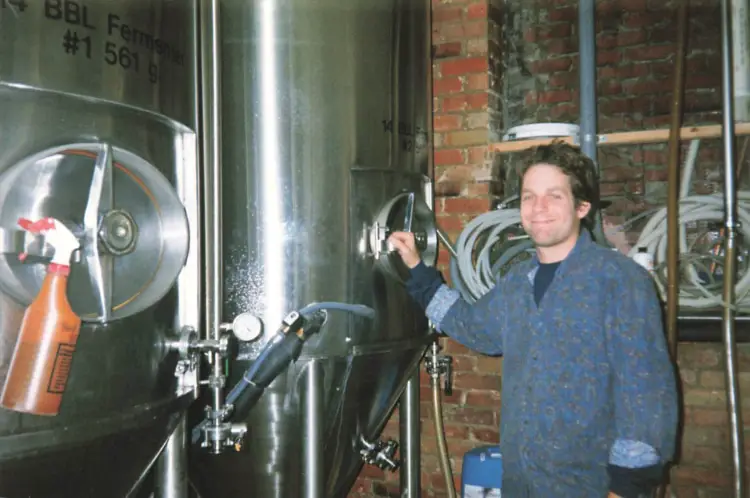 Moving up to Micro, the French Broad Brewing Company
I burned out on Green Man after 3 years. There were personal issues with management, so I decided to strike out and become fully independent.
In 2000, I moved across town and started French Broad. This was a 3,100 sq. ft. building with room for growth. There was a 15 bbl. Italian designed Criveller system. I'd bought it used from Water Street on the Brooklyn waterfront almost directly beneath the bridge.
Me and a good buddy, Scott Pyatt, (Catawba Valley Brewing) went up there in February to check out the system. It was all laying on its side, covered with dust and detritus, on  the seventh floor of a warehouse, wherein the former owner was making bridal veils!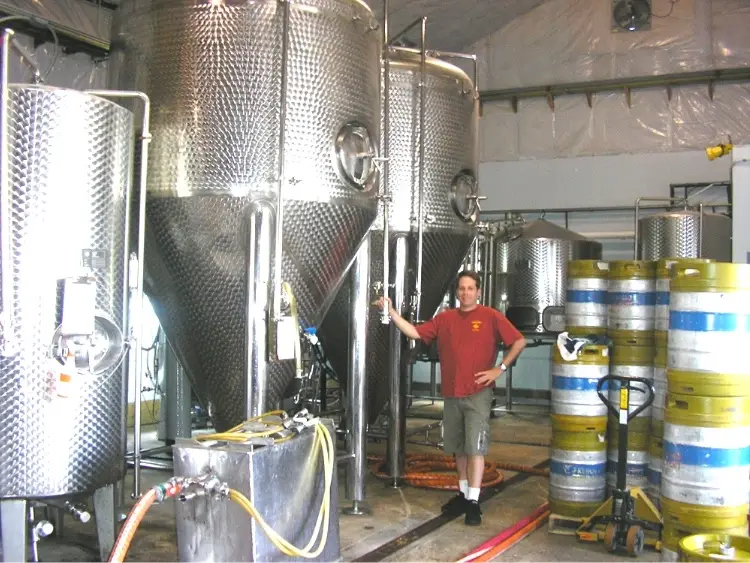 There was a 3-vessel brewhouse (steam fired kettle), 9 fermenters, 2 brite (conditioning) tanks, compressors, glycol chiller and miscellaneous hardware, large and small. I even got a used 30,000 BTU steam boiler out of Vermont for $800. Cost another 8 bills to ship but a bargain at 5 times the price.
We got the whole shootin' match for 69K. It was a steal. Anytime you can get 14 brewery vessels for 4K each, take that deal.
I bought a U-Haul full of walk-in panels for $500. With a compressor from Brooklyn and a door I found in a field, yes, outside in the dirt, I built a 10 x 16 walk-in cooler for about 4K. New, about 14K.
In the end, the 14 vessels, 10 x 16, fit in my 3,100 sq. ft. space with room to spare. In 2004 we built a small pub and hosted live music.
The point is, do your legwork, look around, see what can be found, there is money lying around.
In later years, French Broad added a canner and leased adjacent spaces for storage and cooler space.
French Broads output
Assuming they could brew 8 times a week about 45 weeks a year, FBBC could produce about 5,400 bbls. More could be done with double shifts, but they had really maxed out the physical area, even with adjacent space for storage and cooling. They also hadn't enough Brite tanks to support fermentation.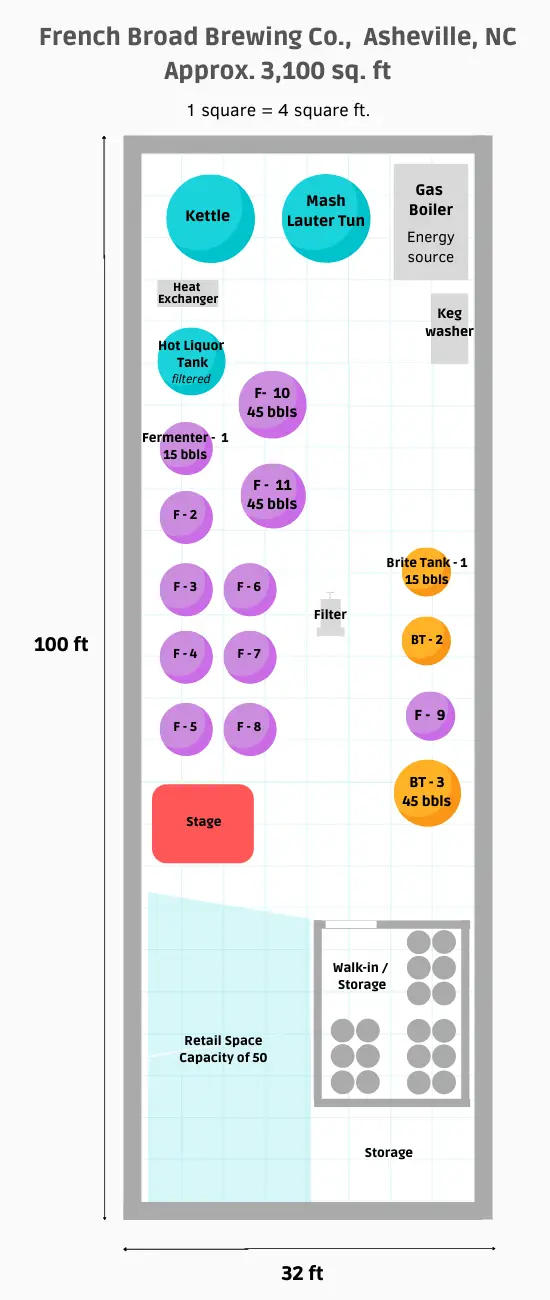 French Broad Brewing Company, Asheville, NC, was quite different from the original Green Man as it had more space and was built for wholesale production output. There was a lot of fermentation and workspace, at least the first few years. After adding a canner and ramping production to near capacity, adjacent spaces were used for storage and the walk-in. refrigeration units, a glycol chiller, and dirty kegs were stored outside.
It also held a small tasting room and pub, with live music.  The operation hours were only 1-8 pm, typical for tasting rooms as opposed to full-on bars. The retail revenue was critical to the overall operation.
You can build what you dream. Remember, it's multi-dimensional and multi-directional.   Not least important, producing beer is an artisanal craft. Make sure someone has the talent.
Filling your Square Footage – Adventures in New York City
As chance would have it, the guys who sold me the Brooklyn tanks were none other than Jim Krejcie and Alan Ditky of Chicago, IL. Their company, ABT, Applied Beverage Tanks (originally Applied Beverage Technology) has operated since 1992.  link here
I met them in '99. Jim and his helper met us in Brooklyn. Me and my buddy (yes, I know the pronoun/subject agreement, "My buddy and I", is wrong, I'm a teacher but this is the way I talk sometimes) Bryan drove our own 18-wheeler to New York City to pick up the tanks. Bryan was a licensed driver and old fishing buddy. The rig belonged to another friend, a pro trucker named Gordy.
Man, we were 29 years old, and driving an 18-wheeler into New York City was craaaazy! First 10 minutes in the city, we wandered off the truck route, meaning the road big enough for us and 10 minutes later had that thing jack-knifed in a Hoboken, New Jersey neighborhood trying to make a right turn and escape. Bryan was a journeyman driver and we started to panic.
Long story short, after about 30 minutes, we managed to move the back axels forward and we cleared the parked car by 1.5 cm, I SH** YOU NOT, IT WAS THAT CLOSE.
After that, it was smooth sailing, couldn't get any worse.
Large or small, retail or wholesale, building a brewery is an adventure. This was just a small part of ours.
If you are in earnest about starting your own brewing operation, please contact us. We have the skills to get you set up right. Check the Professional Brewing Consulting Services we offer.