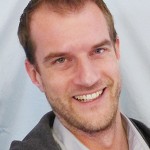 Lifelong beer habitue and homebrew artisan
Originating from Pilsen, in what is now the Czech Republic, the Pilsner is popular style of beer on the American beer scene.
These beers are lagers, conditioned at low temperatures, with a stronger hop flavor.
Typically, pilsners use a pilsner malt and Noble hops. These deliciously balanced beers pack a lot of good flavor and aromas in and finish smooth and crisp.
1) Shadowclock Pilsner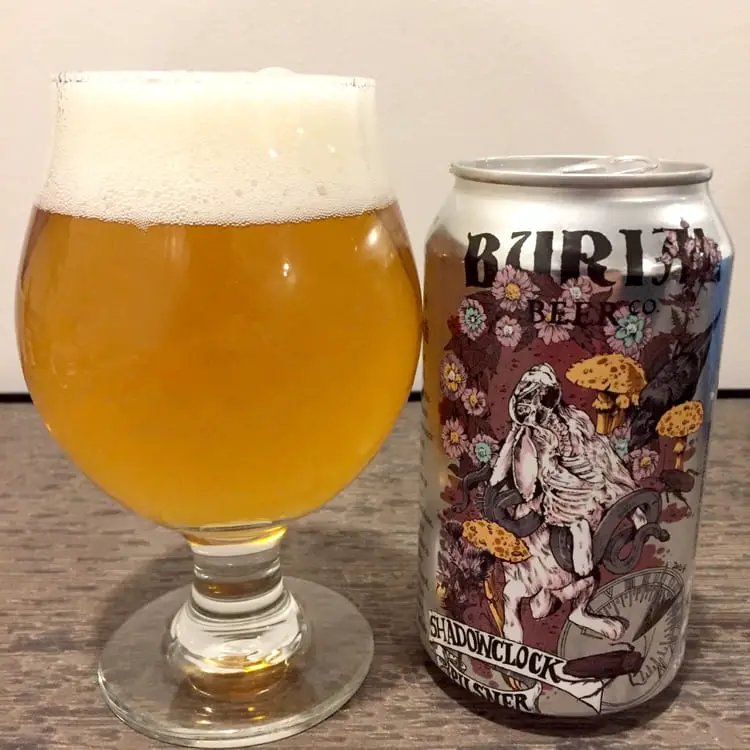 Brewery : Burial
This very malt-forward pilsner from Burial Brewing, in Asheville North Carolina is very clean, effervescent and tasty.
This beer is never filtered, and has a heavy carbonation and great biscuit-like, bready malt aromas. It brings with it a nice sweetness and noticeable hop bitterness that balance each other out well and great hoppy floral notes that carry through.
This beer is very smooth and easy drinking.
2) Pilsner Urquell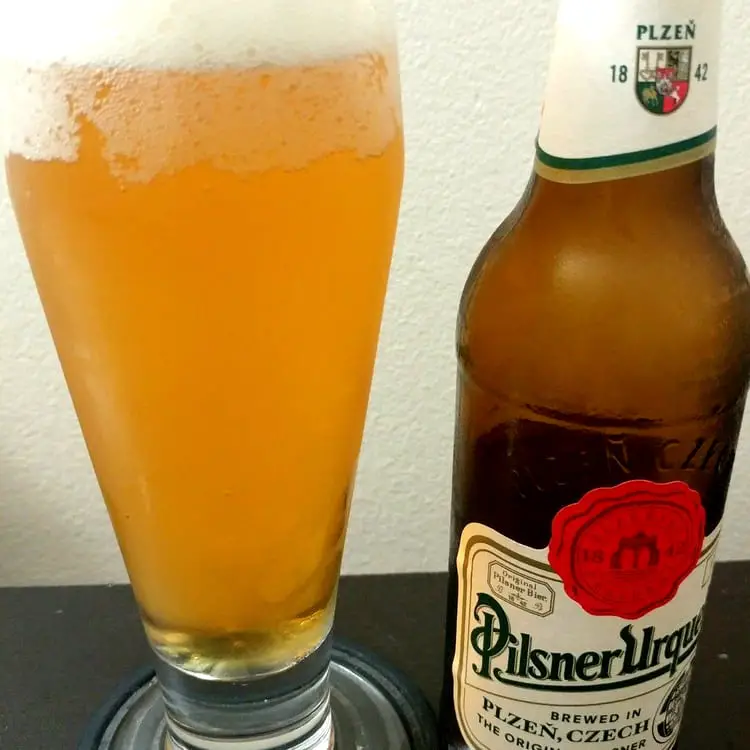 A Czech classic, Pilsner Urquell was first brewed in 1842, in Pilsen, Czech Republic.
It's a brilliantly clear, golden pilsner with a light, easy-drinking character.
You get some slight notes of cracker-like malts, and light floral and bitter tones from Noble hops.
Mild fruity flavors peek through, giving hints of grapes, apples, and banana, as well as peppery hops.
You'll get a little bit of a unique funky aroma and aftertaste that's a bit sulfury.
Overall, this beer has the classically easy to drink smoothness and crisp finish of a great pilsner.
3) Polestar Pilsner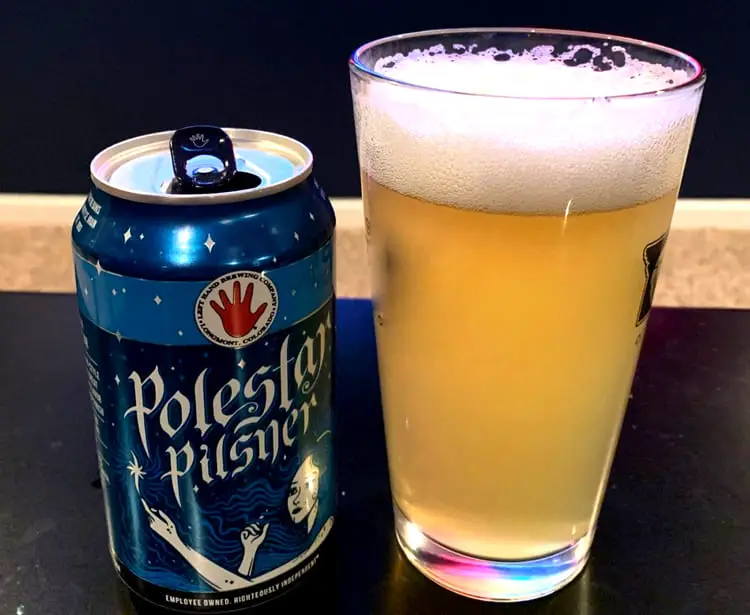 Brewery : Left Hand Brewing Company
Left Hand never fails to bring good stuff to the table.
Polestar Pilsner is not short on character.
The beer has a less than subtle corn sweetness that carries throughout and that I happen to love.
This sweetness is balanced well with very present spice, lemony citrus, and grassy floral and herby flavor from the hops.
This is certainly an American style pilsner, with qualities that resemble a pale ale, but with the malty sweetness and clean finish of a true pilsner.
4) Czech Style Pilsner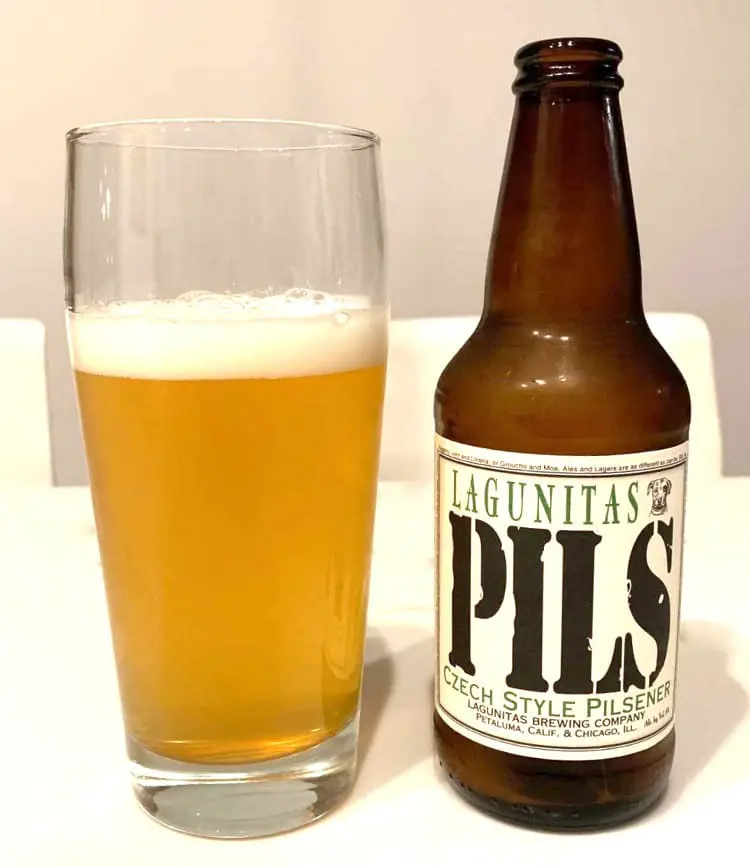 Brewery : Lagunitas Brewing Company
A brewery known more for its hoppy ales, Lagunitas delivers surprisingly well on this pilsner.
A little bit assertive with the noble hopes, and a bit unbalanced, this beer comes together as something very easy to drink nonetheless.
You'll get a toasty, clean and bready malt, indicative of a Czsech pils, yet some hoppy floral notes from the Saaz hops.
Pours clear, drinks smooth, and finishes crisp.
5) Highland Pilsner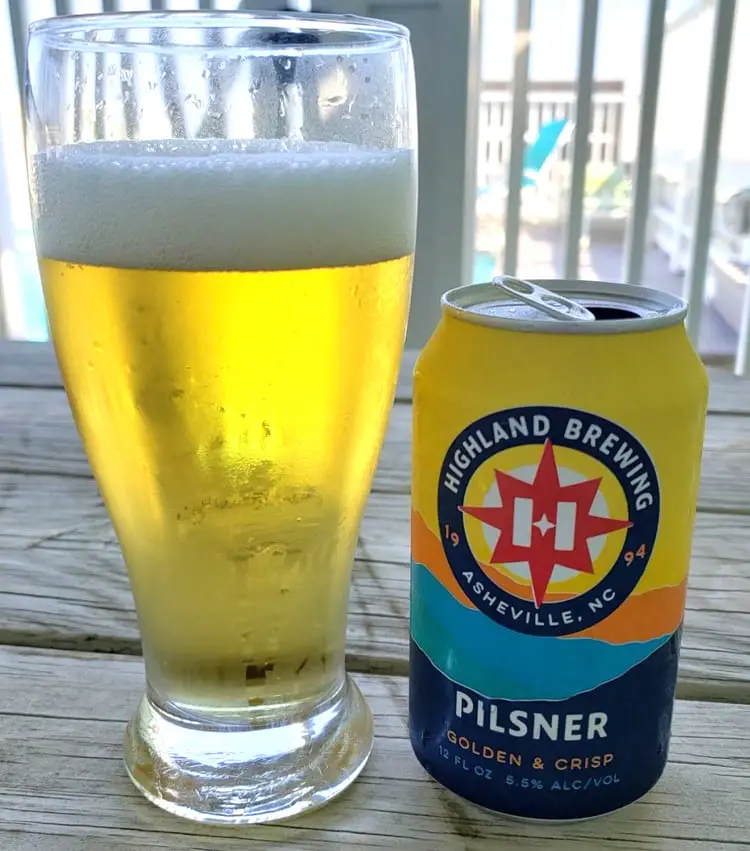 This is a deliciously golden and crisp pilsner from Highland Brewing.
The aromas are of lemon, orange, and orange zest as well as floral notes from the Sahpir, Perle, and Hersbrucker hops are fresh and light to the nose.
The flavors of graham cracker, pilsner sweet malt, peppery hops, and slight hoppy bitterness make this a really refreshing beer.
6) Sunshine Pilsner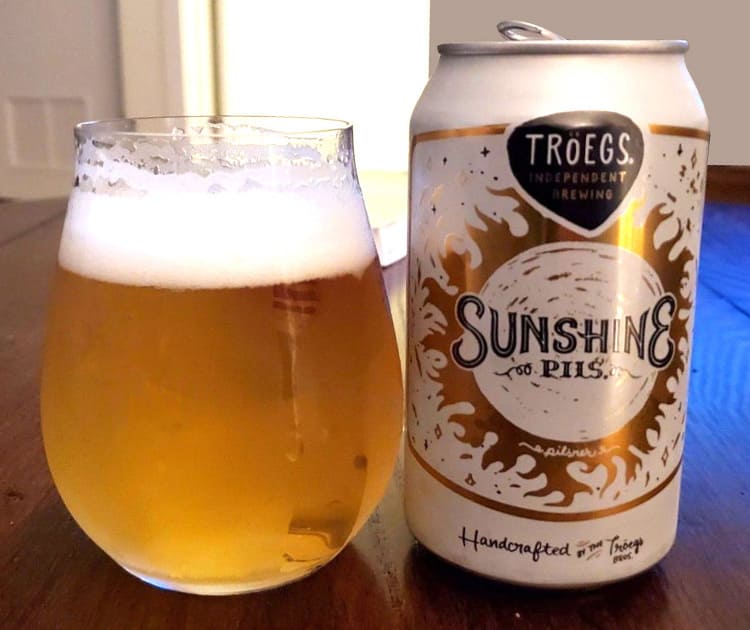 Brewery : Troegs
This Bohemian style pilsner exudes brightness and effervescence.
Biscuity malt sweetness plays on the see-saw with a strong wallop of hops.
Not quite balanced, the hops overtake the flavor of the malt just a little bit, but the result is something wonderful.
You'll get notes on the nose of cotton candy, orange creamsicle, and sweet bread.
The flavor is slightly sweet, a bit citrusy, with a nice carbonation and a very crisp, dry, almost wine-like finish.
7) Summerfest Czech Pils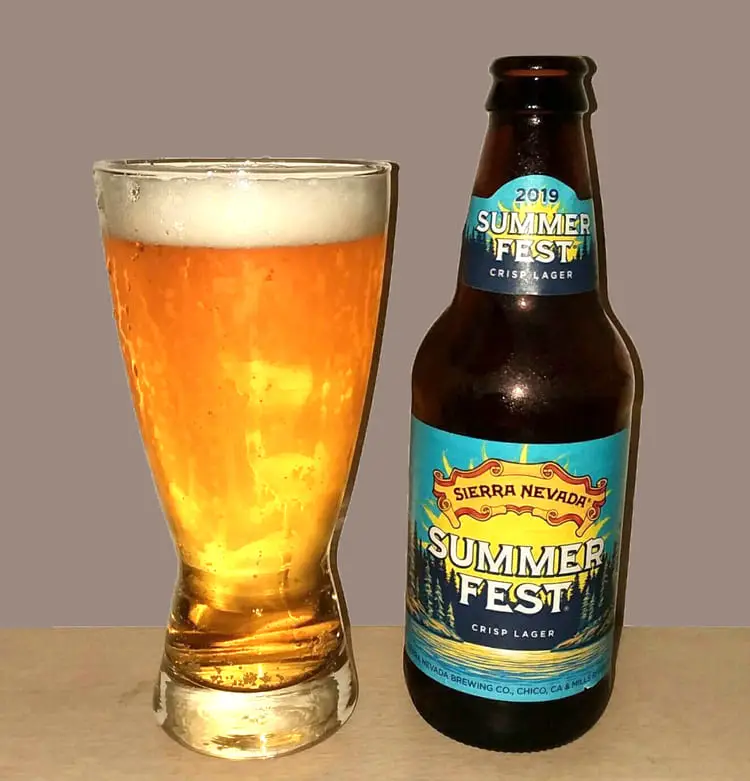 Brewery : Sierra Nevada
Sierra Nevada's Summerfest is light and refreshing with a good balance of sweet maltiness and spicy hop bitterness.
This beer drinks very smooth, with just enough citrus and earthiness from the hops to play well with the bread-like malt backbone and a finish that is nice and crisp.
8) Sound Czech Pilsner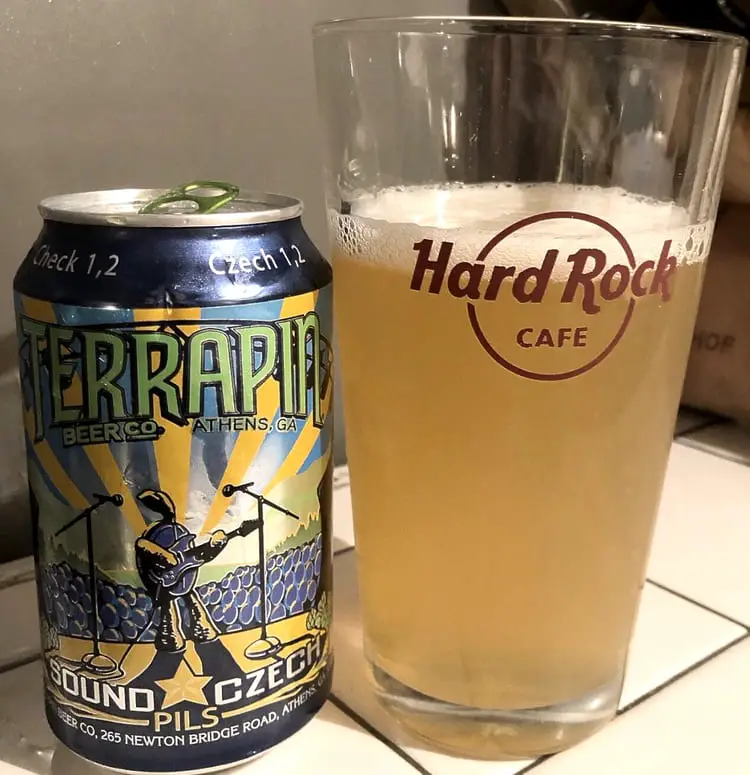 Brewery : Terrapin Brewing
This Czech-style pilsner from Terrapin is bright and vibrant.
It's got a very nice lemon flavor that plays really well with a certainly unique piney and "dank" flavor from the hops.
The finish is very fresh, clean, and dry, just as you'd expect from a perfectly lagered beer.
9) Panic Water Hoppy Pilsner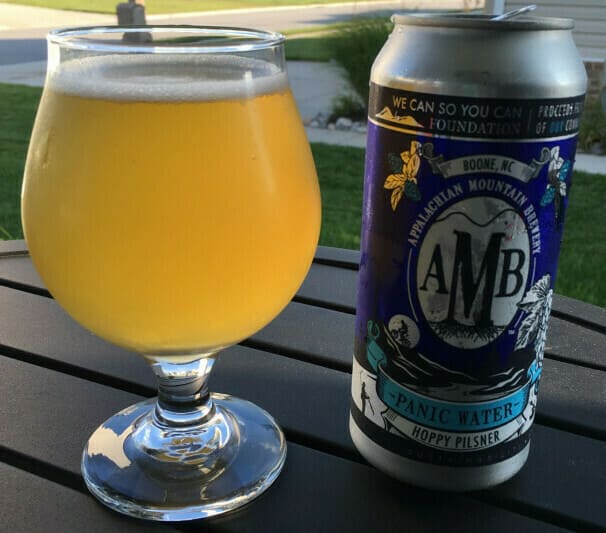 Brewery : Appalachian Mountain Brewing
Panic Water from Appalachian Mountain Brewing is a gem of a German Pilsner.
Not as hoppy as the name implies, the beer is full of character nonetheless.
Well balanced and smooth, this beer is hardly panic inducing.
The malt comes through with delicious cracker-like sweetness and the hops deliver with a punch of citrus, a certain spiciness and an herbal quality.
This beer is a bit hoppy, a bit sweet, and a lot smooth, with a great dry finish.
10) Prima Pils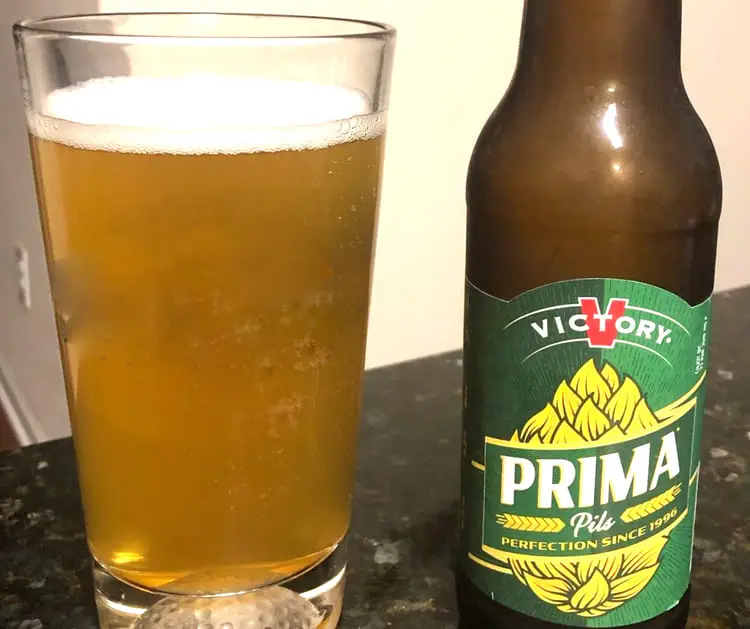 Brewery : Victory Brewing Company
Prima is a little on the hoppy end of the spectrum for a German Pilsner.
The strong citrus and grassy bitterness are balanced out well by the bready malty sweetness.
Prima is very refreshing and clean-finishing, though a little bit too piney for some palates.
If you love hops, you will love Prima Pils!
11) The Crisp German Pils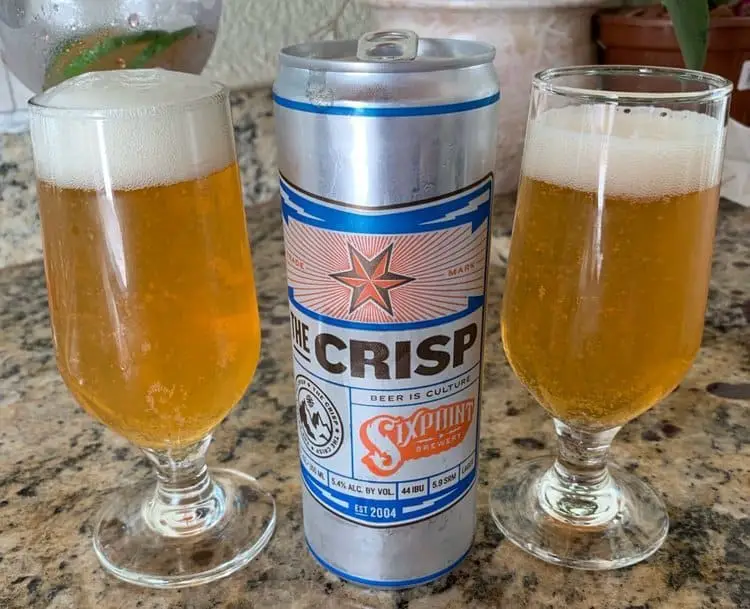 Brewery : Sixpoint
Sixpoint combines old-world craft with new-age creativity with the Crisp.
Heavy on the hops for a German pilsner, this beer dances with flavors of citrus, berry, and a crisp, assertive bitterness.
Bready malt tones help to balance these hoppy flavors but leave it a bit unbalanced in the most delightful way.
This drinks more like a hoppy ale but has just enough of the smoothness associated with a German pilsner.
12) Noble Pils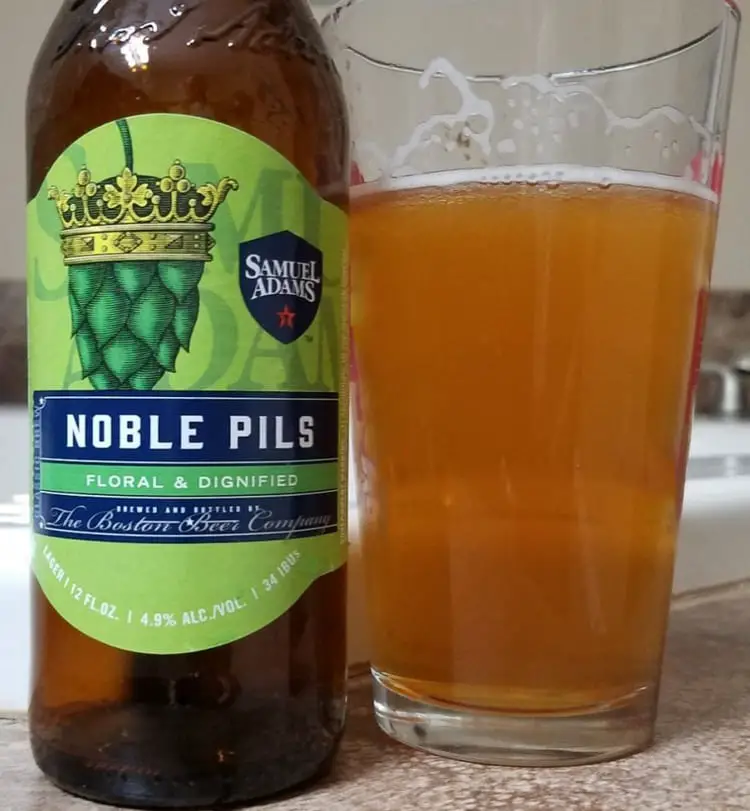 Brewery : Sam Adams
Sam Adams Noble Pils is full of delicious, light and biscuit-like malt flavors that you want in a good pilsner.
It's got a wonderfully smooth mouth-feel and a low-key dose of citrus from noble hops.
This pilsner is designed to showcase all five "noble hops" and balances these hops nicely with honey, malt, and Bohemian barley.
Sam Adams spared no expense in putting together some of the best ingredients that they could find to make a truly impeccable pilsner with fantastic aromas of dried fruits, malty bread, and a complex, crisp and fresh flavor.
13) Fat Ma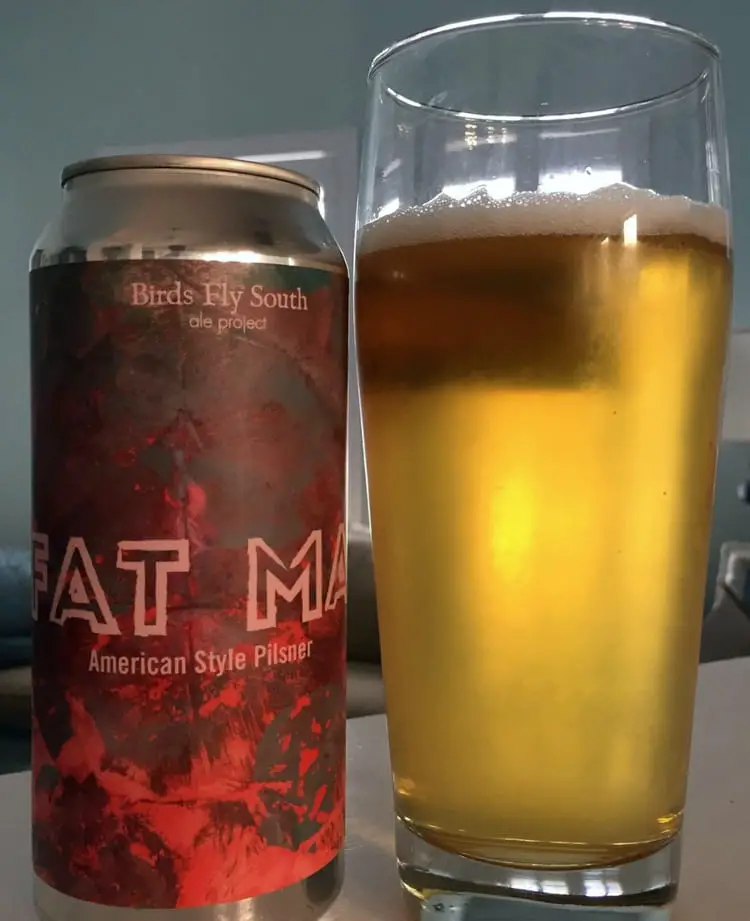 Brewery : Birds Fly South Ale Project
Birds Fly South is an amazing brewery in Greenville, South Carolina that is doing some really cool things.
Fat Ma is an American Style Pilsner.
Itwas lagered for over two months, giving it a very effervescent and refreshing character and crisp finish.
It's hopped with rare Topaz and Sterling hop which give a nice floral, peppery flavor and notes of stone fruits.
This is a fantastically smooth and refreshing pilsner.
14) Torch Pilsner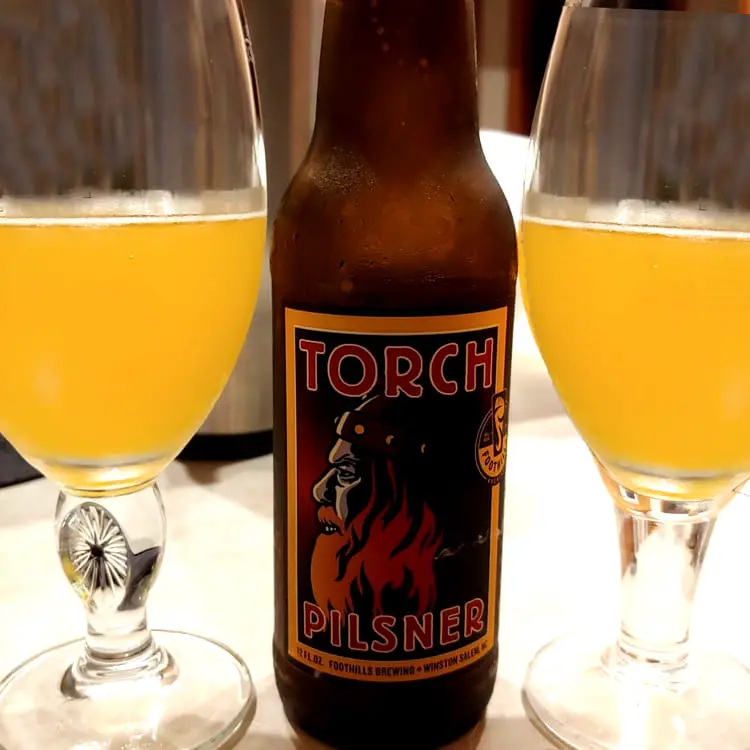 Brewery : Foothills
Torch Pilsner is a great Bohemian pilsner by Foothills Brewing.
It uses spicy Czech Saaz hops to balance with a biscuit-like malt backbone.
They've simply done a fantastic job here of balancing the hop character with the malt sweetness of a true pilsner.
Torch is very easy-drinking, not too sweet, and not too hoppy, with a clean and smooth finish.
15) Flying Tigersault German Pilsner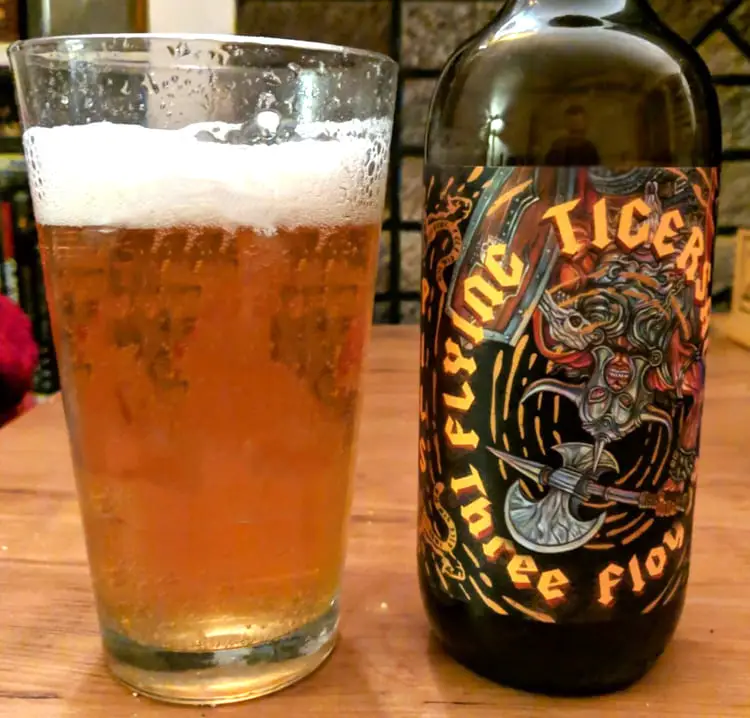 Brewery : Three Floyds Brewing
Tigersault, from Three Floyds Brewing in Munster, Indiana, is a beautifully clear, lightly golden pilsner.
You'll get delicious honey biscuit from the malts, aromas of sweet corn, and awesome grassy hops through the middle.
Amazing layers of sweetness are complimented by peppery, herbal bitterness from the hops to create a wonderfully balanced brew.
Tigersault has a dry mouthfeel and bright, clean finish. This pilsner goes down smooth.
You won't drink just one.
16) Mama's Little Yella Pils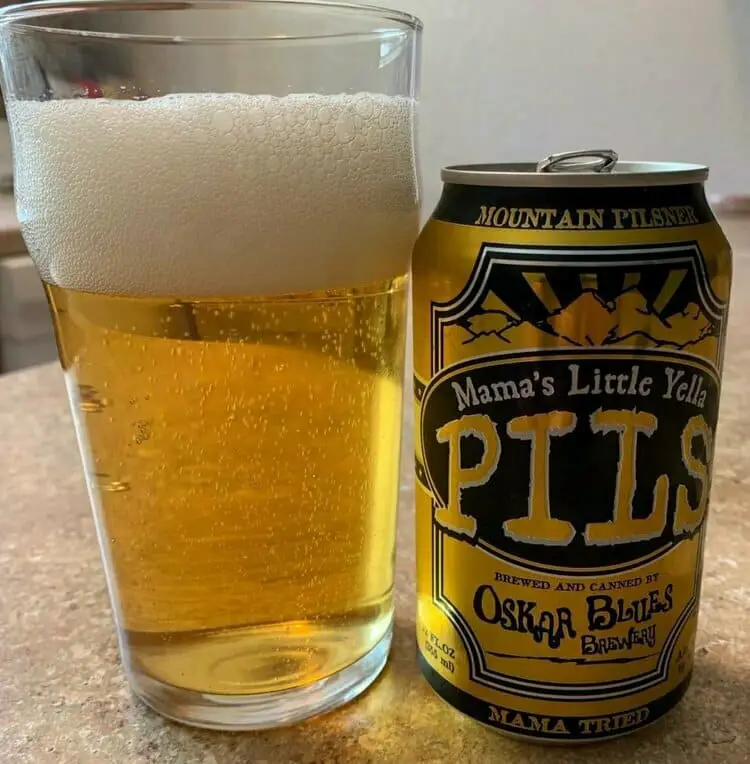 Brewery : Oskar Blues
In this Czech-stlye Pilsen from Oskar Blues, you'll get an extremely approachable lagered beer.
In true lager style, you get a smooth, crisp, and clean brew with more malt than hops.
You get just a whisper of herbal and floral notes from the German Saaz hops and a little bit of fresh, juicy hop flavor.
It finishes very light and clean, making for a very easy-drinking beer for any occasion.
17) Nooner German Pils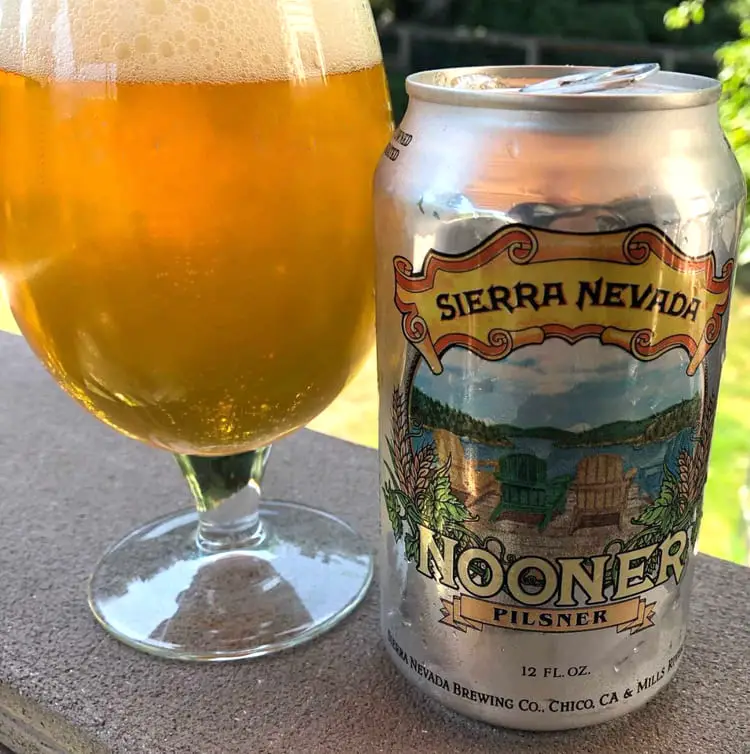 Brewery : Sierra Nevada
Nooner, from Sierra Nevada is a one of my personal favorite beers to drink on a hot day in the summertime.
It's a little hoppier than your average pilsner, giving a flavor profile that is almost more like a pale ale, but with a refreshing lager smoothness.
It's a medium to light colored beer with a good carbonation.
While this list has highlighted that there are many fantastically drinkable pilsners out there, they can't all be winners. The following list is going to shine a light on a few pilsners that I will urge you, if you ever get the change to try, to not do so.
1) Old Style Pilsner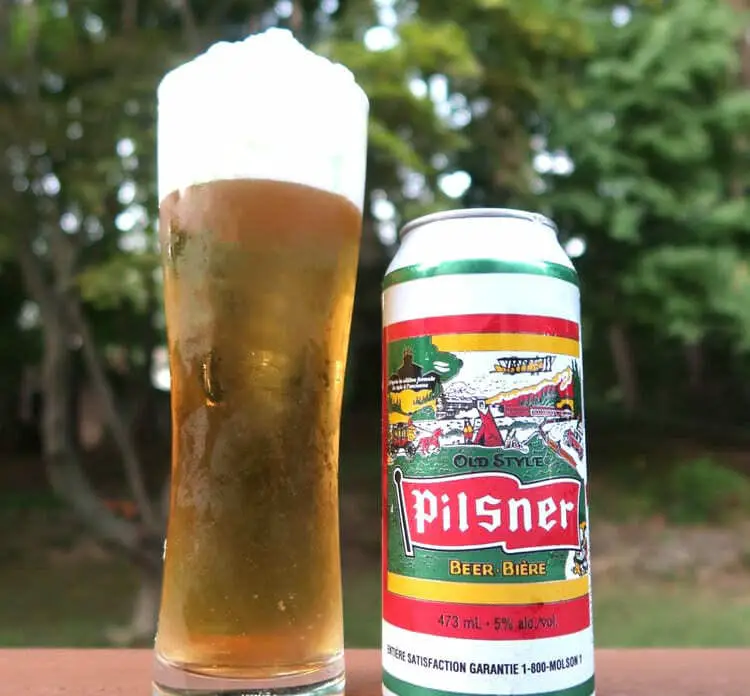 Ok. I will actually admit to drinking a few of these from time to time, myself. On purpose. I do so mostly for nostalgia's sake.
Objectively, this is a truly bad beer that shouldn't be consumed under any circumstances.
It's very devoid of real beer flavor, except for a little bit of bitterness and a vague metallic tang.
2) Beck's Sapphire German Pilsner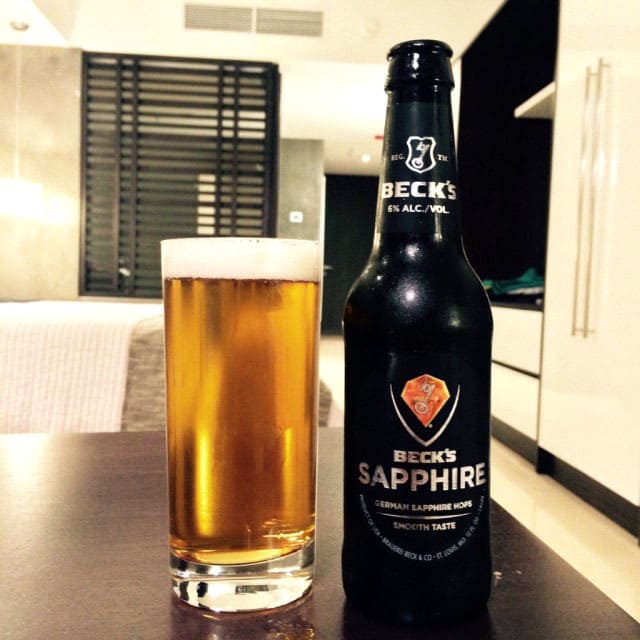 Beck's Sapphire is a German Pilsner with a very alcohol heavy taste that is striking for it's 6% ABV.
The hops are not detectable at all and the flavor is overwhelmingly sweet and boozy.
I would not recommend.
3) Almaza Pilsner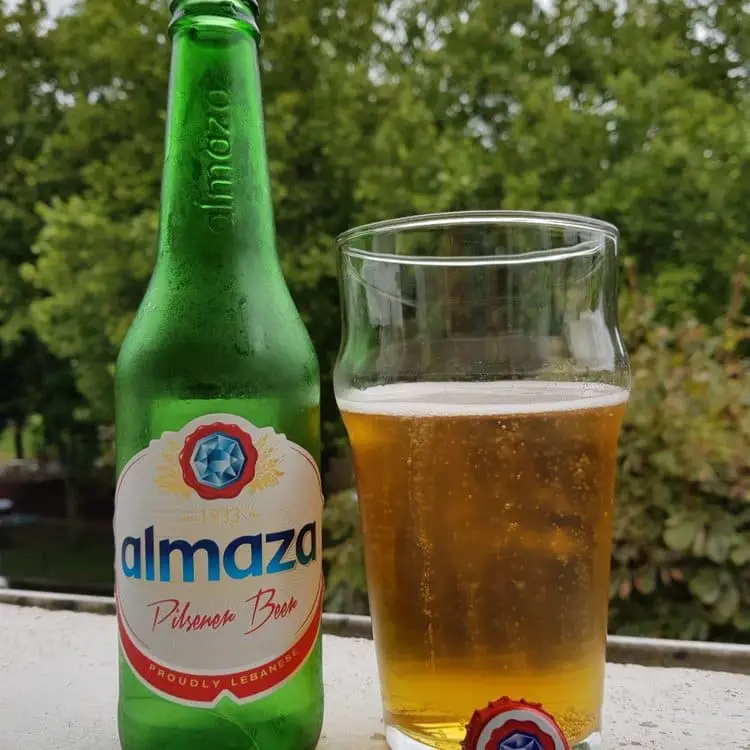 This is the one and only Lebanese beer I've ever tried.
It will likely be a while before I try another beer from Lebanon.
This beer tastes more of a pale lager than a pilsner, with an overall very watered-down flavor that leaves much to be desired.
Overall, there are good pilsners and bad ones. I'll leave you to be the judge. Next time that you're in your local beer aisle, don't overlook this style. There are many great ones out there that can be perfect for a good cookout, day at the beach, or ballgame. Pick one up and give it a try!