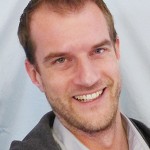 Lifelong beer habitue and homebrew artisan
When you think of a stout, Guinness may be the first beer that comes to mind, but the world of craft beer has so much more to offer now.
Don't get me wrong. Guinness is a great beer, and there is certainly still the time and place where nothing will hit the spot like a good pint of Guinness or even a "snakebite".
Like the Beatles paved the way for the amazing evolution of rock music throughout the last few decades, Guinness is the classic that paved the way for today's more intense, complex, and often more boozy, stouts.
All of the rocking Russian imperials and barrel-aged stouts of today pay homage to their roots in the original Irish dry stout.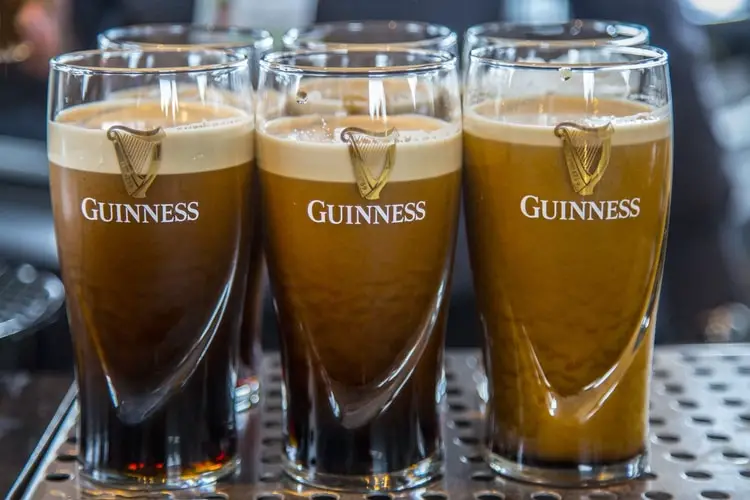 The world of stouts today is diverse and exciting!
From chocolate stouts blasted with chilies to add a note of heat to milk stouts with the pungent invigoration of coffee thrown in, the possibilities are seemingly endless.
There has never been a better time to be a lover of dark beer.
Today, we're going to dive into the world of stouts with an overview of 20 of the best stouts in the world.
1) Dark Lord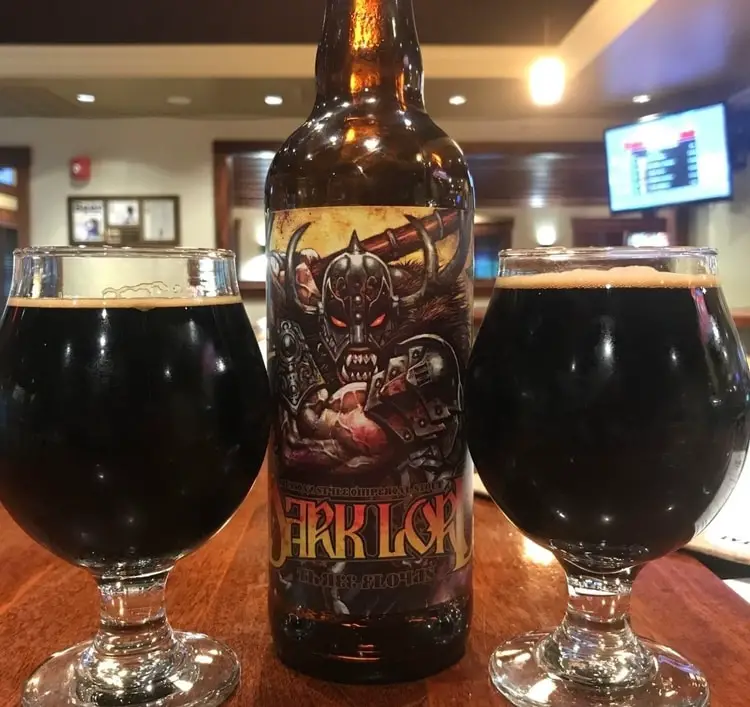 Brewery : by Three Floyds
A beer so good that it has an entire day dedicated to it! Dark Lord Day, held every spring at the Three Floyd's Brewery in the small town of Munster, Indiana, is the unveiling of the earth-shattering imperial stout, Dark Lord.
This beer is only available on this one day, at this event packed with metal bands and mind-blowing beer.
Dark Lord ranks easily as one of the best stouts I have ever tasted in my life!
At 15% ABV, this boozy imperial will shake you up. You'll enjoy a rich, dark, stout with hints of dark fruit and chocolate.
Overall, this is a fantastically rare beer that you need to try if you're able to get the chance.
2) Uncle Jacob's Stout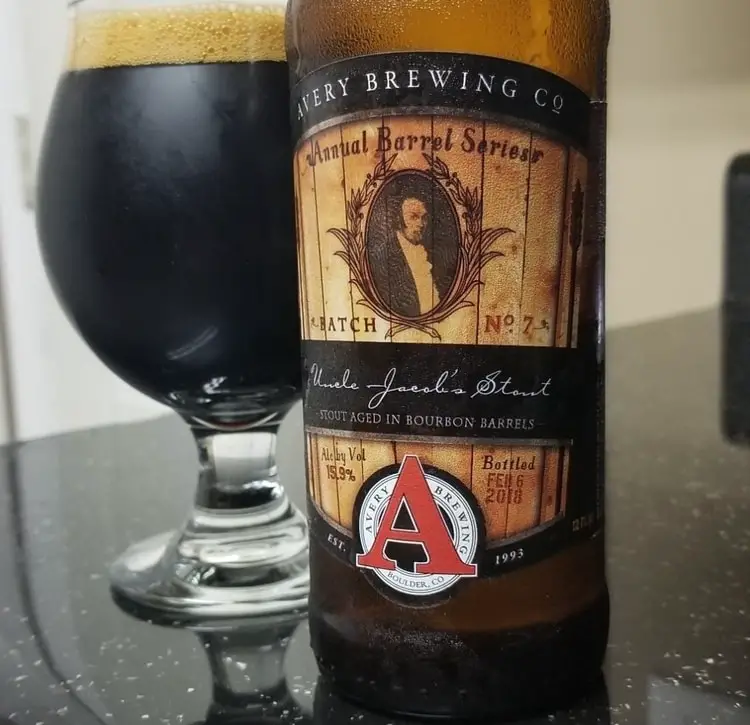 Brewery : Avery Brewing
When you crack open Uncle Jacob's Stout you will want to take a seat.
If you're like me and you love a super dark and boozy stout, you will love Uncle Jacob.
It's a strong beer that can take you a bit by surprise because it's so easy to drink. Jacob pours almost obsidian black in the glass. It's got a slightly boozy flavor that hits you upfront, but then the notes of coffee, vanilla, and bourbon hit you and combine for something really delightful.
With an ABV of 17.1 (this has varied from about 14.9% over the years), Uncle Jacob is one of the stronger stouts out there.
When I first tried it, I made the happy mistake of ordering a second glass and was left feeling pretty good. Again, make sure you're sitting down as you consume this and maybe make sure that you aren't driving.
3) Edge of a Dream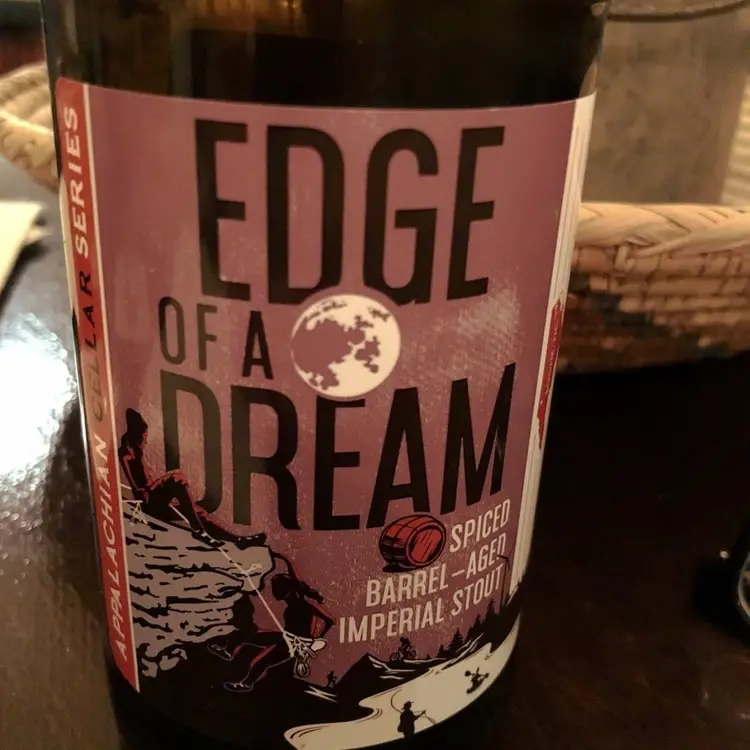 Brewery : Appalachian Mountain Brewing
Nestled up in the mountains of Western North Carolina is where you'll Mountain Brewing. Boone, North Carolina is the perfect setting for enjoying a great stout.
AMB will not let you down with its award-winning barrel-aged stout, Edge of a Dream.
Brewed with cayenne and vanilla, you'll get hints of heat balanced nicely with some sweetness, bitterness, and a hint of smokiness from the barrel aging.
4) Azathoth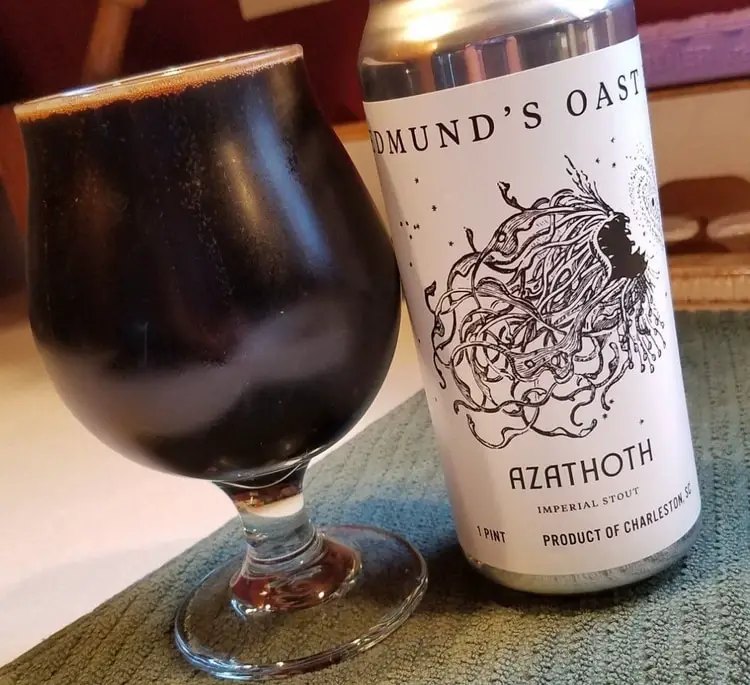 Brewery : Edmund's Oast
If you like a thick stout, you're going to absolutely love Azathoth!
Edmond's Oast, out of Charleston, South Carolina, is an innovative smaller brewery that is doing a lot of cool things right now.
This almost milkshake thick American imperial stout weighs in with a respectable 10.5% ABV.
This beer came highly recommended to me and it did not disappoint one bit. Dark as can be with a roasty, bitter chocolate flavor that is really enjoyable.
5) Expedition Stout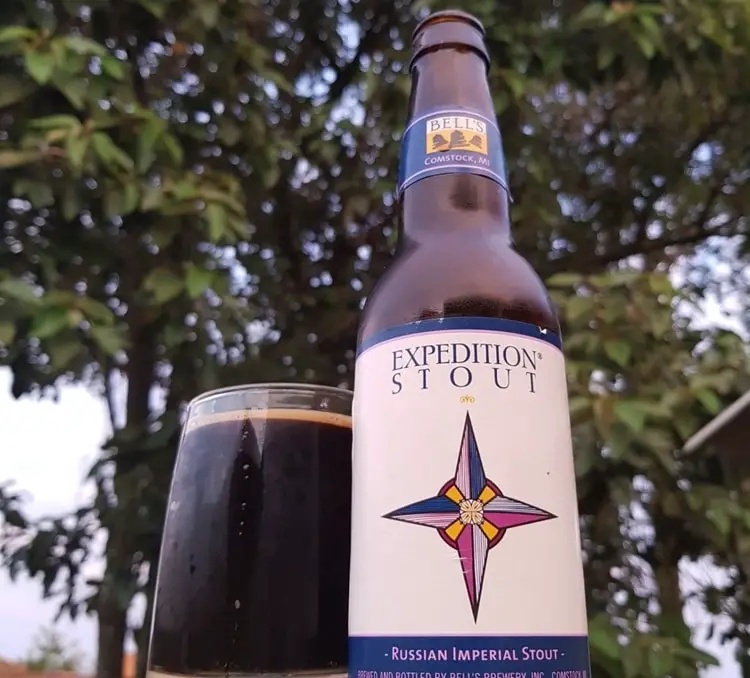 Brewery : Bell's
Bell's Expedition Stout is not one to overlook.
This Imperial Stout is an annual winter release from the Michigan brewery.
Like many great stouts, it's flavor develops by letting it warm up just a bit before drinking.
As it warms, you'll get aromas of baker's chocolate and dark roast coffee.
It's dark as motor oil in the glass, and the flavor is complex and tasty, with a thick mouthfeel. You'll get flavors of licorice, chocolate, coffee and even hints of dates, figs, and molasses from this beer.
6) Lizard of Koz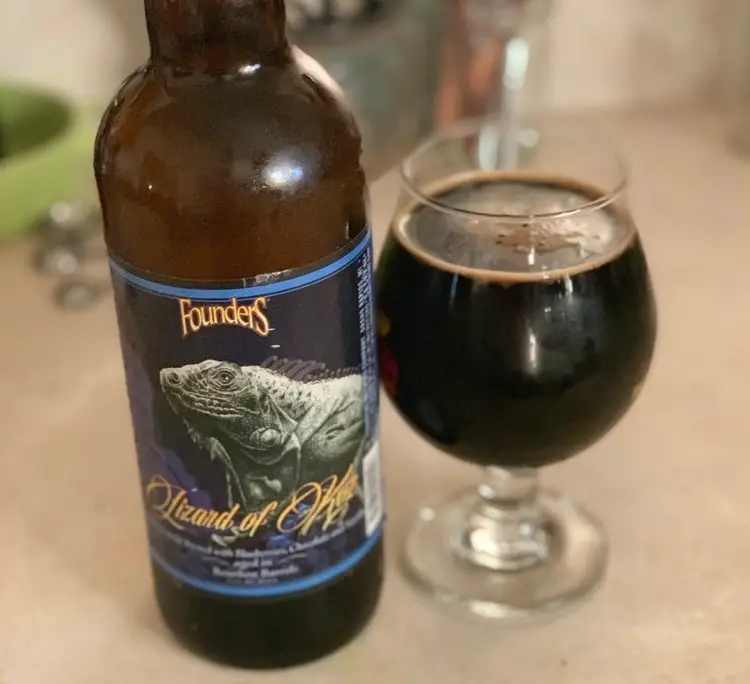 Brewery : Founders
For another stellar beer coming out of Michigan, you'll need to check out Founders Brewing with Lizard of Koz.
This frothy brown stout hits you with a surprising punch of flavor and proves that not all stouts have to stick to the same theme.
You'll be able to grab tastes of blueberry jam and molasses in addition to the flavors of vanilla, chocolate, and bourbon.
This is a truly impressive beer with a lot of personality, a respectable 10.5 ABV and a smooth finish.
7) Lindley Park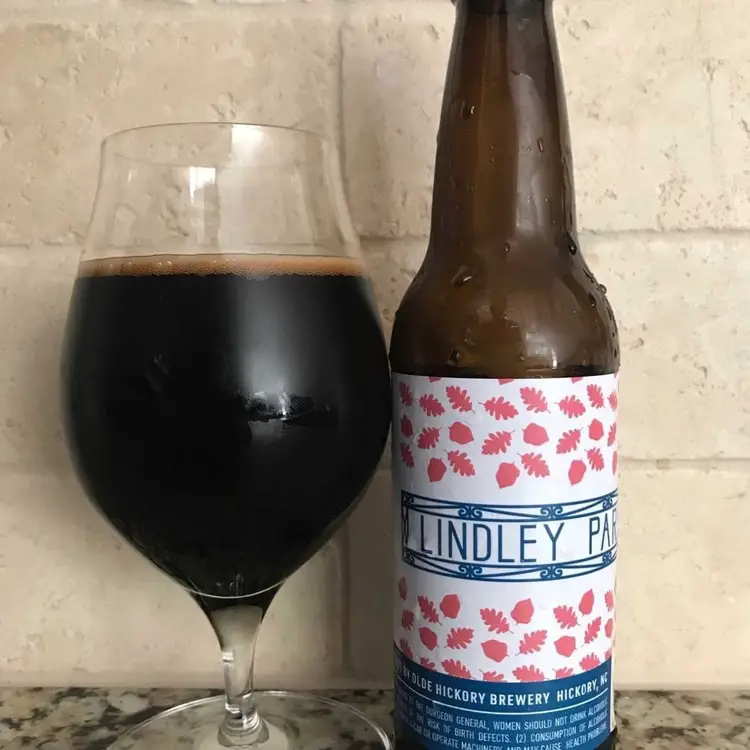 Brewery : Olde Hickory
Olde Hickory comes in big with another unique stout in Lindley Park.
Taking a whiff, you'll get a pleasant aroma of honey and cocoa.
You'll get a not-so-subtle dose of tart raspberries, which is enhanced by the honey.
This combines with the more bitter flavors of coffee and the sweetness of the molasses and brown sugar to create a delightful and unique flavor.
Lindley Park is a sweeter stout and flirts with being overly sweet, but doesn't cross that line.
8) Bourbon Barrel-Aged Ten FIDY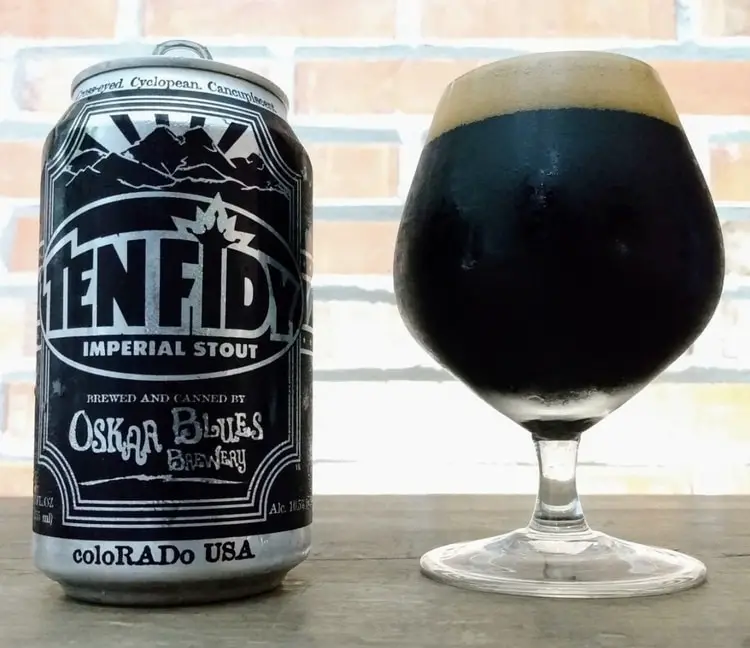 Brewery : Oskar Blues
If you're not familiar with Oskar Blues, it's time to get acquainted. This brewery has been doing some great stuff for a while.
Ten FIDY has long been a favorite of mine, and when you add BBA in front of anything you have my attention, so it's no surprise that BBA Ten FIDY would make this list.
It's dark, full of rich flavors of bourbon, mocha, and subtle hints of something that reminds me vaguely of a bonfire in the country on a Saturday night.
While this beer is 12.9% ABV, it doesn't come off as overly boozy and drinks easy.
9) Willettized Coffee Stout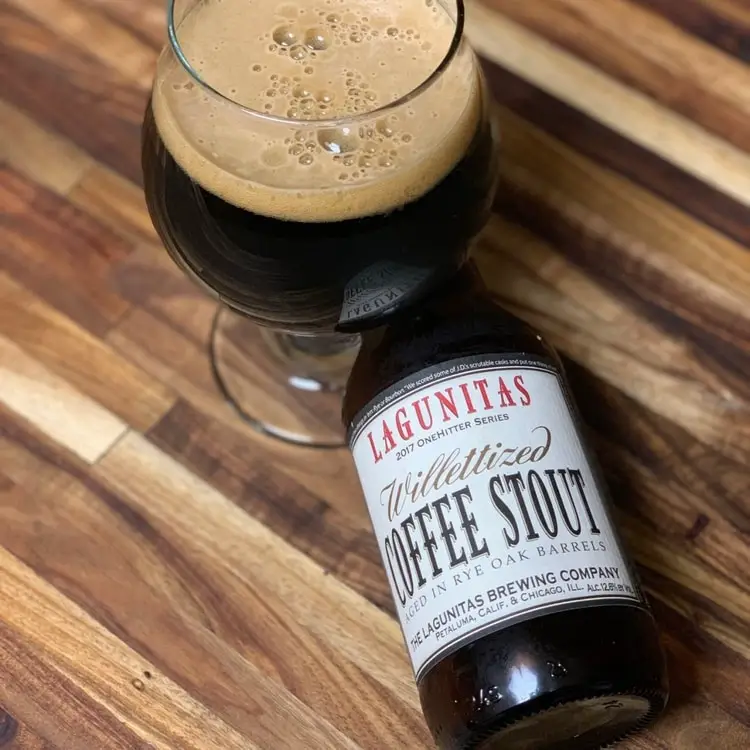 Brewery : Lagunitas
Lagunitas Willettized Stout draws its name from Kentucky's famous Willett Bourbon. This amazing stout is aged on Willett bourbon barrels, and pulls a fantastically smoky, bourbon and rye flavor from it.
Lagunitas delivered nicely on the promise of a label, creating a coffee stout that drinks almost like a glass of bourbon whiskey.
It's a boozy, slightly bitter, slightly sweet and full of rich roasted coffee aroma.
At 12.5% ABV, this is no lightweight.
10) Coffee Dino S'mores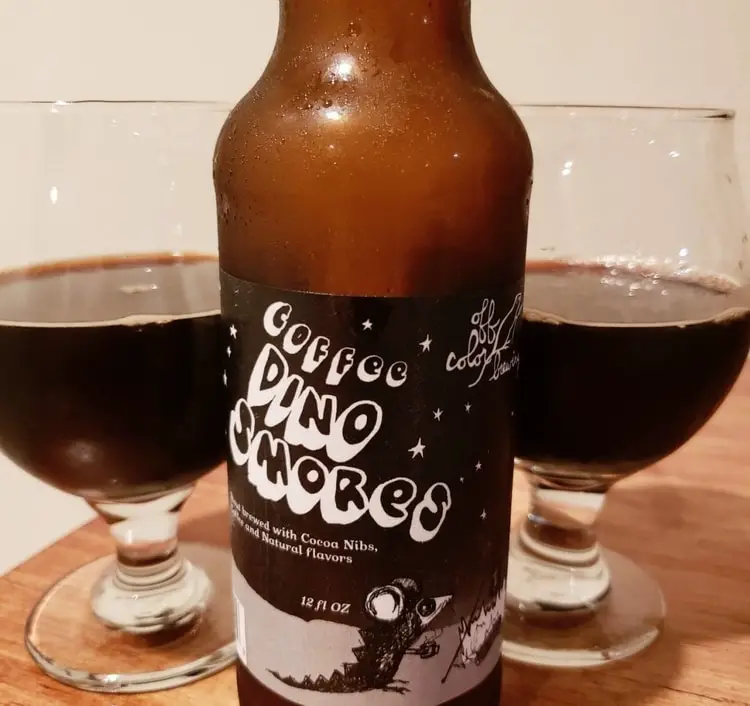 Brewery : Off Color Brewing
Their pricing implies that Off Color, out of Chicago, thinks very highly of their beer. I'm always hit with sticker shock when buying one of their beers, but I've yet to be let down.
Coffee Dino S'mores was no exception here.
They deliver heavy on the coffee flavor, so if you're a fan of the other variety of dark water, you'll love this beer to death.
The roasted coffee comes in hard and then the flavors of marshmallow and cocoa, and a good malt backbone smooth it all out for a delicious finish.
11) Even More Jesus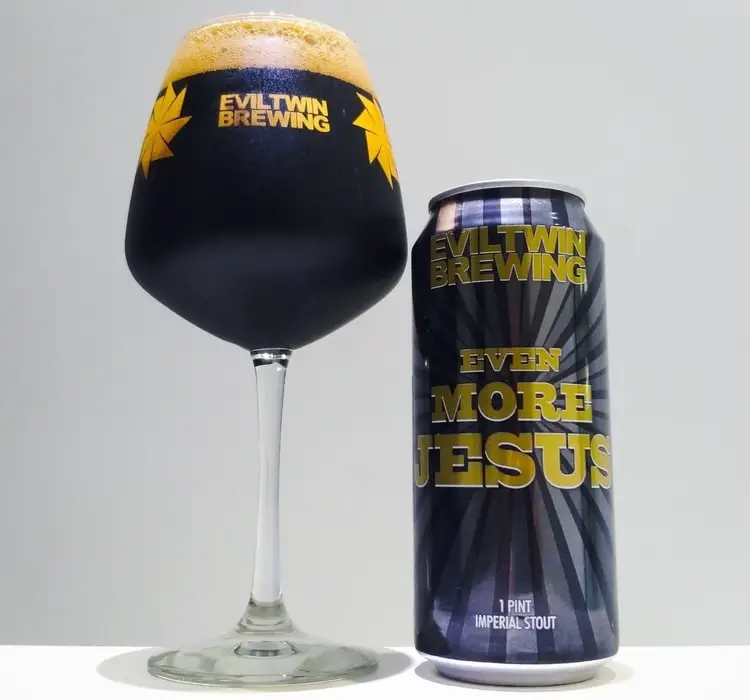 Brewery : Evil Twin
Gypsy brewers Evil Twin are often delivering some of the most creative and exciting beers that you'll find.
If you love a thick, black stout with a lot of body and classic stout flavors of burnt coffee and dark chocolate, you will really enjoy Even More Jesus.
If you fall head over heels for this beer, you will have to check out some of the many variants such as Even More Cocoa Jesus, Even More Pecan Pie Jesus, or Even More Denmark.
12) Skillet Donut Stout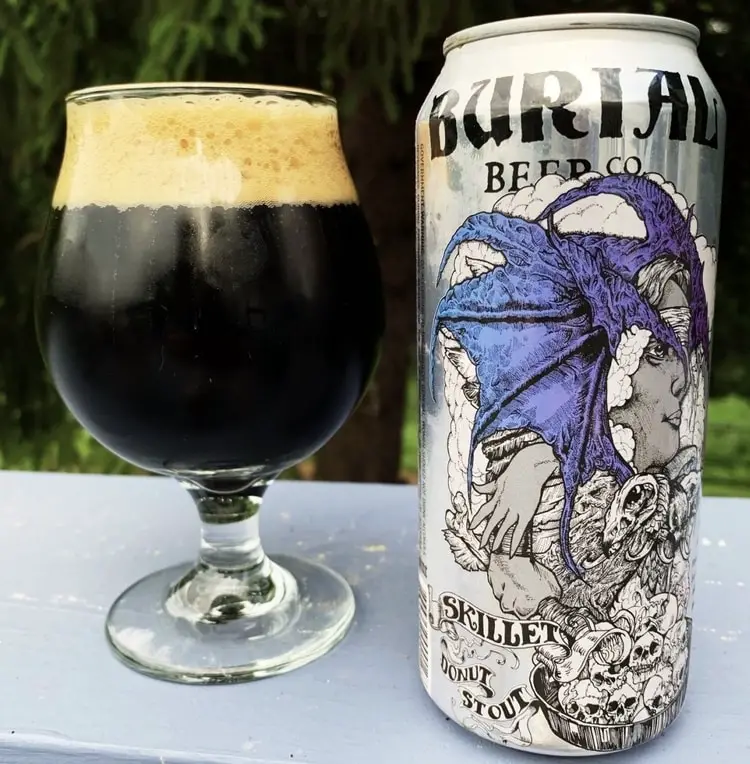 Brewery : Burial
Burial, in Asheville, North Carolina, brings a lot to the table in the way of dark beer.
Skillet Donut Stout, when originally consumed at the small brewery in Asheville, was served with an actual donut.
The donut complimented the flavors of coffee and cream.
If you're going to have a beer for breakfast, this would be the one.
At just 8% ABV, this one is probably the weakest beer on this list.
13) Mexican Cake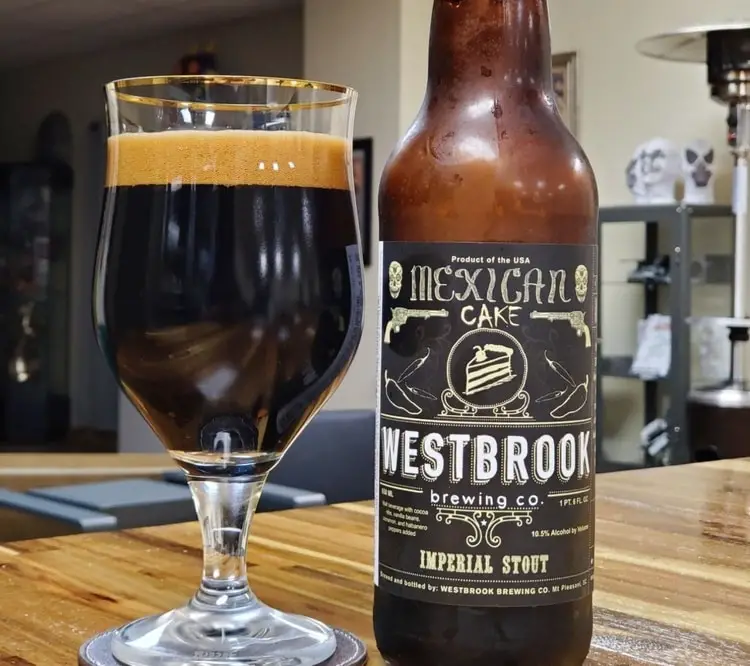 Brewery : Westbrook
I look forward to the release of Mexican Cake every year.
Westbrook comes from Mount Pleasant, South Carolina and has a massive barrel-aging program that is fascinating to visit if you ever get the opportunity.
This beer brings some unique flavors to the table such as malty biscuits and a little bit of habanero.
The habanero is hot enough to let you know it's there and awaken your taste buds, but not so spicy as to be overwhelming or leave you needing a second beer to wash this one down.
Overall, this 10.5% ABV beer is one you can't overlook.
14) Canadian Breakfast Stout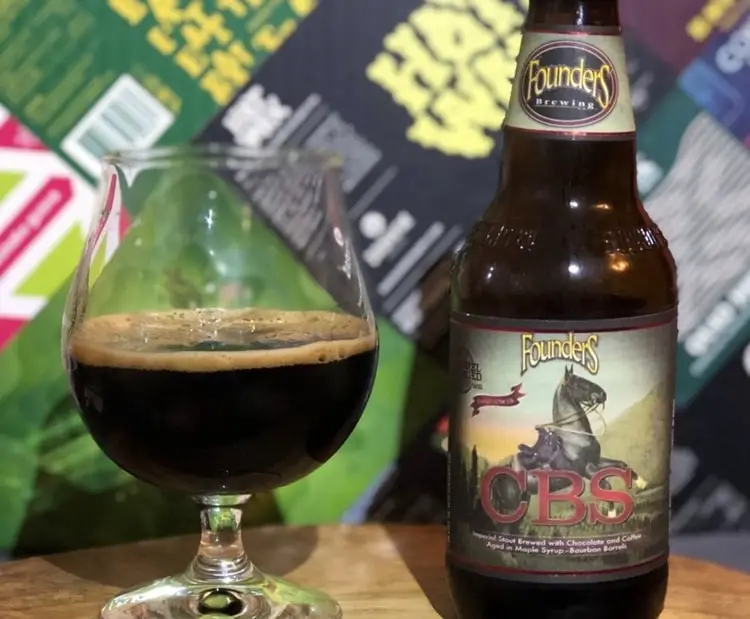 Brewery : Founders
This imperial stout from Founders is rich with a maple, chocolate, and rich, bourbon and pine.
This stout is dark, rich and strong, but without being too boozy in flavor.
The sweetness of the maple is refreshing and unique, but doesn't overwhelm and become cloying as can be the case with sweeter stouts.
The aromas of pine, maple, and bourbon bring to mind leather and cigars.
The flavor of this beer will take you away to Canada.
15) Bourbon County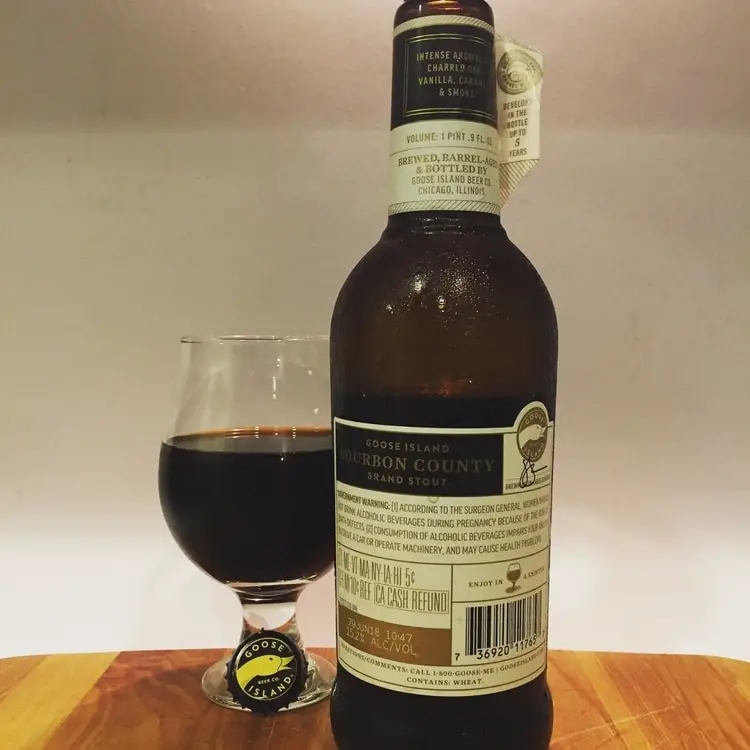 Brewery : Goose Island
Bourbon County Brand Stout by Goose Island is always a much-anticipated winter release.
Another boozy stout at 15.2%, this beer packs a good punch and delivers all of the great flavors you expect in an American imperial stout.
You won't be disappointed one bit as the aromas allude to leather, bourbon, vanilla, and smoke and then the flavor of the beer delivers.
16) Blackbeerd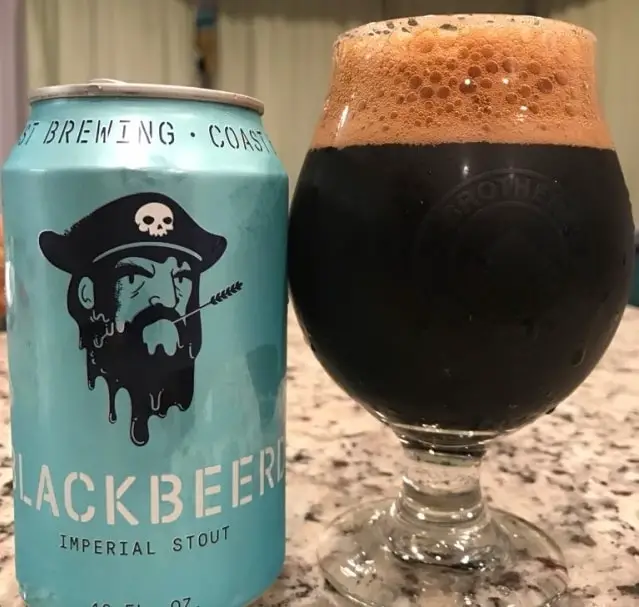 Brewery : Coast
A winter release from Coast, another amazing brewery out of Charleston, South Carolina, Blackbeerd is self-proclaimed to be as dark as the legend of Blackbeard himself.
This robust dark stout has a nice roasty campfire aroma.
Despite notes of chocolate, this is a less sweet stout and trends more towards the bittersweet.
You'll get delightful hints of grilled fruit, blackcurrant, and fig that for a little bit of extra character.
17) Dark Arts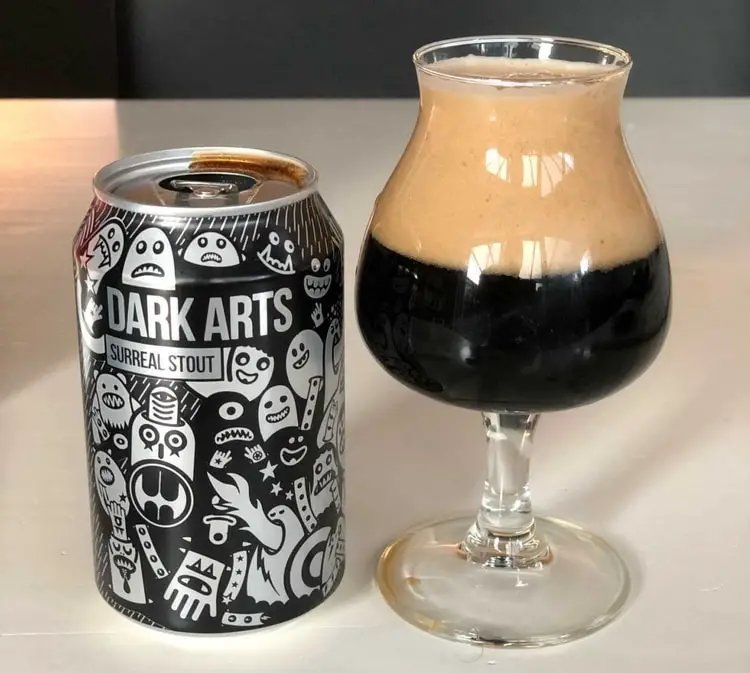 Brewery : Wicked Weed
Wicked Weed has a reputation for IPAs and funky sours that is tough to match, but Dark Arts proves that they know how to do stouts as well.
Sadly this beer has been retired, but we can always hold out hope for a reboot of this wild imperial stout.
Despite the name, this stout is actually a bit lighter in color for a stout. More of a cola brown, with a fizziness to match you would not immediately expect that Dark Arts is whopping 15% ABV!
It's billed as a bourbon-barrel aged stout fermented with brettanomyces and espresso.
If you're able to get your hands on a bottle, you'll be amazed and delighted with its red-wine sour tang followed by a delightful campfire toastiness, bitter coffee notes, and a caramel sweetness.
This beer amazes and definitely strays far outside the box of a traditional stout.
18) BBA Olde Soul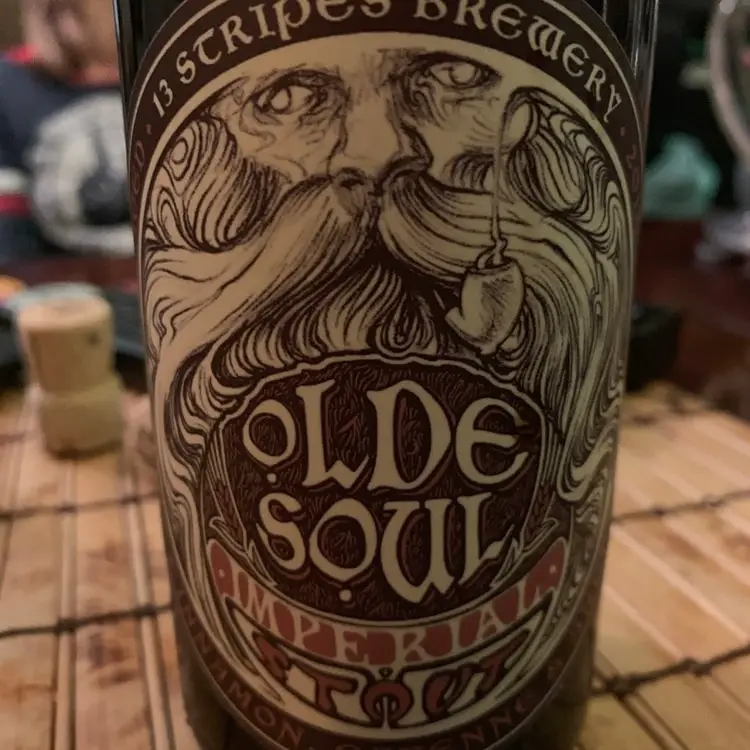 Brewery : Thirteen Stripes
Olde Soul by 13 Stripes from Taylors, South Carolina is unfortunately no longer in production, but if you're able to get your hands on a bottle you need to take it!
This bourbon-barrel aged stout was as dark as the soul of your ex and has a rich, malty and toasty flavor.
Though a relatively mild 10.5% ABV, this has a booziness that suggests more.
19) BBA Narwhal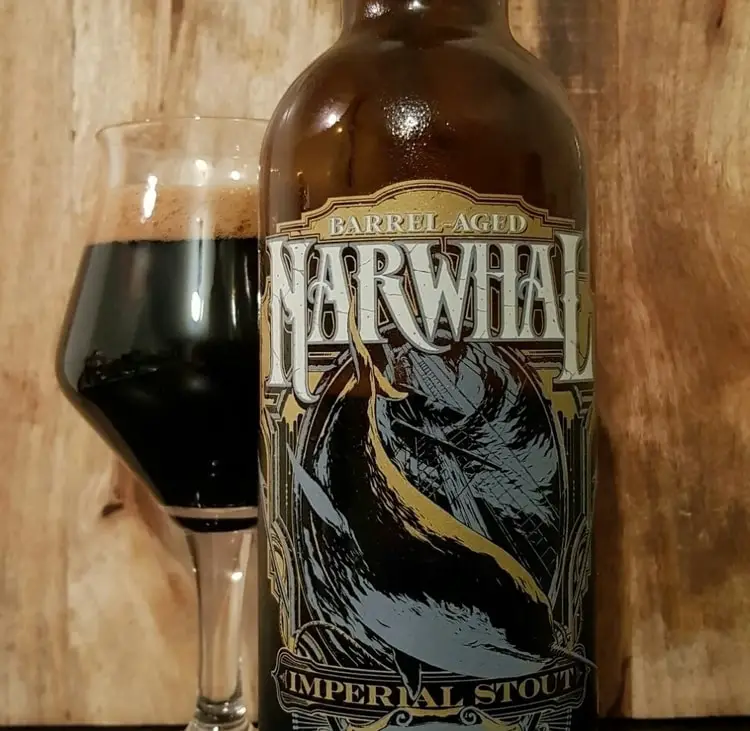 Brewery : Sierra Nevada
Narwhal is a must-have for any stout lover.
Aged on a combination of Willet, Heaven Hill, and Jim Beam barrels, this boozy stout delivers a great smoky, oaky bourbon flavor with all the best of what you expect to find in a quality Russian imperial stout.
At a respectable 13% ABV, BBA Narwhal is definitely a hot stout.
20) Organic Chocolate Stout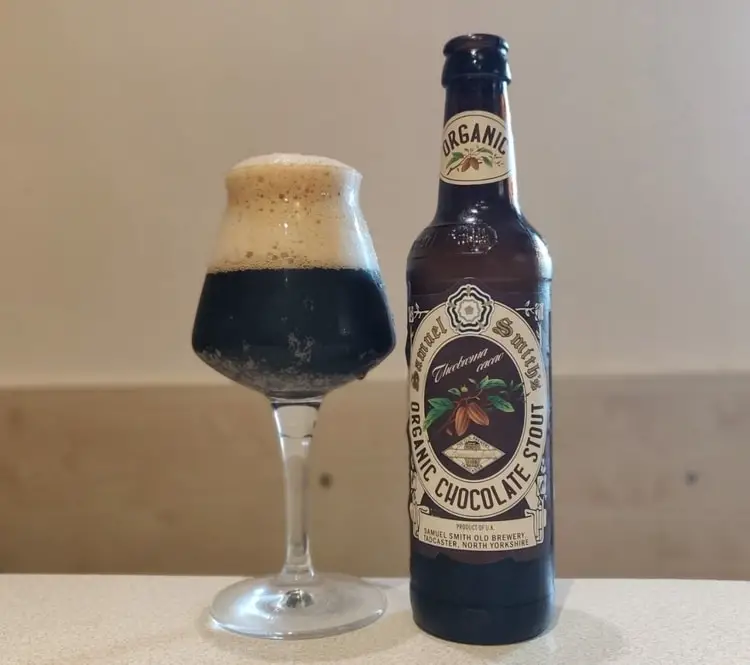 Brewery : Samuel Smith Old Brewery
From Tadcaster, England, Samuel Smith's definitely has more of the old-fashioned style in everything they do.
This Organic Chocolate Stout is no exception.
It's a dark stout full of deliciousness, though with its organic chocolate and malts.
It's a bit more simplistic than many beers on this list, but there's something to be said for simple things done well.
This beer delivers all of the things you want in a stout. It's dark. It has a rich, slightly carbonated mouthfeel. The flavor is slightly bitter, malty, and full of robust chocolate.
Wrap up
If you're a stout lover like me, you will thoroughly enjoy exploring the beers on this and many more.
The world of craft beer is ever evolving, and new dark and delicious stouts are being released all the time.
One of the things that I love most about the current state of craft beer is the experimentation. Brewers are using imaginative ways to incorporate new ingredients and play with refreshing and exciting flavor combinations.
Microbreweries all over the country, and some abroad, are developing great stouts every day. It's hard to pick favorites. I hope that you get out there and try some of these beers on this list and see what you think for yourself.
Cheers!