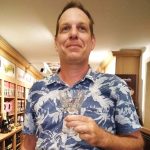 Master brewer, Pioneer of Asheville beer, 1997-2006
The dream is alive, the dream is real, building a brewery and becoming King of the Castle, Queen of the Court. I'm the first to stand up on my chair and shout it out, if you can dream it, you can do it…and think it through.
Building a brewery becomes real the moment you write it down. The steps you take next determine the success or struggles of your venture.
Building a brewery is a viable, achievable undertaking. Choosing the right size and business model is key to seeing the brewery succeed and profitability within reach. State laws have historic flexibility and the premium beer market is strong. Set your budget, build your model and execute with detail.
We'll go over a range of possibilities, discussing the benefits and drawbacks of the different models. In the end, you may have found a starting point for your next step.
3 Categories: Nano, Micro/Taproom, and  Brew pub
State laws vary wildly. This is one thing our European counterparts find perplexing about our culture: why not one national law, the same for everyone?
I will offer general guidelines however on 3 possible set-ups.
With a bit of research, some phone calls and perhaps some head-to-head with a professional, answers are within easy reach.
Option 1 – the Nano Brewery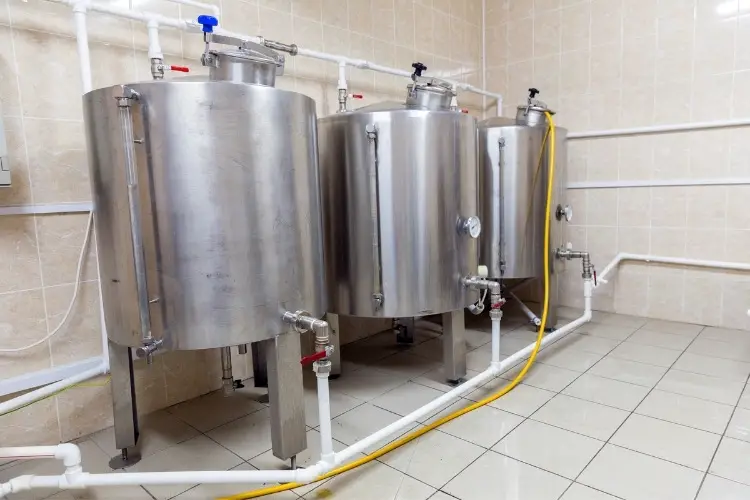 Nanos by definition are breweries that brew from ½ bbl. to 3.5 bbl. per batch.
Even 3.5 bbls. is quite small for production brewing.
A lot has been covered in the must-read article, Can you really start a nano brewery in your garage?  we will review some here in brief.
These are often the choice for expert homebrewers who want to take it to the next level but don't want to run a big operation nor carry debt. From this perspective, it makes good sense.
👍 Nanos are good because: 
They are cheaper to start than micros and brewpubs.
Require less heavy lifting.
They are small enough to get less scrutiny by regulatory agencies: State, ATTB, City/ county inspectors
Provide chance for proof of concept
👎 Possible drawbacks:
Inefficient processes
Too small to keep up with demand
Wholesaling is not possible
Not enough retail business to make a profit
If run as a second job, suck up ALL of your free time (see the link in the aforementioned article) 
➡️ My point of view:
In my view as a seasoned brewer/ entrepreneur and someone who has researched this issue, there is one good primary reason to start with a nano: Proof of Concept.
A proof of concept shows you have knowledge and capacity.
As an entrepreneur you will attract the capital needed for a larger scale brewery.
Also, it avoids risk of high-capital expenditure without established strategy nor demand.
If there is space and traffic to sell most of the beer at by-the-glass rates and to go retail, this could be profitable.
Option 2 – the Micro Brewery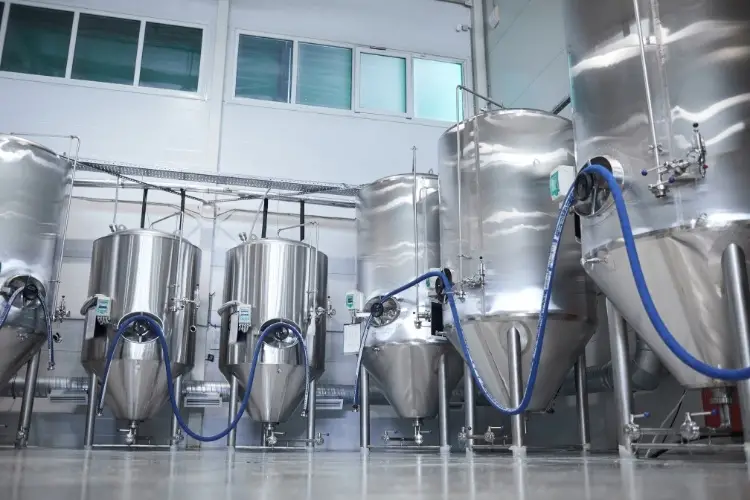 A micro-brewery is primarily a production facility with brewhouses from 7 bbls. up to about 30 bbl. capacities.
Its goal is to build a brand, spread it far and wide, create a legacy.
Many states allow the micros to run a taproom, which may or may not require food service. The retail sales maximize earnings and build brand loyalty in a hyper-competitive market.
👍 Micros are good because: 
(Small micros) They are cheaper to start than brewpubs.
Operations are largely out of the public eye, able to focus on craft and streamlining
Worry less about retail expenses, taxes, and customer service.
Cover large interstate regions.
👎 Possible drawbacks:
Not enough retail sales for profitability
Too small to keep up with demand
Difficult to get good distribution
Must have continual supply of capital for expansion
➡️ My point of view:
Micros are a good choice for folks who are all-in yet have a lot of flexibility on shape and manifestation. They offer a chance to brew large batches, and die mashing in, as an old friend of mine, Ben Pierson – Swamp Rabbit Brewing,  referred to as his choice of passing.
They are a more complex business organization and require tight bookkeeping and advanced marketing concepts. One example that bears mentioning is defining your market segment. Market segment means finding exactly who will be your primary customer.
Many have answered, "People who love great beer!"  EEEEHHHHUNNNNGHHHHH, (gameshow buzzer- 110 dB). This is the incorrect answer. You get exactly one piece of the pie, large or small. The puzzle is to find which one is yours and seize it before someone else eats it. You can read more about market segment in, How Do We Make Our Beers Stand Out in a Crowded Market?
To grow you need to grow to earn money, which takes capital infusions on an annual or bi-annual frequency. New tanks, physical plant improvements, marketing capital, vehicles, and the list goes on as there must be capital to expand. In the first 5 years of business, there will likely not be enough cash flow to pay for it.
Option 3 – the Brewpub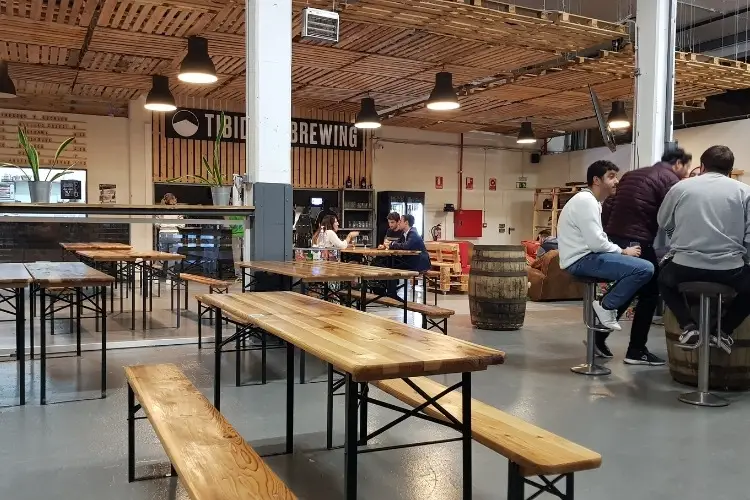 The brewpub first came to prominence in the 80's and first peaked out in the 90's. There were micros around but it was brewpubs that seemed to make the preponderance of independent brewers.
A brewpub is a microbrewery attached to a restaurant. The restaurant is full-service and should draw customers on the merit of its food in addition to the quality of its beer.
👍 Brewpubs are good because: 
They can generate large amounts of daily cash.
Are attractive to families.
Showcase the brewery, usually through glass.
Offer the potential for a varied business enterprise: retail, wholesale, food, beverage and merchandising.
👎 Possible drawbacks:
Very expensive to start-up
Require a large staff, payroll, and tax liability
High-risk, high reward as the beer and the food must be top quality
A large debt load with highest overhead just to open the doors each day
➡️ My point of view:
Brewpubs certainly have the potential for strong earnings. However, the pressure is on to be the best in all facets of the game: food service, beer offerings, service, and not least important, its ability to fill a niche in the market.
Having the right team assembled, with the experience in all facets, kitchen, brewery, and front of house all in perfect alignment with deep pockets, then by all means go for it. As mentioned in the drawbacks, it is a high risk/ high reward set-up.
There are certainly some that have become institutions over the last 15-20 years. One old school Brewpub/ Micro from my old stomping ground is Asheville Pizza and Brewing, est. 1997. They were good friends and allies over the years. Many thanks to Mike and Doug.
Are there any left over from the 80's? There doubtless are, yet I'll leave that research to you.
Comparison: Equipment Price, Production Capabilities, Space
The following table is for reference only. It is to get you in the ballpark for which choice is best for you.
Nano 1 bbl. 
Micro 20 bbl. 
Brewpub 7bbl.
Brewhouse
$12,000 (direct gas fired)
$20,000
$15,000
Fermenters (4)
$4,000 ea.
$12,000 ea.
$8,800 ea.
Brites (2)
$2,800 ea.
$10,800 ea.
$1,500 ea. (6 count)
Boiler
N/A
$25,000 ; 1 million BTUs (gas boiler)
$9,000 ; 250,000 BTUs (electric boiler)
Glycol/ Walk-in 
$7,500 ; 1.5 ton/ 50 sq. ft.
$50,000 ; 10-15 ton/ 300 sq. ft.
$24,800 ; 5 ton/ 160 sq. ft
Hardware/ heat-ex/ pumps, filter
$6,000
$25,000
$15,000
Kegs/ washer
$5,000/ 50 count 1/6bbl.

Manual/ Improvised washer: $500

$25,000/ 250 count/ mixed: ⅙-½ bbl.

3-Head Washer: $33,000

$2,500/ 25 count, mixed; party kegs only

Semi-automated: $3500

Licensing and legal fees
$3,000
$3,000
$3,000
Total 
$55,600
$250,800

($196,300- no kegs/ semi-auto. washer)

$87,100
Each brewery assumes four fermenters and 2 bright tanks. The brewpub will have 6 single-walled serving tanks.
The Nano v. the Micro v. the Brewpub
The nano is the cheapest. Notice that it costs half as much as the system that makes 700% more beer. Consider carefully .
The pub system saves considerable money on brite tanks as it more readily utilizes single walled tanks bought surplus or fabricated inexpensively.
The micro system has a significant amount tied up in kegs. There are single use options available, so subtract 275,000 from the mix and the number changes dramatically.
It must be noted also, the micro has the boiler and chiller capacity for major expansion: the nano and pub systems would support a more modest expansion with their physical plants.
Assuming each plant fills a fermenter once a week, 48 weeks a year, the capacity of each is as follows.
| | | |
| --- | --- | --- |
| Nano | Micro | Pub |
| 192 bbls. annually | 3840 bbls. annually | 1,120 bbls. annually |
A nano is cheaper to build, more labor-intensive and professionally speaking makes a modest amount of beer.
The pub system costs about twice as much and brews about 600% more beer. Granted there are significant pub expenses which are beyond the scope of this article.
The micro (minus the kegs) makes about 2000% of the nano and costs about 4 times as much.
Conclusion: A Real Eye Opener
There are valid reasons to build a nano. If it is your jam, go for it. If you have some capital and resources, a small or larger micro could make more sense.
I will be honest with you. From my experience, I had time to make beer and relished it. I had absolutely no time to waste.
There is an argument to be made against nano: short of a hobby and way to joyfully revel in your dreams, the time commitments outweigh the benefits.
---
Reach Out to Us
KMB Consulting can assist you in all of your challenges, large or small. Brewers need support and input. It is an artisanal craft, refined by years in the brewhouse. It is also an uncommonly specialized business.
Today's brewers have puzzles that need a fresh perspective. I've walked in your shoes. I know the victories and struggles that come with the brewer's life.
Reach out to us. No problem is unfixable.