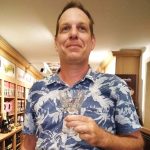 Master brewer, Pioneer of Asheville beer, 1997-2006
Nano breweries are defined as any commercial operation producing from 10 US gallons per batch up to 3 bbls.
There are hundreds across the US. They help dreams become realities and, in some cases, lead to successful commercial ventures.
Starting a nano brewery in a garage can seem less daunting than building a commercial brewing facility from A to Z. It is likely much cheaper too. It could be a side business to practice and share a passion, without having the whole life of the brewer tied up in it. 
3 Unique Models and Motivations for Nano Breweries
Proof of concept. A proof of concept shows you can do it. By creating a track record, the entrepreneur will attract the capital needed for a larger scale brewery. Also, it avoids risk of full-capital expenditure without first developing a strategy and creating demand for their beer.
Personal passion into professional pursuit. Passion projects are started by excitable homebrewers who simply cannot be stopped. They are willing to put cards on the table, but may also keep their day job to see how things unfold.
Additions to restaurants or public houses. Some restaurateurs and taproom operators perceive real value in adding house beer to their offerings. With modest capital coupled with in-house talent they may add a unique flavor to their establishment, even with limited space.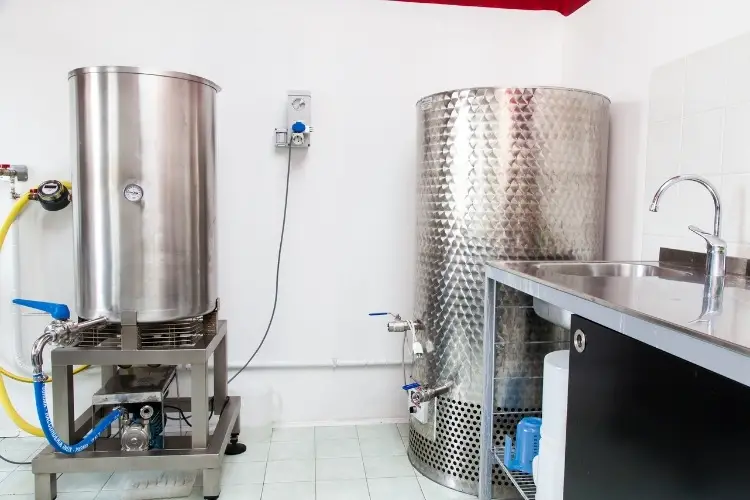 Is Nano brewing a good idea and worth starting in your garage?
Yes and no. I know, I do this every time! It is a complicated question requiring a detailed and nuanced answer.
⚠️⚠️ I will use North Carolina State law as a barometer.
That is where I got my start. The industry is vibrant, and Asheville has positioned itself to share the status of top beer cities in the US. Ladies and Gentlemen, thank you so very much, really…you're too kind.
Pros and Cons of nano breweries
PROS
CONS

Low start-up capital
Low overhead
Can have excessively tiny footprint
Allows development of specific niche/ market segment
Can truly experiment with styles
Limited pressure or stress from investors or banks
Can create for the love of it

Small yields
Less buying power/ bulk discounts
Risks becoming an expensive hobby
Susceptible to hyper-competition
Can't keep up with demand
Undercapitalized
Haven't the professional relationships to lean on when problems arise
We needn't break down each element here but will look at some highlights. I'll then follow up with a question(s).
Low start up capital is a plus. 50-100K may be enough to build a Nano.
*Is there reserve capital for the first year of operation?
There is the ability to produce creatively and move on if it's a miss.
*Have you the ability to identify your market segment.
It's possible to open up with cash, a no debt arrangement.
*When you need money, will the banks take you seriously?
If part-time, there is little pressure for a steady income.
*Can you give it the time it needs with a full-time job and family?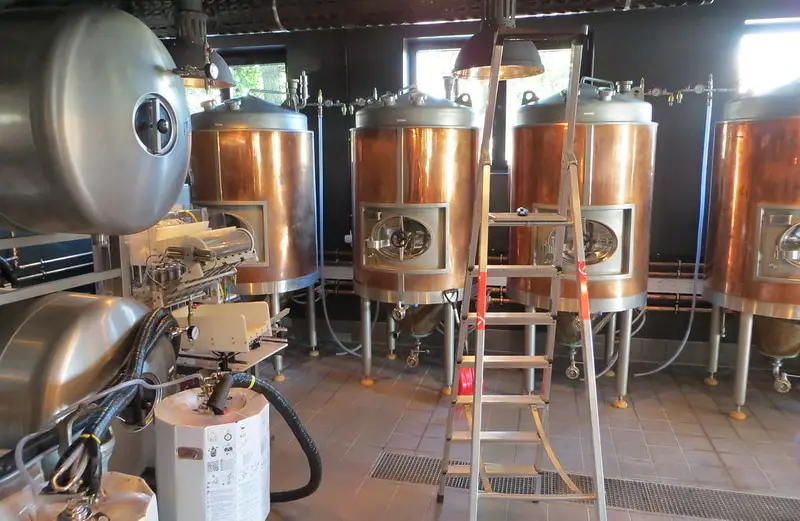 The Costs of nano brewery Start-Up
We cover this topic in detail in the article, How Much Does It Cost to Start a Microbrewery?
I can go over it in outline form here.
Equipment / Build out
Cost 
Notes
Brewhouse/ Beer tanks/ Kegs/ simple packaging/ Cooler
$75,000
2bbls./ 2 HL
Licensing
$2,000
ATTB, City, County
Lease
$3,000
Initial payments and deposits

*if property not owned

Build-out
$25,000
Construction, 3-phase electric, plumbing, refrigeration, HVAC, retail space
Operating capital
$36,000
1 year
$141, 000
These are ballpark figures based on experience and having not been well-capitalized when I did it. I recommend doing them all and being prepared.
North Carolina Laws in brief
I will here give some broad brushstrokes with links to specific statutes.
Can you build one in your house for commercial sale? This could depend on county statutes. These vary so much in scope that I recommend calling your city or county planning office for details. As a benchmark, I'd say no.
You can build a Nano in a business, industrial, or mixed-use zone.
The French Broad, my second and larger brewery was in a mixed usage area. This means it can be used for residential, retail, or manufacturing. This is ideal, except it can lend to unusual neighbors and not a lot of foot traffic.
NC Manufacturing License Summary
| | |
| --- | --- |
| License Type | Barrel Limit per License |
| On-Premises Malt Beverage Permit for Restaurants | No Limit |
| Brewery | No Limit |
| Brewery | Fewer than 25,000 bbls. per year |
| Brew on Premises | No Limit |
| Statutory Definition of Beer: | Chapter 18B, Article 11 |
Franchise Laws
N.C. Gen. Stat. §§ 18B-1300 to 18B-1308
Understanding Beer Franchise Laws
Before entering a relationship with a beer wholesaler, a brewery should become familiar with the state laws that regulate brewer-wholesaler relationships. Such "beer franchise laws" frequently dictate many terms of a brewer-wholesaler "agreement," trumping contrary terms in any contract. The Beer Franchise Law Summary is a brief discussion of the "typical" beer franchise law, followed by a summary of selected state franchise law provisions.
Growler Laws
Brewery Sales and Sampling Laws
Manufacturer
Retail Provisions
Wholesale Provisions
Brewpub
Retail Provisions
Wholesale Provisions
Annual License Fees: Brewery permit: $300. On-Premises Malt Beverage permit: $400.
Samples Permitted
Samples can be given to consumer on premise at breweries. Samples permitted with a Malt Beverage Tasting Permit for retail locations. No more than 2-ounces per sample.
On/Off Premise Sales
An on-premises malt beverage permit authorizes the retail sale of malt beverages for consumption on the premises and the retail sale of malt beverages in the manufacturer's original container for consumption off the premises. Brewery Permit may sell beer
Hours of Operation
7 a.m. – 2 a.m. (Monday through Saturday) and Noon – 2 a.m. (Sunday)
Serving Age
Minimum age to serve and bartend beer is 18 years of age.
Interstate Direct-to-Consumer Shipping Laws
This state does not currently permit direct-to-consumer interstate shipping of beer.
*Statute compendium and links adapted and shared via the Brewer's Association of America.
DtC: Direct to Consumer sales
During 2020 and 2021, alcohol laws were amended to help breweries cope and survive during the pandemic. Some were aimed at offering amended tax regulations. Others addressed the direct-to-consumer sale of beer: mailing beer to people's houses.
The postal service has never allowed this. However, shipping companies will deliver alcohol. It is heavy and cost prohibitive, but some brewers have found ways around this using bulk-shipping and consumers accepting value for cost.
With the successful passage of federal excise tax rate recalibration for brewers, the Brewers Association board of directors approved a new strategic goal to pursue state-law policy objectives in collaboration with the guilds. One of those objectives is expanding opportunities for direct-to-consumer (DtC) sales. With many aspects of alcohol law decided at the state level, securing DtC shipping rights will require significant changes.(BAA Annual Report, 2021)
Additionally, states that do not allow direct-to-customer shipping, cannot necessarily disallow it. In short, the terms of distribution laws as they stand, interstate distribution through licensed carriers, and intrastate self-distribution, in effect already allow it.
If UPS or FED-EX can legally ship alcohol across state lines, then there is wiggle room for the brewery to use them. Again, this exists on a State-by-State basis.
However, one revealing example is as follows:
Few state laws allow wholesalers to buy and sell distribution rights, but beer wholesalers engage in this activity on a regular basis. More importantly, every state, whether expressly or implicitly, permits its brewers to export beer, which brewers frequently do to supply wholesalers in other markets. While a state could prohibit such exports (none do), it cannot attempt to regulate a brewer's conduct in the receiving state by asserting, in essence, that the sale in the other state can only be to a licensed wholesaler (Sorini).
I actively encourage you to read this excellent article on this currently pressing issue.  This is the next battle for which your local brewer's guild is NOW in your state capitol fighting for.
https://www.brewersassociation.org/legal-insights/a-legal-primer-on-direct-to-consumer-beer-sales/
Be a part of your local Industry
I will include the contact info of the NC Brewers Guild as this was my former home and stomping ground. There is also the Brewer's Association of America. They have exhaustive resources and information though require an annual membership.
They are both organized to give brewers a collective voice, keep up to date of local and national alcohol laws as well as lobby to change unproductive ones. Fees to join can be from $20 to $500, depending on your size and involvement.
Aside from the beer festivals where brewers largely get hammered and make horse's asses of themselves, these formal orgs can give you the straight up skinny on pressing issues. How much of this can I sell, when, where, and which region?
North Carolina Craft Brewers Guild
Lisa Parker, Executive Director
PO Box 27921
Raleigh, NC 27611-7921
Phone: (314) 406-0898
Website: www.ncbeer.org
Is Nano the way to go?
I read a telling article on Pro Brewer from a Nano brewer that gave a large dose of reality to any aspiring nano brewer.
The main point was this. If you cannot sell virtually all of your beer at retail, it is simply not worth it.
It takes almost the same labor to produce 20 bbls. as it does 2 bbls.
Therefore, wholesale kegging is not a winning bet. Cans would be nominally more profitable but still labor-intensive.
"Nanobreweries are not profitable… at least if you have to sell at wholesale. The only way a nano can be in the black is if you can sell most or all of your production at full retail price. Even then the return will not justify the capital required. A nano will never, ever make enough profit to pay for organic growth of the brewery. Period."
This was penned by Andrew Godley, Parish Brewing Co., Broussard, Louisiana. And on the other hand…
"On the other hand, a nano is a great vehicle to get the investment needed to finance a viable craft brewery… If you do not have a plan to finance a viable larger operation, don't build a nano. The nano can be used to show real revenue and cost structure in your market…."
Before getting discouraged, this was his experience and it bears noting that every single response he got from other pro nano brewers agreed. It will flat wear you out.
From the horse's mouth: Black Drongo Brewing Co.
Here is the direct experience of a friend of mine here in Taiwan.
His name is Tim and he runs Black Drongo Brewing Co.  He extrapolates quite a bit more on the pros and cons and shares his exact experience.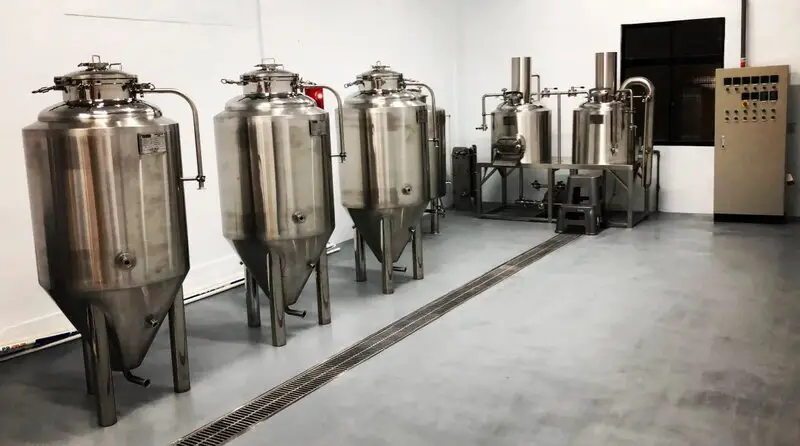 Responses were condensed a bit for clarity.
PROS
CONS
1. Small batch sizes means that you don't need to buy as many ingredients,  saving money on inventory..

2. Small batch sizes also means that you are free to experiment a little bit. If you are not completely satisfied with the result, you only have to sell (or dump) a few kegs of it.

3. In Taiwan (not sure about other places) the environmental bureau will ignore you because you don't produce enough for the bureau to inspect your waste water treatment.

4. A small brewery means it is easy to clean and maintain. The sanitation bureau always tells us we're the cleanest brewery they have ever seen (We are also the smallest brewery they have ever seen). This also helps us minimize  chemical use and cost..

5. The beer is always fresh.

6. It's easy to keep track of your customers and provide excellent customer service.

7. Suppliers sometimes give you free stuff because they know it's about to expire and you can probably make use of it. We often get extra hops and experimental yeast strains. Suppliers know they can't expect a larger brewery to take a chance on a new yeast strain.

8. Contract brewing. Several people have come to us and asked if we could contract brew  for them. They want to start a brand but not ready to invest in the minimum order at the larger breweries. So far we have turned them down, but it's good to know we have something to fall back on to pay the rent if things get rough.

1. You are also not going to get the best price on ingredients, cleaning materials, or equipment. The minimum order of most things is unrealistic for us.

2. If you are importing ingredients (like us) then it may mean you don't always get what you want. We are always trying to get hops that other breweries in Taiwan don't really use, but the supplier may not order one 5 kg bag of hops for us.

3. You may have to charge a higher price for your product to make your batch size profitable.

4. Zoning laws. I'm not sure what it's like in other countries, but in Taiwan a brewery must be on industrial zoned land. However, this land can be expensive or hard to find. The location of most industrial parks is not always appealing to customers.

5. Sometimes your limited capacity means that you have to turn down business opportunities. Taihu, Taiwan's largest craft beer distributor, asked us if they could sell our beer in their bars. They wanted 4 kegs a month for 6 bars. We wimpy hadn't the product.
In conclusion
In the end, I recommend a 7 bbl. system at least. In terms of pro brewing, this is very small. Sell retail, and if you are half as good as you think you are and have a little left over, local juke joints would likely love to have you as well.
---
Reach out to us
KMB Beer Consulting can assist you in all of your challenges, large or small.
Brewers need support and input. It is an artisanal craft, refined by years in the brewhouse. It is also an uncommonly specialized business. Interested in a start-up or expansion? From conception to construction and pilot brews, we have the experience.  Today's brewers have puzzles that need a fresh perspective.
I've walked in your shoes. I know the victories and struggles that come with the brewer's life.
No problem is unfixable.  Reach us here.
Applied Beverage Tanks Inc.
KMB Consulting has partnered with one of North America's top equipment producers, Applied Beverage Tanks – (ABT). Since 1992, ABT has engaged the North American brewing industry and now supplies breweries and distilleries worldwide – in over 30 States and 13 countries. With every single one of their clients as a reference, their work speaks volumes.
Jonas began his relationship with Jim and Alan (of ABT) in 1999. KMBC is a direct line to their desks. Or feel free to call them. I assure you the prices will be exactly the same.
Please share the customer code, Jonas@KMB, to facilitate communication.