Buying for the beer lover in your life around the holidays or for his birthday can always be a bit of a chore.
While it may seem a little bit improper to simply buy somebody a sixpack or a selection of craft beers, there are a number of different beer-related gifts. They are funny for some or even can improve the life of any beer connoisseur.
Here are 13 great gift ideas for the beer lover in your life.
1 – SipCaddy Bath & Shower Portable Cupholder
The sip caddy is a bath and shower suction cup beer holder that is perfect for beer lovers that like to enjoy their drinks in the shower or bath. The picture shows a glass of wine but it is usable with a beer glass as well.
The problem with balancing a beer bottle in the bathroom is that it can often lead to accidents and spills.
The caddy makes the process very easy and always gives your favorite beer lover the chance to enjoy a beer and bath at the same time.
What do I think: Original and super fun
---
2 – Sonic Foamer, Beer Head Enhancer
The sonic foamer is a way to bring out more flavors and craft beers.
Although 75% of the way that we tasted beer comes from the way that we smell it, a sonic foamer can help you to unlock extra tastes and flavors out of the foam of a beer.
Create the perfect head from your beer and deliver a better aromatic experience with the help of this device.
For a reasonable price you can impress any beer lover on your list. Using the sonic foamer is like trying all of your favorite beers over again with an enhanced flavor.
What do I think: Original. Feeling to always have a fresh beer.
---
3- Beer Saver
This little item is meant to be used after a bottle has been opened but not emptied on one sitting.
Made of food-safe silicone rubber, it fits over the standard (glass or plastic) bottle opening like a glove. It keeps the beer fresh and prevents it to go skunky.
Beer savers come in a variety of colors to fit your mood or surroundings.
What do I think: Very useful for the slow drinkers or the ones that want to leave a bit more for the next day
---
4 – The Beer Bible
The beer bible is a book that offers a huge category list of all of the world's beers.
Not only can your favorite beer enthusiasts learn more about beer pairings, beer styles and how to discover new beers that they may like but the bible offers a handy reference whenever they are buying beer.
Imagine having the collective knowledge of many beer connoisseurs all in a paperback or hardcover source.
What do I think: It's in its name: the Bible!
---
5 – Corkcicle Chillsner Beer Chiller
The corkcicle chillsner is a two-pack of beer bottle chillers that are designed to help you seal in the freshness as well as improve the coolness of your beer from the very first sip to the last.
These beer chillers sit inside the bottle and freeze so that you can enjoy beer at the perfect temperature without having to worry about placing it in the fridge for hours.
Flow vents in the tool provide a consistent flow of beer through the stainless steel frame which can be placed in the freezer for freezing.
The device cools in just a few hours and it fits perfectly in a standard beer bottle.
Don't compromise on taste and always enjoy a cold beer with this 2 pack gift.
What do I think:  Great way to elongate the life of a cold beer
---
6 – The Beer Lover's Gourmet Gift Box
What could be better than specialty items that are all made with beer? The Beer Lovers gourmet gift box is the perfect gift for beer lovers who are interested in taking beer into the kitchen and into their own cooking.
With a selection of fine mustards, marinades and barbecue sauces are all created with beer is one of the main ingredients, a beer lover can satisfy their taste but even through regular cooking.
This pack is beautifully crafted and it usually contains around 5 to 10 gourmet mustards that are unique in taste and perfect for the palate of any experienced beer connoisseur.
What do I think: Funny and tasty.
---
7 – Brew-Opoly
This is perfect for any hard-core beer fans and it offers a traditional style version of Monopoly that is all of the different types of beer.
You can work at expanding your knowledge of different world beers as well as enjoy the colorful artwork and styling of a unique board game experience.
If you enjoy beer and board games or you have someone on your gift-giving list, that does, this would make an excellent choice for any regular beer drinker.
What do I think : Fun. Great game to play even for someone that doesn't know much about beer.
---
8 – Drink-a-Palooza
This game is a little more of a drinking game over Brew-Opoly which can be played without drinks.
Brewopoly is a game that's known as the monopoly of drinking games and it features aspects of flip cup, beer pong and more all in one.
Not only does this bring out the competitive nature of Monopoly but it is a game that is perfect for any adult drinking game lovers.
If you are looking for unique drinking game that you can play while sampling new types of beer, or you have a friend that enjoys drinking games with their beer, this is a wise choice.
There are a whole selection of games available in Drink A Palooza and it is a fun party every time you play.
What do I think: Great for parties.
---
9 – Gourmet Beer brittle (not available)
Beer brittle is an award-winning IPA beer brittle that is produced in Napa Valley California.
If you know somebody that loves beer and peanut brittle, this could be the snack that they have always dreamt to. It is created very small batches and it's available for a fairly reasonable price as well.
The recipe is highly safeguarded and this old-fashioned grill with a buttery crunch and hint of craft IPA brew is bound to put a smile on any craft brew fans face.
Every batch is tested for perfection and beer brittle is definitely something that you need to try if you love beer and desert together.
This is a recipe that has been winning awards since the year 2004 and it offers a completely unique flavor for beer connoisseurs.
---
10 – The American Craft Beer Cookbook
The American craft beer cookbook features over 155 recipes that come from brewpubs and breweries across the United States.
The best part about each one of these 155 recipes is that usually the main ingredients is beer.
If you are looking for a gift for a beer lover that loves to cook as well, this cookbook could certainly help treat you to some very nice meals.
All of the recipes in the book also includes some beer pairing advice.
This means if you want to expand your culinary horizons and improve some of the pairings that you have with food, this can make an excellent gift as well.
Any beer lover is bound to enjoy the sentiment as well as some of the ideas that they can get from these craft beers.
If you know someone that regularly visits brewpubs and breweries there are many recipes that they may have wanted to emulate in here as well.
What do I think: Tone of great recipes.
---
11 – Guardman 11 in 1 beer opener Credit card
If you know a beer connoisseur that's always interested in being prepared for the future, it is important to give them access to the Guardman 11 in one beer opener credit card tool.
This credit card tool fits perfectly in your wallet and it contains over 11 tools that can be used for opening a beer all the way to military situations and more.
Any beer connoisseur is going to need access to a dedicated bottle opener that they can use at any time. This gives them a portable solution that fits in any wallet for simple access.
This is the perfect accessory for barbecues, traveling and camping.
What do I think:  A very special credit card!!
---
12 – Beer Soap IPA
A beer connoisseur may love beer so much that they actually want to smell like it and enjoy the smell of it in the shower. With IPA beer so you can help your favorite beer lover smell a strong IPA every time that they use their soap in the shower.
This style soap comes with the scent of citrus and hops for a wonderful smelling soap that smells just like those first few whiffs over a fresh pint glass.
The creators of this soap used real craft IPA and strong hops to produce this soap.
Not only is it great smelling but also an excellent soap for soft skin.
As most of the ingredients are fully natural, any beer lover will enjoy the scent as well as the way that it makes their skin feel.
What do I think: Smells good and doesn't smell like beer.
---
13 – Homebrew kit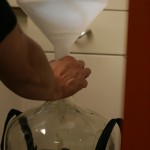 I talk about this topic quite in-depth in this article: Which beer brewing kit to buy? The ultimate guide
Last update on 2021-03-01 / Affiliate links / Images from Amazon Product Advertising API