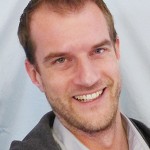 Lifelong beer habitue and homebrew artisan
New England IPAs or Hazy IPAs are madly popular right now; everyone wants a sip of this tropical-scented, creamy and juicy brew. It's easy to see why; it's friendly for non-beer drinkers and exciting for experienced tasters.
Today brewing kits are more sophisticated than ever and you can make your own batch of NEIPA at home.
The folks behind these ready kits are authentic pros, and they have fine-tuned their recipes to perfection. Follow the directions step by step, and you can really go wrong.
| | Brooklyn Brewshop NEIPA kit | Craft a Beer NEIPA kit |
| --- | --- | --- |
| Equipment | 1-gallon fermenter, thermometer, tubing, airlock | 1-gallon fermenter, thermometer, tubing, airlock |
| Ingredients | Malted grains and adjuncts, 2 types of hops, yeast | Malt Extract, 3 types of hops, yeast Fermentis S-04 |
| Missing in the kit | > 1.5 gallons kettle, bottles | > 1.5 gallons kettle, bottles |
| Difficulty | 4/5 | 2/5 |
| Brew Day | 4-5 hours | 1-2 hours |
| Ready to drink | 4 weeks | 4 weeks |
| Price | $48 | $48 |
| | Buy | Buy |
Brooklyn BrewShop New England IPA Beer Making Kit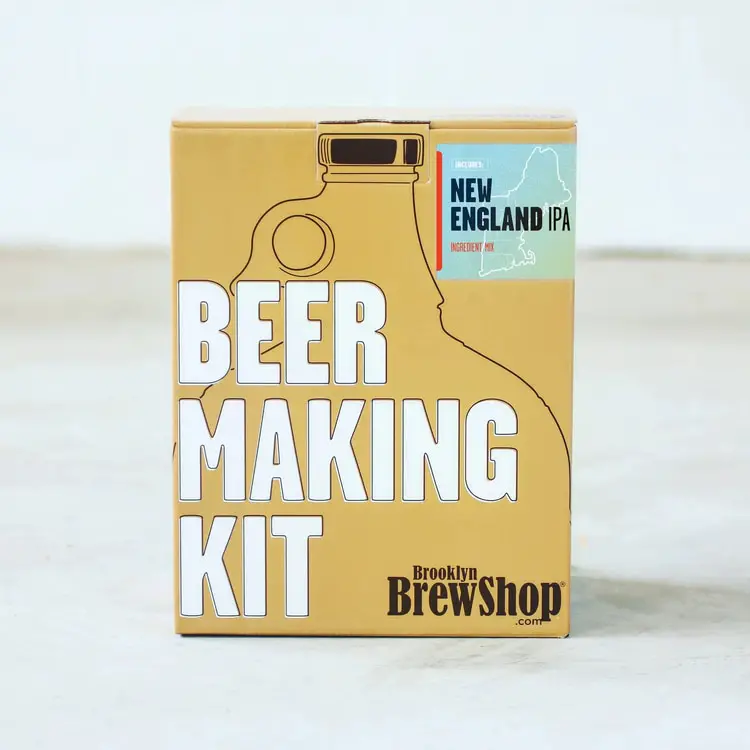 Let's start by saying the Brooklyn BrewShop has a fantastic reputation, especially for their small beer-making kits.
This is how I got started. With their Everyday IPA kit (check my review on the link).
Their ingredient mixes are awesome, and they're your go-to guys for brewing accessories, from bottles to slotted spoons.
Their New England IPA beer-making kit is one of the most complete in the market. Here's what you get.
As for the equipment, the kit contains:
a gallon glass fermenter (3.8 litres)
tubing
a tubing clamp
a chambered airlock
a racking cane
a glass spirit-filled thermometer
a screw-cap stopper
The ingredients include:
malted grains and adjuncts

for one gallon of beer (3.8 litres)
yeast
Mosaic and Cascade hops
no-rinse sanitizer
You'll need to have:
a heat source (your stovetop)
a brewing pot with at least 1.5 or 2 gallon capacity (6-8 litres)
bottles (around 12 small bottles is enough)
bottle caps
a strainer
a bag of ice to cool down your wort fast
Other than that, the kit is quite complete.
The resulting beer has 5% ABV, a hazy pale color, lovely tropical scents and a juicy, pleasantly bitter palate.
Smooth and creamy, this is a fantastic ambassador for the category.
 

Voir cette publication sur Instagram

 
Craft a Brew New England IPA Home Beer Brewing Kit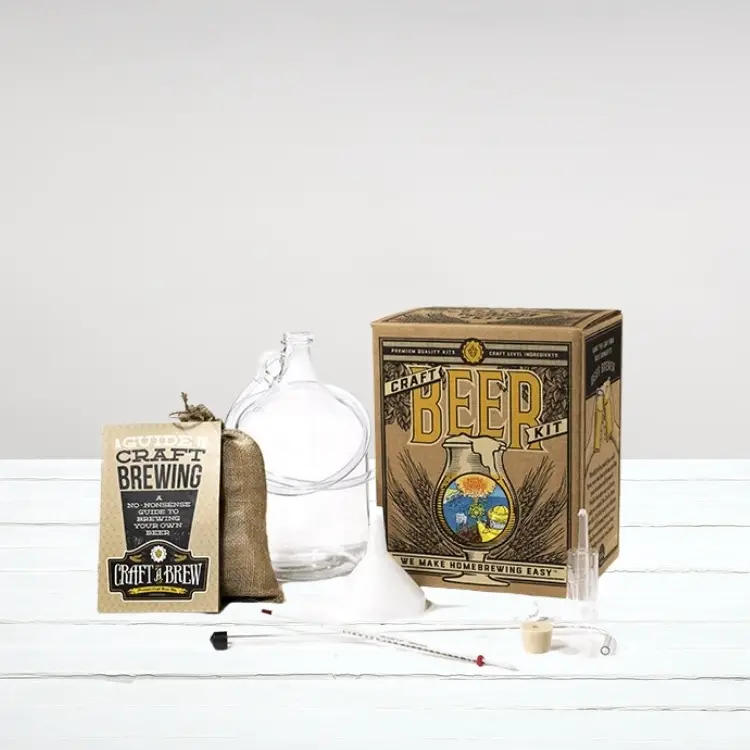 Craft a Brew is a company with a great vibe, they have the whole commercial image down, and although they have a less impressive catalog of products, accessories and brewing equipment, their forte is in their brewing kits.
Their New England IPA Home Brewing Kit is incredibly complete and has almost everything you need to craft this popular beer style with confidence. This is what comes in the box.
As for the equipment, this kit is quite similar to the one from Brooklyn BrewShop.
You also get:
a 1-gallon carboy (3.8 litres)
racking cane
airlock
thermometer
tubing
a tubing clamp
a rubber stopper
a funnel
a steeping bag

for the

adjunct grains

sanitizer
The ingredients include:
S-04 yeast
1.25 pounds of dry malt extract (Pilsen)
steeping grains, comprising honey malt, carapils and flaked oats
hops (Mosaic, Citra and Simcoe).
Apart from what you get in the kit, you'll equally need :
a stovetop
a 1.5 – 2 gallon pot (6-8 litres) or bigger
bottles (around 12 small bottles is enough)
bottle caps
a bottle filler (optional)
a bag of

ice
The beer is incredibly aromatic with tropical hints and a juicy palate. An easy-drinking New England IPA that won't disappoint.
Here's a quick note: You can get a 1-gallon or a 5-gallon kit from Craft a Brew, but the larger kit calls for other essential equipment you'll have to consider, including a 5-gallon pot, many more bottles, etc. If you're just getting started in the art of home brewing, stick to the 1-gallon kit.
 

Voir cette publication sur Instagram

 
Side-by-Side Comparison
Price
Both brewing kits cost $48, but the ingredient mix refill costs $16 in Brooklyn's and $18 in Craft a Brew.
Equipment
Both kits are very well equipped, and you get most of what you need to craft the beer. Bottling the beer is not considered, meaning you need bottles, caps and a bottle capper amongst other regular homebrewing equipment.
You can also consider flip-top bottles, this way you can skip the caps and the bottle capper.
From both options, you'll be able to reuse the equipment that comes with the kits. You'll just have to order an ingredient mix refill for your next batch.
Ingredients
Here's where you see significant differences.
Brooklyn BrewShop sends you a bag of malt with adjuncts, including wheat which you have to mash, sparge and boil, in a much more complex process compared to the Craft a Brew Kit that uses malt extract.
Let's just say the Brooklyn BrewShop kit is more artisanal, and therefore more rewarding — that of course comes with extra challenges.
Brooklyn's hop selection is solid, based on Mosaic and Cascade. The one from Craft a Brew is more sophisticated, throwing in the lemony Citra hops and substituting Cascade for Simcoe, known as 'Cascade on steroids.'
Difficulty
Brooklyn's kit comes with the full amount of grains which you have to mash at a specific temperature, and then sparge before you're ready for the boil.
All this takes more time. At least 2.5 hours between mashing the grains and boiling the wort. That time can be skipped with the other kit.
You must leach all the fermentable sugar and flavors from the grains in the proper way, which is thrilling but a bit complicated, especially if this is your first time brewing beer at home. But it doesn't mean it's impossible. It's been done and well done by first-time brewers.
To craft beer with the Brooklyn BrewShop's kit you'll also need to add hops during different stages of the boil, which is exciting but requires more attention.
Craft a Brew's method is different; you place the specialty grains in the steeping bag and allow them to boil for 20 minutes, then you remove them and add the malt extract, which you just have to dissolve. Let's say the method is simpler and the results more reliable.
Information
As for the information, Brooklyn BrewShop is somehow vague on the ingredients you get and the beer you can expect in the end.
Craft a Brew tells us the IBU (bitterness), SRM (color) and alcohol strength you can expect. They'll even tell you the type of yeast they'll send, an English Ale yeast known as Fementis S-04.
Bottom Line on the Best NEIPA Brewing Kit
I hope you're ready to craft yourself a juicy batch of one of the best New England IPA. Both kits reviewed above are fantastic; that's why I'm examining these and not many others in the market.
Now, the Brooklyn BrewShop's kit will require a bit more skill, but that's not necessarily a bad thing. Let's just say it will be more challenging than brewing your beer with the Craft a Beer kit.
You will also need to allow more time for Brooklyn BrewShop's Brew Day. Maybe around 4 hours from start to finish. Versus 1 – 2 hours for the extract kit.
The fact that Craft a Brew takes the time to describe every single ingredient in detail and that they tell you all the specifics makes me feel inclined for their kit. Their recipe is exciting; they use a larger and more vibrant variety of hops, which is behind what I love most about this beer style, its tropical aroma.
The downside? You lose some of the excitement of brewing beer from scratch.
But to get started with home brewing, it's just enough.
Choose your favorite kit but start brewing. The more you brew, the more you learn, and that means you'll also learn to choose the right brewing kits and mixes in the future.